Family Finds Giant Python Slithering Around in Bathroom Sink
A family in the Australian beachside city of Wollongong, south of Sydney in the Illawarra region of New South Wales, found a diamond python in their bathroom sink.
Videos posted to the Facebook page of Illawarra Snake Catchers shows the removal process, as snake wrangler Glen Peacock, licensed to catch and release reptiles by New South Wales' National Parks and Wildlife Service, was able to safely capture the python in the family's bathroom.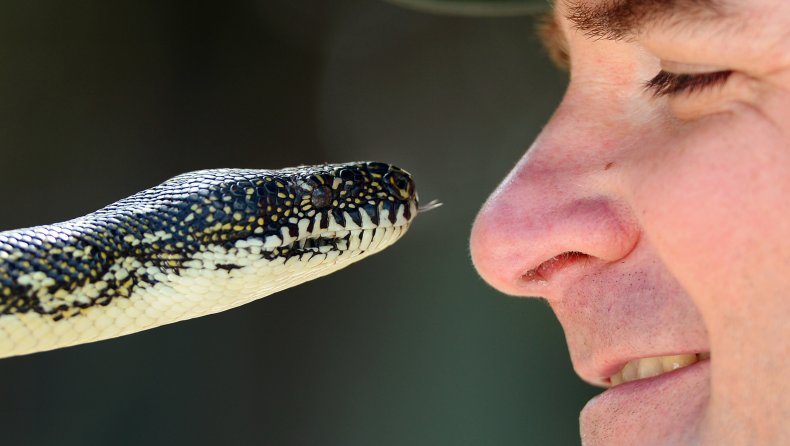 The Australian diamond python, or Morelia spilota spilota, is a subspecies of the carpet python found throughout Oceania. While it can grow as long as 13 feet, the specimen found in the Wollongong bathroom is more typical of the species, specimens of which tend to be around 6 feet long.
"The Illawarra is home to a number of venomous and non-venomous reptiles, from time to time they find their way into our homes, businesses and even cars," the website for Illawarra Snake Catchers says. "Stay calm and don't panic."
"He was probably going to spend winter in your roof," Peacock told the family, before carrying the python to a hilltop behind the house and releasing it into the underbrush. "He may end up back down there."
A family member said, "Quite happy for him to be in the roof, just not in the bathroom."
Peacock has been working with reptiles for more than 25 years, specializing in turtle breeding for local pet stores. While he is experienced at handling poisonous and dangerous snakes, the diamond python is not often a threat.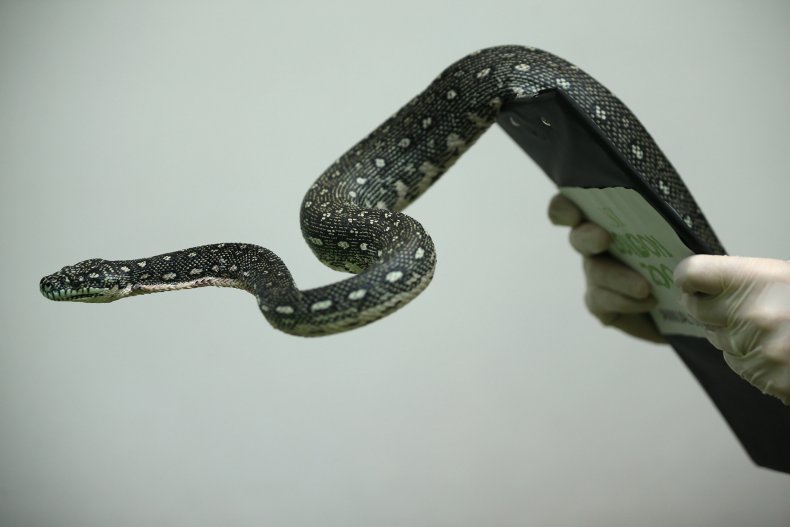 Nonpoisonous ambush predators that wait for their prey to come to them, diamond pythons are not aggressive or quick to bite and frequently stay in the same spot for days at a time. Their docility, willingness to be handled and beautiful diamond pattern make them popular pets.
Illawarra Snake Catchers added some additional details in the video captions, including a hearty "LOL" at the family's seeming acceptance of the potential winter house guest: "They don't mind if it comes back, just not in the house lol."
According to the snake catchers, bathroom ceiling fan vents are a common access point for snakes. "Make sure the covers are secure, and try not to use the one with big open gaps," they recommend. They speculate that this particular diamond python mostly likely intended to spend winter in the ceiling but "took a wrong turn" into the family's bathroom.
Newsweek reached out to Illawarra Snake Catchers for additional details regarding the snake's capture and release but did not hear back before publication.