Q&A: Heidi Klum and Tim Gunn Talk 'Making the Cut' and Its 'Spiritual Tonic,' Perfect for Difficult Times
Move over, Project Runway. A new fashion competition has arrived, and this this one's keen on giving designers more of a real-world experience. The former faces of Project Runway, fashion icons Heidi Klum and Tim Gunn, have reunited to create and cohost Making the Cut, an innovative fashion experience for Amazon Prime Video.
Making the Cut's first season—the first two episodes of which debuted on Amazon Prime on Friday—welcomes 12 fashion designers. In each episode, they're asked to create an "accessible" look, and something that's a better fit for the runway. Both looks are judged by a slate of well-known panelists: Klum, Carine Roitfeld, Joseph Altuzarra, Naomi Cambell and Nicole Richie. Gunn serves as the kind mentor to help the designers through each challenge.
Though the premise and competition may seem similar to Project Runway, there are actually a few key differences that set Making the Cut apart. First, the designers have some strong backgrounds. The 10-episode first season features contestants who have already partnered with Adidas and some who have hosted New York Fashion Week shows.
It also takes some of the hand creation out of the process. In order to give designers ample time to bring their designs to life, they're gifted with sewing help overnight—just like how it's really done in the fashion industry. And to wrap up each week, the winning "accessible" design will become immediately available to purchase on Amazon, meaning fans of a specific design can wear it themselves.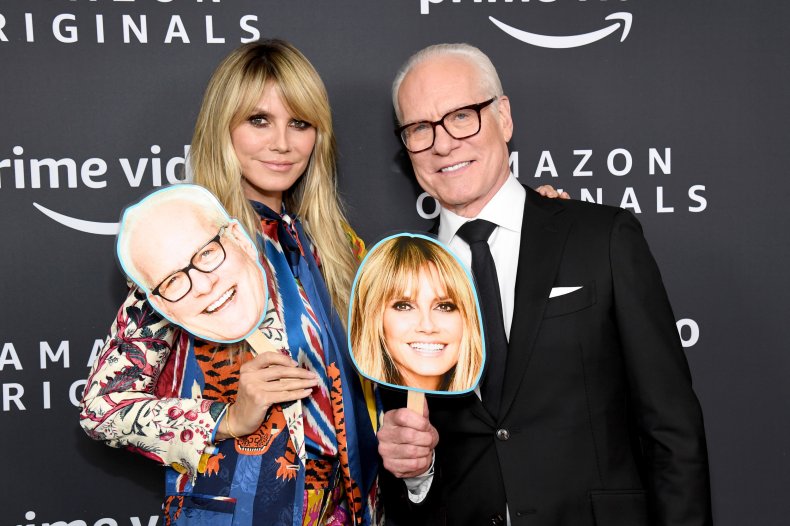 In tandem with the launch of Making the Cut (which will debut two episodes every week for the length of the season), Klum and Gunn spoke with Newsweek about the new series and winning over longtime fans of Project Runway.
As compared to Project Runway, a lot of the designers on Making the Cut seem to have very impressive design backgrounds already. Do you think this helps or hurts them in the competition?
Klum: Our main goal for the competition is to create the next big fashion brand and that is why we selected designers that have a variety of backgrounds. It was not just about creating the garment, but having a vision and an idea of what you want your brand [to be]. I think it was of benefit to them, having had experience.
Gunn: I've learned that experience can either help you or hurt you. It can help you when you use it as a platform for confidence in your abilities and an eagerness to explore and take risks. It can hurt you when it makes you fearful of leaving your comfort zone.
You both found major success with Project Runway. Do you think establishing a separate entity in Making the Cut will be difficult with longtime fans?
Klum: Making the Cut is the show I have always dreamed of doing. You just have to go with your gut and hope that people see what you see and enjoy. Project Runway will always be a part of our lives and it was a stepping stone in creating Making the Cut. They are two different shows and we hope that the fans will enjoy and learn to love Making the Cut as much as they do Project Runway.
Gunn: Heidi and I are crossing our fingers and toes that the Project Runway loyalists will follow us to Amazon Prime Video. We love Project Runway—16 seasons!—but it was time for a new adventure. Making the Cut is certainly that.
Heidi, the show has a fantastic panel of judges, all with diverse and highly praised backgrounds. Did the diversity across the panel make judging easier or harder?
Klum: What I love about our panel of judges is that they are all experts in what they do and have been in the industry for a long time. I love that they all have strong opinions and stand by them, which did create a lot of long days and nights during filming, because we sometimes did not agree and fought for who we believed should stay in the competition.
Tim, in the first episode, designer Martha directly ignored the advice you gave her about the blue ruffle on her dress. Did you find that many of the designers were open to constructive criticism, or were they set in their ways because of their own success?
Gunn: In my many years of experience, designers run the gamut from being open and receptive to being stubborn and intractable. They're responsible for their design decisions, not me, so they just have to own responsibility for their decisions.
Making the Cut seems to give designers extra time to create, rather than sew and work on technical bits. What was the inspiration behind giving them assistance?
Klum: This is not a sewing competition like Project Runway was. We wanted to make it real. In most instances in real life, designers do not do the sewing themselves and their main focus is being creative and coming up with amazing and unique ideas and designs. That is why we wanted to give our designers extra time and help. I also love that we allowed them to use their time however they wanted.
Gunn: Heidi and I were intent upon making this new show as relevant to the fashion industry as possible. Few designers can maintain a successful career when making everything themselves. I want to be clear that these assistants were for sewing only; no cutting, no drafting, and certainly no designing.
Fans are thrilled to see you and have you return to the screen together, especially in a fashion setting. What do you want viewers to take away from the series?
Klum: I would like for people to see and learn more about what goes into making a garment and get to know the creative people behind the clothes you get to wear. I am also truly happy that we were able to create a show that is uplifting, exciting and that can create some much-needed distraction during these tough times we are going through.
Gunn: Making the Cut is a welcome distraction from the stress and anxiety that we all share during these difficult times. It's an uplifting and inspiring experience. We see designers engaged in community building and helping each other, not squabbling. It's a spiritual tonic.