Q&A With Edelman's Matthew Harrington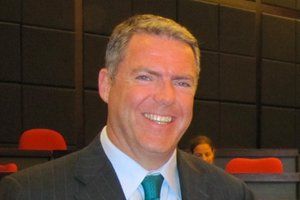 Matthew Harrington, 48, took over as CEO of Edelman public relations in March 2008, just a few months before the recession hit. Many companies slashed their marketing budgets during the financial crunch, presenting big challenges to firms such as Edelman. But under Harrington's leadership, things at the company have begun to turn a corner. Over the past fiscal year, Edelman's U.S. operations grew 10 percent, grossing $320 million. Harrington would hardly call the work easy, but he's used the downturn as a chance to reexamine, and in some cases shift, the company's business strategy. He spoke with NEWSWEEK's Julie Halpert about the challenges his firm has faced, and how it hopes to remain on top. Excerpts:
How do you think an executive successfully leads a company in a post-recession world?
The key lesson we learned coming out of the recession is never to waver from being clientcentric. That is a constant that stood us well during the most difficult times, and as the economy recovers, "Edelman Excellence," our quality initiative, helps us remain focused, as it ensures we're asking clients about their shifting priorities and that we're both anticipating need and responding appropriately.
What do you see as the biggest challenge facing your industry now?
One of the challenges is that the marketplace for marketing is changing so quickly and dramatically that the advertising firms, public-relations firms, and digital shops are all now going after the same piece of the pie. The upside is that there is also much more opportunity because our playground has gotten a lot larger.
So how do you stay competitive in this bigger space?
Through constant reinvention. The way we translate that at Edelman is we're constantly challenging ourselves as to whether the counsel we're giving clients is breaking new ground, and whether we're creating content that helps a client tell their story in new ways and through new channels. For example, with Dove, we ask questions like, "Are we leveraging social media, You Tube and Facebook, to their advantage?" By expanding beyond our traditional public-relations realm into more dynamic integrated marketing and aggressive social-media engagement, it's opened a whole new world [to us and our clients].
What kind of people are you bringing into the fold to stay on top of the social-media marketplace?
We are hiring very different folks in terms of their skill set. Recent hires included people from BusinessWeek, the marketing department of the Metropolitan Opera, as well as creative directors, screenwriters, and videographers. They're supplementing those of us, me included, who are more traditional public-relations counselors.
What do you think makes public relations an attractive field?
Public-relations professionals are unique in that you get to learn about different industries and topics. You have to figure out how to translate the most complex science or technology and make it accessible to consumers or other stakeholders who aren't proficient in that topic. That's intellectually rewarding.
You've talked about how social media are changing things, but in what other ways is technology changing your industry?
Technology is having a huge impact on the communications industry, in terms of platforms, iPads or tablets, and the channels that consumers are using: Twitter, Facebook, and other social-media sites. The challenge is to make sure we're up on the latest and translate that for the client's benefit. We're using a host of training programs to ensure our staff is digitally conversant. We teach them everything from the basics of engaging in social media, to ethical behavior, to intelligent and creative marketing efforts. It's a way to invest in the staff so clients get good counsel.
When failure does happen, how do you address it?
A low point was during the dotcom bust in 2001. It was an instance where we had overinvested and overhired. It required us to rethink and reposition a bit. We did a deep postmortem on why we failed. Now we have a chief quality officer who ensures that quality reviews are being issued to clients, and are being analyzed by an account team and regional leadership.
With a continued push toward more ecofriendly practices, how does your company find a balance between being good to the environment and running your business well?
We look to walk the talk. We have a corporate social responsibility practice where we work with clients to help them tell their sustainability story. Within the company, we have central sourcing and purchase programs set up to purchase green products. We tried to build offices to meet the LEED [green building certification guidelines called Leadership in Energy and Environmental Design] standard. When we have global leadership meetings, we purchase carbon offsets for the travel involved with everyone gathering for meetings. We also have recycling in our offices.
When your CEO tenure is over, what do you think your legacy will be?
I'd like to think I will have contributed to the evolution of Edelman, so clients will say Edelman is their strategic partner in meeting all their communications needs. What that represents is an expansion and an evolution beyond traditional public relations.
I'm interviewing the CEO of Tumblr next. What would you want to ask him?
What's next? I think Tumblr is really interesting, in that they're pushing the world and social media forward. I want to know what's around the corner. I want to know it before anyone else does.