Q&A: National Jazz Museum Director on the Newly Discovered Trove of Jazz Greats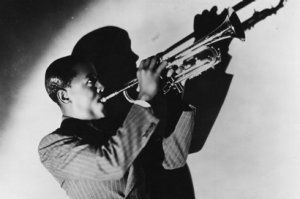 Loren Schoenberg, the executive director of the National Jazz Museum in Harlem, spoke with NEWSWEEK's Seth Colter Walls about what's next for the music, and also provided eight exclusive, never-before-heard clips from the collection, which you can listen to here. Excerpts:
Colter Walls: Some of the same radio performances that are represented in Savory's collection have been released on bootleg—though not at the same level of quality, obviously, as Savory achieved in a professional studio. How much of this material is brand-new to us?
Schoenberg: We're still going through it. We've digitized about 20 hours, and we're only about one fifth of the way through. But let's say there's only about 5 percent of the material that has ever come out before. And that 5 percent that's come out has been so-so, compromised by bad sound anyway.
What's been your most cherished discovery so far during the process?
Oh, the jam session of "Tea for Two," which there's an excerpt of on the Times' Web site. I gave them Lester Young's solo, and I've given you the solo that follows it, from Roy Eldridge on trumpet. And elsewhere, in some cases, you're getting bands that never played together in the studio.
We can also hear songs that established bands never got around to recording themselves. I was struck by the 1940 Basie band's take on "Bugle Call Rag," which you've provided to us. The solo by Young that we can hear is great, but the rhythm section is fantastic as well. Basie wrote in his autobiography that he got a lot of mileage of out of this tune, and now we can actually hear this particular band play it.
Yes, the Basie band was famous for its rhythm section. And while most existing radio airchecks of the band don't approach the quality of this recording, Bill Savory managed to milk as much sound as there was available from "Bugle Call Rag." There are so many inspired performances like this in the collection. It's really tremendous.
While the legal issues are being sorted, you're going to start giving public airings of some of this material at the museum, starting in September. Do you expect overflow crowds?
I don't know, man. I certainly hope so. That would be a lovely problem to have. Usually we range from, I'd say, 30 to 60 people in attendance, but the average would be 35 to 40. We're in a funny location, since we're halfway through a $20 million capital campaign that will ultimately see us in a full-blown museum across from [the] Apollo Theater. Right now we're operating out of a little visitor's center, where we can fit about 90 people.
Well, then, you could have a capacity crowd at the first full public airing of some of this audio.
I hope we overflow. Then, for the second week, I can go out and try to find another venue.
Do you agree that perhaps Congress should step in and somehow clear up the tangled web of copyright law as it pertains to something like the Savory collection?
Well, yeah, yes I do, because—let's put it this way: as things stand now, the odds are stacked against this material being widely accessible. And it's my goal to share this. The last thing we want to do is make this music almost as inaccessible as when Savory had it to himself. Right now people have to physically come into the museum and listen to it. We're talking with Mosaic records about how to possibly release it, but it's complicated. And you know, I don't think it's fair for a great-grandchild of a sideman from one of these bands to hold up the whole thing, trying to get a little bit of money for something his great-grandfather did one night in '37. But people also have to realize—I mean, on Facebook there's been a healthy discussion that's sort of morphed into the "corporate America vs. the poor jazz musician" thing. And that's not the right way to look at it. No major corporation is interested in issuing this material. Mosaic has a full-time staff of three. The National Jazz Museum in Harlem also has a staff of three right now, though we may grow to a staff of seven or 10. There's this perception that "oh, man, the artist is gonna get ripped off again," but sales are in the low thousands for the currently issued stuff. I hope that there is a way to get around some of this. The John Kirby Sextet's radio performances from 1940 aren't on the same scale as Walt Disney's copyright. And still, while I think this is the major musical archeological find of the last few decades, there's a misunderstanding of the commercial potential. Even the main jazz artists don't sell that well.
Beyond cleaning up the sound and doing whatever you can to get word out about these performances, what other plans do you have for the collection?
We're going to integrate it into all of our programming. And by that I mean hiring young musicians to create works that deal with, reflect on, and sometimes actually literally integrate some of these old recordings. I've got plans to bring in visual artists, performance artists, and more. Too often, jazz institutions are based in the past—with the posture of an ostrich. That's something that we don't intend to do, and that's why I'm so excited.