QAnon Colorado GOP Congressional Candidate Attended Fundraiser Hosted by Sandy Hook Conspiracist
A Colorado Republican congressional candidate and QAnon supporter attended a fundraising event hosted by a man who previously touted conspiracy theories surrounding the deadly 2012 Sandy Hook school shooting.
Lauren Boebert, 33, is running to represent Colorado's 3rd Congressional District in the U.S. House of Representatives. The political newcomer attended a fundraiser for her campaign Wednesday evening in Pueblo, Colorado, hosted by Tom Ready, a longtime GOP donor.
Ready previously made headlines in 2014 for raising doubts as to whether the school shooting—in which Adam Lanza killed 26 children and adults—actually happened, the Colorado Times Recorder reported.
Ready was running for Pueblo County commission at the time, and his rival questioned him about an article Ready had shared to his Facebook page, which claimed the shooting in Newtown, Connecticut, was "a hoax perpetrated by the federal government to advance a gun control agenda."
Ready responded by saying there was "still question about whether it really happened"—a statement met by boos from the crowd. Ready continued, claiming that there was a picture of a father, whose daughter had died in the shooting, "smiling and joking."
"When he walked into the room, he turned and all of a sudden, had tears in his eyes. Why? I question that. You saw these pictures," Ready said. "And there's a lot of stuff that floats around Facebook. Whether it's all true or not, it's called an open discussion. Nothing wrong with an open discussion. I push a lot of things out there. Most of it's for open discussions."
Ready, a dentist and former chair of the Pueblo Republicans, ultimately lost the November 2014 election to his Democratic opponent Sal Pace. Ready received nearly 45 percent of the vote compared to Pace's 55 percent, according to Pueblo County's election results.
The Republican later argued that his comments at the debate were misunderstood, explaining to The Denver Post that he was trying to point out that the country doesn't know everything about the school shooting.
"We haven't got all the questions answered," Ready told the Post, adding he was surprised by the outcry. "Where's freedom of speech? I didn't know we were a communist community."
Ready apologized for hurting those affected by the incident in Newtown.
The Sandy Hook shooting isn't the only U.S. mass shooting that supporters of Boebert claim could be fake. Boebert accepted the endorsement of Gun Owners of America (GOA) on September 6, a lobbying group working to "preserve and defend the Second Amendment rights of gun owners," according to its website.
The group's former director, Larry Pratt, previously asserted that the federal government may have staged the 2012 Aurora, Colorado theater shooting to gather more support for gun control legislation, Mother Jones reported. In 2015, a judge sentenced convicted gunman James Holmes to 12 consecutive life sentences plus 3,318 years in prison without parole for killing 12 people and injuring 70 others, CNN reported.
Erich Pratt, GOA's senior vice president and the son of Larry Pratt, visited Colorado to personally give GOA's official endorsement to Boebert, the Colorado Times Recorder reported.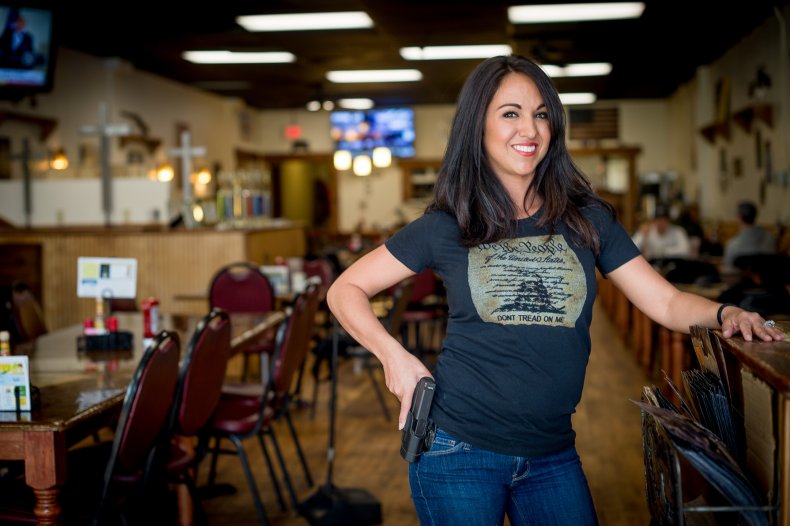 Boebert, a gun-rights activist and owner of the Shooters Grill in Rifle, Colorado, defeated five-term incumbent Scott Tipton during the state's primary elections in June. She is competing against Democratic candidate Diane Mitsch Bush, a former State House member, for the U.S. congressional seat.
President Donald Trump tweeted his support of Boebert in June, congratulating her "on a really great win!"
Boebert has garnered criticism for expressing support of the QAnon conspiracy theory movement, which asserts that "deep state" traitors are plotting against Trump, The New York Times reported.
"I hope that this is real because it only means America is getting stronger and better, and people are returning to conservative values, and that's what I am for," Boebert said in May of the QAnon movement. "Everything that I have heard of this movement is only motivating and encouraging and bringing people together, stronger, and if this is real, then it could be really great for our country."
Newsweek contacted Boebert's campaign for comment regarding the GOA's endorsement and Ready's statements on the Sandy Hook shooting, as well as Boebert's own comments about QAnon.
"At this point it's reporters who are indulging in conspiracies," Boebert responded to Newsweek in an email. "I am on the record multiple times stating I am not a follower of the group you and others so desperately want to connect me to."
"The voters want to read reports about the issues that will impact them most, like jobs, healthcare and rebuilding our economy," she wrote. "They deserve to know that my opponent is lying about her healthcare policies and mine, even going as far to call herself an Independent when she is a far-left, job-killing socialist."
Recent polls for Colorado's 3rd Congressional District suggest the race between Mitsch Bush and Boebert remains tight. A survey conducted by Expedition Strategies from September 9 to 14 showed Mitsch Bush with a slight lead, receiving 46 percent of support among 754 likely voters, compared to the 44 percent who chose Boebert.
In August, a GQR Research poll also showed Mitsch Bush leading Boebert, but by only one percentage point. Forty-three percent of the 400 likely voters polled chose the Democratic candidate, compared to the 42 percent who chose Boebert.
Update (09/17/20, 4:48 p.m.): This article has been updated to include a comment from Lauren Boebert.