A "QAnon" conspiracy theorist who describes himself as a "bad ass patriot" and "nonGMO genetic avatar" was arrested after allegedly vandalizing a Catholic church last week in Sedona, Arizona.
Timothy Larson, who is a believer in the widely discredited QAnon conspiracy theory, openly bragged about his supposed crimes on Twitter immediately after allegedly smashing up the Chapel of the Holy Cross with a crowbar while shouting claims that the church was taking part in "human trafficking." A tweet by Larson on the day of the alleged incident claimed "#QAnon mission success."
The QAnon conspiracy theory became popular among far right extremists in late 2017, and originated on the anonymous imageboard website 4Chan. The conspiracy centers on information supplied by a supposed anonymous informant with the moniker "Q."
The list of evidence-free claims made by the supposed informant include the notion that President Donald Trump is fighting a secret war against a group of Satanic child-molesting "elites" who control Hollywood, as well as politicians involved in a "deep state" determined to persecute Trump.
It is thought by some to have been inspired by or grown out of the earlier "Pizzagate" conspiracy theory, which also involved false pedophilia accusations. "Q" has made a series of predictions that have repeatedly been shown to be false, but the conspiracy continues to maintain a loyal group of online followers.
Trump himself has also engaged with the conspiracy theorists, inviting believers to a "social media summit" over the summer, while sometimes retweeting Twitter accounts which support the theory.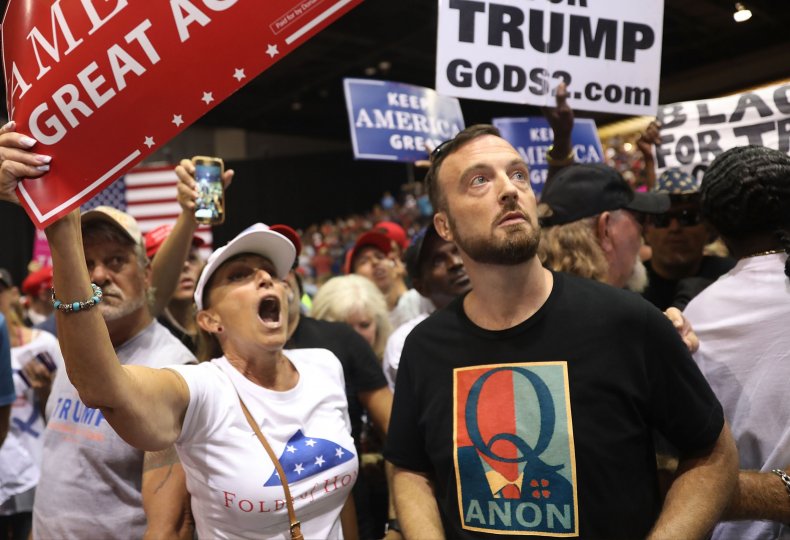 Sedona Police Chief Charles Husted told Sedona Red Rock News that Larson had spray painted the word "evil" on the ground in front of the church on Wednesday, before going inside and smashing candles and displays with a crowbar. According to Husted, witnesses observed Larson shouting negative remarks concerning the Catholic Church while inflicting the damage. His is also alleged to have warned onlookers to "not support Satanists."
Authorities believe Larson then left the scene on foot, while leaving behind business cards advertising his Twitter account and email addresses, along with several superlative titles he appears to have given himself, such as "ancient king christ," "snake slayer supreme," "vigilante hero of justice" and "human trafficking investigator."
The self-described "unTouchable immortal King of Nature" was caught after police put out an online alert for community members to report any sightings of him. A store clerk spotted him a few hours after the alleged vandalism and contacted police.
Police say he was in possession of a large knife and a samurai sword at the time of his arrest. Previous to this arrest Larson had been arrested for marijuana possession in January. Authorities also say he is suspected of theft from a Home Depot store and a non-residential robbery.
Larson was charged with aggravated criminal damage, trespassing, burglary and disorderly conduct. He is being held in the Coconino County Detention Facility in Flagstaff, Arizona.