QAnon Decoder Says Half of What Conspiracy Theory Says Isn't True
Dave Hayes, who's become a prominent figure in the QAnon movement, recently dismissed skepticism about unfulfilled promises from the movement's leader, known only as "Q," because he believes part of the strategy of the movement is to put out disinformation.
Hayes is an influential interpreter of the writings of Q, who inspired the QAnon conspiracy theory that believes prominent people, including former Secretary of State Hillary Clinton, will be arrested for various crimes. While he acknowledged that many have spent the last three years waiting for the arrests, which never came, he argued the disappointment was part of the plan all along.
Speaking with Patrick Gunnels on the Reading Epic Threads webcast on Thursday, Hayes said Q warned people he would put out a lot of "disinformation." It was designed to "make the bad guys make wrong moves," according to Hayes.
"If you're going to buy on to the Q thing, you have to know upfront that half of what Q is going to tell you is not going to be true," Hayes said. "It's for the purpose of psychological operations and that's just what it is."
Hayes, also known as the Praying Medic, is among those who believe former President Donald Trump will return to office, a belief many QAnon supporters also hold. He told Gunnels that no one is "more pissed off at Q" than he is and that he's also frustrated with the lack of arrests. However, he denied the movement was unsuccessful.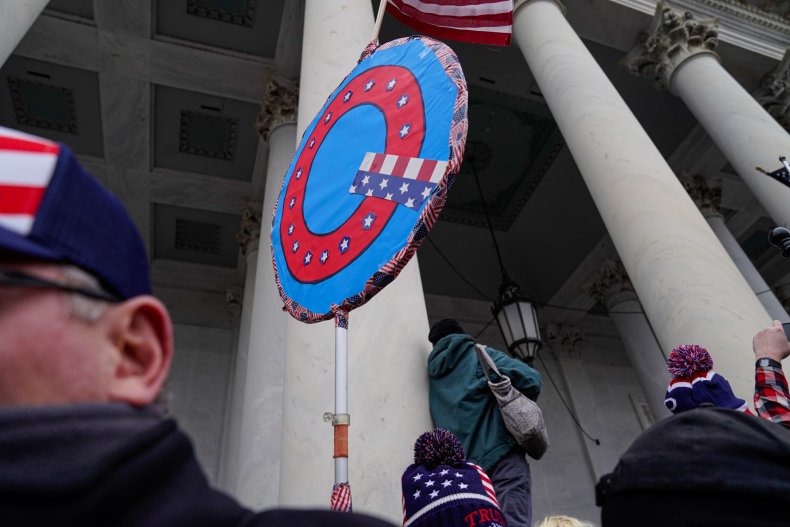 He told Gunnels that he believes there's more disinformation in Q's posts than people want to accept, but that it was all "strategic" and "necessary." He added he believed that the "deep state" reacted to the posts exactly how Q intended them to.
QAnon is based in the belief that prominent Democrats, including the Clintons, former President Barack Obama and Democratic donor George Soros are part of a pedophilia ring and they sought to destroy Trump's presidency. Q predicted that a Trump-led coup would result in 25,000 indictments, causing civil disorder.
Years later, people believed there would be arrests ahead of President Joe Biden's inauguration and that Trump would return to office in 2021. The dates of those predictions came and went without any changes, but it did little to dissuade QAnon supporters.
Hayes established himself as a "decoder" of Q's messages and uses social media to offer explanations for the cryptic posts. So far, QAnon has failed to make accurate predictions with regard to Trump or high-profile Democrats being arrested. However, Hayes believes "things" will still happen, although he wouldn't commit to a date.
Hayes is hoping that Trump will return to office in January 2023 so that he can serve 10 years in office. If a president takes over the office and serves less than two years, they're eligible to serve an additional two full four-year terms under the 22nd Amendment.
While many, including Trump's former attorney Jenna Ellis, have given up the belief that there's a constitutional avenue for Trump to return to office, Hayes said he still believes it's possible.