QAnon Influencers on YouTube Remain Online Despite Promotion of Capitol Riot
YouTube continues to host content produced by QAnon influencers and in some cases appears to be making ad revenue from the videos, a new analysis shows.
Media Matters for America reported on Wednesday that it had identified at least 14 QAnon "ban-evasion channels" on YouTube, in addition to several foreign-language channels that appear to have rebranded in an effort to spread QAnon content.
On Thursday, Media Matters updated its report to note that seven of the channels had been removed but numerous others remain live. Newsweek checked YouTube at the time of writing and confirmed that multiple channels reported on by Media Matters were still online.
"In response, one of the QAnon shows whose ban-evasion channels got removed has already announced that it will launch another ban-evasion channel 'shortly,'" Alex Kaplan, a senior researcher at Media Matters and the report's author, tweeted on Thursday. He went on to highlight some of the QAnon influencers still on YouTube.
"These QAnon influencer YouTube channels remain up, which seems surprising given what YouTube claimed the QAnon crackdown would do. The channels are from well known QAnon influencers, & some of them were involved in the events of January 6," he wrote on Twitter.
Newsweek reached out to YouTube for comment on the QAnon influencers but did not immediately receive a response.
Back in October, less than a month before the November 3 general election, YouTube began purging some QAnon videos from its platform. On January 7, the day after former President Donald Trump's supporters attacked the U.S. Capitol, with some inspired by QAnon and other fringe conspiracy theories, YouTube vowed to crack down further on misinformation.
"Due to the disturbing events that transpired yesterday, and given that the election results have now been certified, starting today *any* channels posting new videos with false claims in violation of our policies will now receive a strike," YouTube said in a statement at the time.
"Channels that receive a strike are temporarily suspended from posting or live streaming. Channels that receive three strikes in the same 90-day period will be permanently removed from YouTube. We apply our policies and penalties consistently, regardless of who uploads it," the social media platform added.
But Media Matters' analysis found multiple channels run by QAnon influencers or promoting QAnon content that remained active this week. "Despite YouTube's promise to crack down on QAnon last October, the platform is still hosting shows supporting the conspiracy theory—some of which even run ads, meaning both the channel and YouTube make money from them," Kaplan's report explained.
Although analysts and activists have warned for years about the threat that QAnon poses, social media companies were slow to take action against users promoting that conspiracy theory and other groundless claims. In the wake of the January 6 Capitol riot, the major social media platforms have taken a more aggressive stance against misinformation and specifically QAnon.
QAnon believers claim that a cabal of Satan-worshipping and blood-drinking pedophile Democratic elites are working to control the world. They also believe that Trump was actively fighting this mysterious group and that an individual close to the president—identified only as Q—was making disclosures and dropping hints online about how the president was taking down the organization. Many of the individuals who attacked the Capitol espoused a belief in QAnon and in baseless claims that Democrats had "rigged" or "stolen" the election to install Joe Biden in the White House.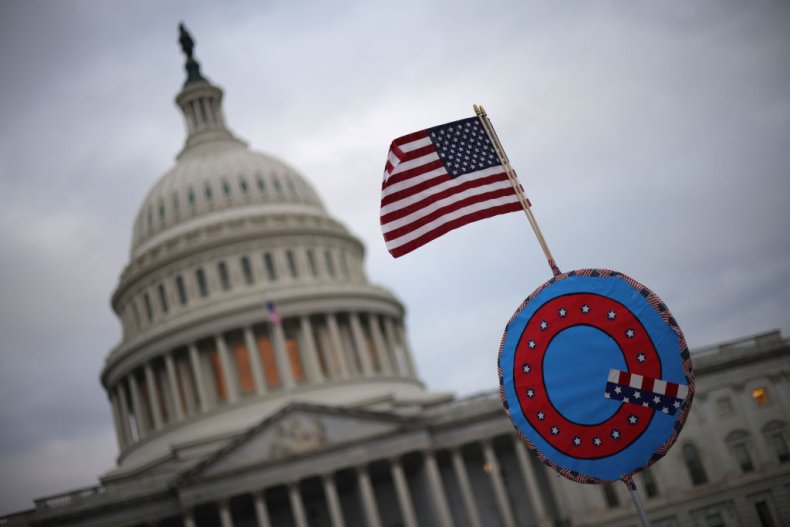 There is no truth to QAnon, and the claims of widespread voter fraud—which Trump and his allies continue to promote—are groundless. Dozens of election lawsuits filed by the former president and his supporters have failed in state and federal courts, with judges appointed by Trump and other Republicans rejecting the claims.
In November, shortly after the election was called in Biden's favor, the Cybersecurity and Infrastructure Security Agency at the Department of Homeland Security, which was led by a Trump appointee, asserted that the 2020 election was "the most secure in American history." The agency emphasized that "there is no evidence that any voting system deleted or lost votes, changed votes, or was in any way compromised."
Former Attorney General William Barr, who was widely viewed as one of Trump's most loyal Cabinet members, said in December that there was "no evidence" of fraud that would change the election's outcome. Meanwhile, recounts and election audits in key battleground states all reaffirmed Biden's victory—including in states and counties where the election was overseen by Republican officials.