A Republican congressional candidate is facing "serious questions" about his thoughts on the QAnon conspiracy theory and his alleged ties to far-right groups.
It has emerged that Alek Skarlatos, who is running in Oregon, shared a photograph which shows him stood next to people holding an American flag featuring the words "where we go one we go all," on his Facebook page in June last year.
The phrase, often abbreviated to WWG1WAG, is the slogan of QAnon, the baseless conspiracy theory which believes President Donald Trump is waging a secret war against satanic pedophiles and cannibals, which include Democrats and Hollywood entertainers.
Skarlatos, a former soldier who stopped a gunman on board a Paris-bound train in 2015 who later appeared on Dancing with the Stars, is running against long-serving Democrat Peter DeFazio in Oregon's 4th District.
Pictures of the same scene were featured in a report released earlier this year into Timber Unity, a right-wing group of loggers and truck drivers whose leaders have been accused of having links to groups such as Proud Boys and the Three Percenters.
The association's supporters are alleged to have expressed "racist, homophobic, Islamophobic, and violent rhetoric" in the Smokescreen report by Spencer Sunshine for conservation group Oregon Wild.
The report found the group's members have promoted QAnon in the Timber Unity Facebook group, and supporters of the theory have repeatedly shown up at their rallies, along with "militia groups, advocates of 'Constitutional Sheriffs,' anti-vaxxers, and Islamophobes."
Timber Unity Vice President Todd Stoffel has also been photographed with Angela Roman, a suspected member of the far-right Three Percenters militia group, whose members have shown up at Timber Unity rallies, alongside Proud Boy Matteo Dagrad.
The group has also been accused of "invoking the white supremacist history of Oregon" for their cause by alternative newspaper Street Roots.
In a statement, Abby Curran Horrell, the executive director of Democratic campaign group House Majority PAC, said: "Alek Skarlatos has been hoping to skate through this election without answering any real questions—and with good reason.
"The more we learn about him, the more troubling his candidacy gets, and his association with an extreme right wing group is just the latest alarming news about him.
"Alek Skarlatos needs to disavow this group immediately, or answer serious questions about his affiliations," Horrell said.
Timber Unity board member, Julie Parrish, has denied the group are extremists or have any connections to QAnon.
"Let me be really clear: Our board doesn't support racism in any way, shape or form," Parish told Salon. "We're not part of QAnon, or any other group. We have one focus—protect jobs for working Oregonians in the natural resource sector— regardless of their party, race, sexual orientation or gender."
Newsweek has contacted Skarlatos for comment, and Timber Unity for further comment.
Skarlatos, who at 28 is one of the youngest candidates running for congress this year, made international news in 2015 after being one of six people who helped foil a terrorist attack on a train traveling to the French capital.
The former Army National Guard soldier later appeared as a contestant in Dancing with the Stars before portraying himself in Clint Eastwood's movie 15:17 to Paris about the attack, as well as his subsequent praise and awards for bravery.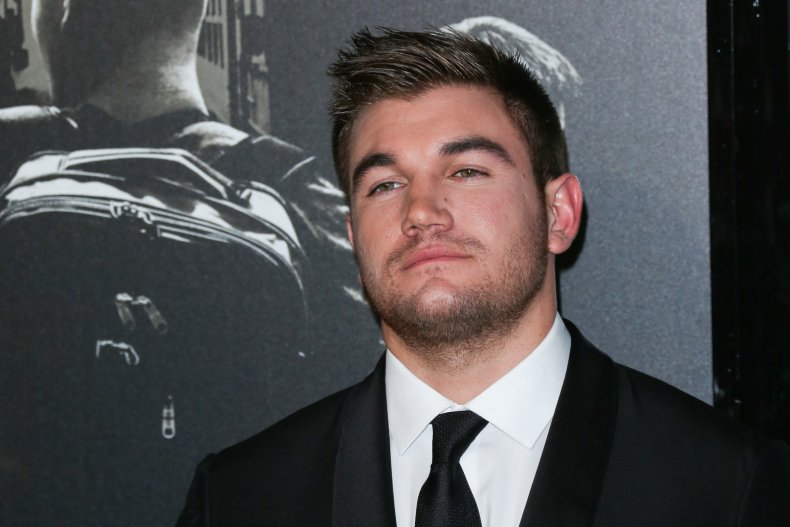 While never speaking publicly about the radical conspiracy theory which began life on controversial message board website 4Chan, Skarlatos has endorsed Jo Rae Perkins, the Republican nomination for U.S. Senate in Oregon and one of the most vocal QAnon supporting political candidates.
Following her election victory in May, Perkins posted a video of her holding a sticker with the letters "WWG1WGA", adding "I stand with Q and the team."
"Thank you anons, thank you patriots, and together we can save our republic," she said in the video which was later deleted by her campaign team.
Perkins, who is running against Democratic Senator Jeff Merkley in November, has also tweeted using the "WWG1WGA" hashtag, including once in a post congratulating Lauren Boebert on winning the Republican nominee for Colorado's 3rd congressional district. Boebert is also accused of being a fellow suspected QAnon sympathizer.
Elsewhere, Skarlatos recently appeared on the Gun Freedom Radio podcast where he agreed with a debunked conspiracy theory which claimed the recent wildfires on the west coast stopped at the Canadian border.
Skarlatos has also said that he doesn't believe in climate change and that it cannot be responsible for increasing ferocity of wildfires.