QAnon 'Queen of Canada' Orders Followers to Arrest Police Officers
A QAnon influencer who has thousands of people thinking she is the Queen of Canada has ordered her followers to arrest police officers in Ontario.
In a Telegram post shared with her 61,000 followers, Romana Didulo on Wednesday ordered the mass arrests of Peterborough Police officers on August 13.
Didulo was detained by Canadian police in November after allegedly encouraging her followers to "shoot to kill" health care workers. The following month, a 42-year-old alleged follower was arrested over threats linked to Didulo's health worker post.
Didulo has previously called on her followers to stop paying their energy and water bills.
Newsweek has found dozens of instances of people reporting online that they had stopped paying their bills as a result, one shared a letter demanding payment of more than $13,000.
Similar fake decrees guaranteeing more frequent ferry services, free public transportation and expansion of services to rural areas are frequently "liked" by hundreds of accounts.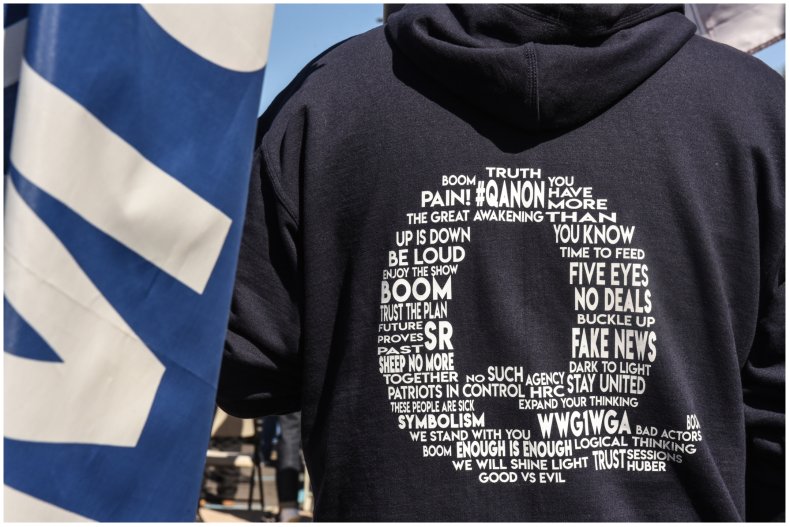 In an August 10 Telegram message, Didulo asked her followers, "Who amongst you are prepared to keep your city safe, peaceful and secure after you've peacefully arrested Peterborough Ontario Police?"
Previously she said that she "hereby issue this command" for her followers head to specific areas to make the arrests "to ensure peace, safety and security" of her community "pending arrests of the Peterborough Police Officers."
A specific Telegram channel with hundreds of followers had also been created specifically to instruct people about the planned mass arrests. Newsweek found dozens of accounts supportive of the plan and many claimed they would, or wanted, to attend.
A Peterborough police spokesperson said the department was "are aware of it and are monitoring it."
Christine Sarteschi, associate professor of social work and criminology at Chatham University, who has been monitoring Didulo said Didulo's followers have also indicated they raised more than $100,000 for the so-called queen to tour Canada in an RV.
Sarteschi told Newsweek: "They [Didulo's followers] wish to arrest all 'corrupt, criminal and evil politicians, bureaucrats, healthcrats, Ceo, and their cronies' and to live stream it on their Telegram page. It is the first of other similar events they are planning.
"They believe that the government is illegitimate and that public officials are hurting people. Their false beliefs underlie their desire to arrest public officials and could lead them to act out violently."
Sarteschi added: "She [Didulo] is harming her followers by lying to them and now they are facing significant losses, some losing their homes. At its core, her movement is anti-government. Any time someone believes that the government is illegitimate, they pose a threat."
Many of Didulo's posts include the QAnon slogan WWG1WGA, an acronym for "where we go one we go all."
According to Sarteschi, Didulo said she earned her title as monarch because she "removed the Chinese community military from Canada."
Didulo told followers they had been operating clandestinely in underground tunnels that lie beneath Canada, the U.S. and Mexico.
One Didulo follower said they stopped paying their bills, raking up thousands in debt.
In a post sharing a Canada Revenue Agency letter, they said: "This is the letter CRA sent to my bank RBC [Royal Bank of Canada] to redirect all of my income to them until paid in full.
"And they will take the money from savings account as well until paid in full. I also receive cpp (Canadian pension plan) from my late husband into this account and I will not have access to any money until they receive the required amount."
Didulo was previously detained by Canadian police after she allegedly encouraged her followers to "shoot to kill" health workers in the country.
In a YouTube video, previously seen by Newsweek, Didulo claimed mental health legislation had been "used [and] abused" by authorities and that she was later released.
In a November 22 Telegram post, Didulo wrote: "To our duck hunter brothers and sisters in the U.S. Please note, when I give you the signal to enter the Kingdom of Canada—here are the things I would like you all to help us with.
"Please take control of all newspaper, radio and television stations. I will make public statements from shortly thereafter. Control the border, land sea and sky."
Another November 22 post said: "I will be glad to grant you that Canadian citizenship after all ducks have been tucked away permanently."
Newsweek has contacted the Peterborough council for comment.