QAnon Shaman Jacob Chansley's Jail Release Request Denied as Capitol Riot Case Continues
A U.S. District Court judge on Monday denied a request from the "QAnon Shaman" to be released from jail ahead of the trial he is set to face for his alleged role in the January 6 riot at the U.S. Capitol.
Jacob Chansley, also known as Jacob Angeli, became known as the "QAnon Shaman" after law enforcement officials shared photos of protesters who were inside the U.S. Capitol on the day of the riot. Chansley called the FBI on January 7 and identified himself as the protester who was photographed wearing a furry hat with horns and face paint, according to court documents.
Chansley was previously ordered to be detained as he awaits trial, but his legal team requested that the order be reconsidered. According to a court opinion signed by U.S. District Judge Royce Lamberth and filed Monday in the U.S. District Court for the District of Columbia, "no condition or combination of conditions of release will reasonably assure defendant's appearance as required or the safety of others and the community."
As a result of the Monday decision, Chansley will remain behind bars until his trial begins.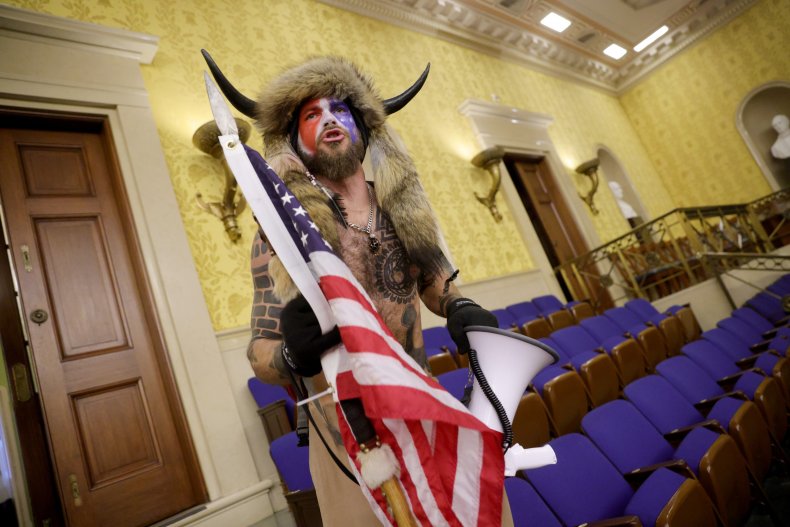 Chansley has been accused of participating in the protest that began in Washington, D.C., as both chambers of Congress congregated at the U.S. Capitol to certify the results of the 2020 presidential election. The protest took a turn as some participants made their way into the building, sending members of Congress into lockdown. Four civilians and one Capitol Police officer died as a result of the violence that ensued.
More than 270 people are facing federal charges in connection with the January 6 riot, according to a tracker maintained by George Washington University's Program on Extremism.
Among the charges Chansley faces for his alleged role in the riot are "obstruction of an official proceeding," "civil disorder" and "violent entry and disorderly conduct in a Capitol Building," according to a federal indictment.
According to the court document denying Chansley's request for pre-trial release, his alleged actions on January 6 and comments he has made since then "indicates his willingness to resort to violence to undermine the legitimate functions of the United States government." His alleged "refusal to obey orders from law enforcement" on January 6 also "indicates that he would not comply with conditions of release imposed to keep the public safe," Lamberth's decision said.
The court decision went on to reference a recent 60 Minutes+ interview, during which Lamberth wrote Chansley's "perception of his actions on January 6th as peaceful, benign, and well-intentioned shows a detachment from reality."
The court concluded that there was no agreement that could be reached to guarantee Chansley would appear for trial if he were released early. The court also rejected Chansley's argument that it was difficult to have private conversations with his legal team amid the ongoing coronavirus pandemic, citing the 60 Minutes+ interview as a counterpoint.
"Given defense counsel's decision to use what could have been a confidential videoconference on a media publicity stunt, that argument is so frivolous as to insult the Court's intelligence," Lamberth's order said.
Newsweek reached out to Chansley's attorney for comment and will update this article with any response.