'QAnon Shaman' Jake Angeli Says Trump Is 'Not Honorable' in Apology for Capitol Riot
Jake Angeli, also known as the QAnon Shaman, said he was "disappointed" in former President Donald Trump while apologizing for his participation in the January riot at the U.S. Capitol.
Angeli, whose real name is Jacob Chansley, was photographed during the riot wearing red, white and blue face paint and a fur-lined horned hat. Chansley also allegedly carried a 6-foot-long spear into the Capitol building. Trump has been accused of inciting the riot, which left 5 people dead, through his repeated claims of voter fraud.
According to a criminal complaint, Chansley said he came to the Capitol in January after Trump put out a call for "patriots" to come to D.C. on January 6.
In a statement sent to Newsweek on Tuesday by Chansley's attorney Albert Watkins, Chansley said he was "deeply disappointed in former President Trump."
"He was not honorable," Chansley continued. "He let a lot of peaceful people down. I have to leave judging him up to other people."
Chansley expressed regret for his participation in the riot. "I am sorry for having aroused fear in the hearts of others," Chansley said. "That was wrong. Period."
"Please be patient with me and other peaceful people who, like me, are having a very difficult time piecing together all that happened to us, around us, and by us," Chansley added. "We are good people who care deeply about our country."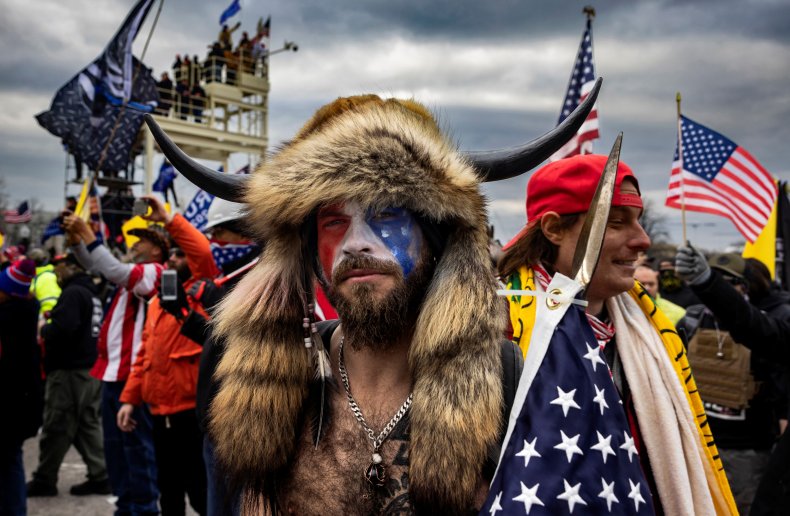 Federal investigators identified Chansley through photographs taken inside the Capitol building during the riot which highlighted Chansley's "unique attire and extensive tattoos covering his arms and the left side of his torso." Chansley was also allegedly photographed sitting in the Vice President's chair in the Senate.
Court documents filed in January stated that Chansley allegedly wrote a note to then-Vice President Mike Pence that read, "it's only a matter of time, justice is coming."
Pence was presiding over the Congressional confirmation of President Joe Biden's win in the Electoral College when rioters entered the Capitol Building. Trump had publicly expressed hopes that Pence would nullify the electoral votes from some battleground states, potentially allowing Trump to remain president. Pence said before the confirmation began that he did not believe he had the Constitutional authority to perform that task.
Chansley confirmed his presence at the riot during a phone conversation with the Washington Field Office of the FBI the day after the riot. According to the Department of Justice, Chansley "stated that he came as a part of a group effort, with other 'patriots' from Arizona, at the request of the President that all 'patriots' come to D.C. on January 6, 2021."
A recognizable figure among right-wing communities including the QAnon conspiracy theory movement, Chansley had been observed attending rallies supporting Trump. In November 2020, Chansley was seen at an election protest holding a sign that read, "Q sent me."
Chansley, an alleged adherent to Shamanism, was moved out of a Washington D.C. jail in February after his request for a diet comprised of organic food was denied. Chansley went on a short-lived hunger strike in protest. In February, Chansley was moved to the William G. Truesdale Adult Correction Center in Virginia to accommodate Chansley's request.
D.C. District Court Judge Royce Lambeth wrote in his decision that there was "no doubt that Shamanism is a religion and that defendant requests a dietary accommodation based on that religion."