'QAnon Shaman' Who Stormed Capitol Considers Riot a 'Win' Despite Congress Certifying Biden Victory
Storming the Capitol did nothing to prevent Congress from certifying President-elect Joe Biden and Vice President-elect Kamala Harris' election victory, but that doesn't mean the rioters failed, according to one of the most widely recognizable faces from the riot.
On Wednesday, a mob breached Capitol security just as legislators began to debate the validity of Arizona's electoral votes. It forced the evacuation of the House and Senate chambers and some rioters, including Jake Angeli, even made it onto the Senate floor, but legislators returned later that evening to finish the job of solidifying Biden's victory.
"The fact that we had a bunch of our traitors in office hunker down, put on their gas masks and retreat into their underground bunker, I consider that a win," Angeli, 33, told NBC News in an interview.
Angeli, who also goes by Jake Chansley and has been nicknamed "QAnon Shaman," is one of the most recognizable people from the riot. Bare-chested, Angeli donned a horned and fur hat and red white and blue face paint while carrying an American flag through the halls of Congress.
It's not the first time he's worn the attire and has appeared at pro-Trump rallies in Arizona wearing similar gear while carrying a sign that says, "Q sent me." QAnon is a conspiracy theory that promotes the idea that President Donald Trump is a savior that was sent to stop a group of pedophiles and a corrupt government.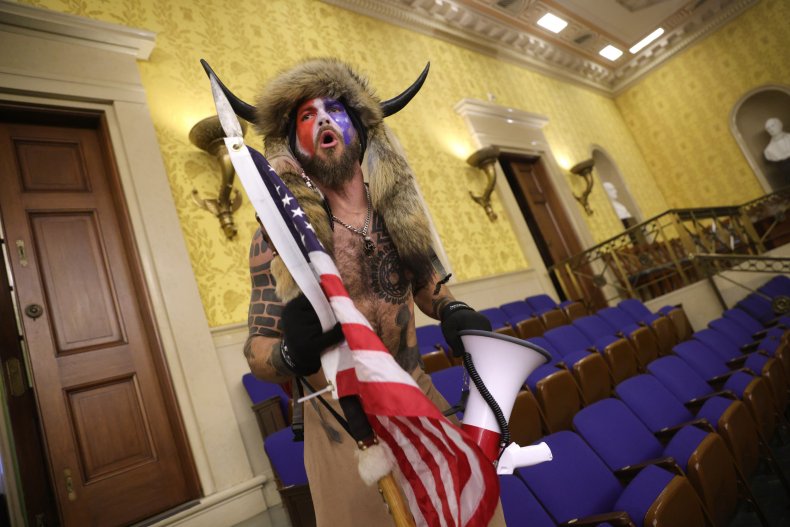 Angeli told The Arizona Republic he wears the attention-getting outfit to draw people in so he can then speak to people about his beliefs about QAnon.
The 33-year-old's involvement in the riot landed him first on a 26-slide persons of interest list published on the Washington, D.C., police department website. The Metropolitan Police Department is offering up to $1,000 in a reward for information that leads to their arrests and indictments.
Martha Chansley, Angeli's mother, told KNXV-TV she didn't know where her son was but said he was "fine." While many have lambasted the him for his actions, she defended her son, saying "it takes a lot of courage to be a patriot" and "stand up for what it is that you believe."
Republican and Democrat legislators alike condemned the Capitol riot as an inappropriate means of advancing a cause and Senator Lindsey Graham is making it a personal mission to ensure they're held accountable. During a Thursday press conference, Graham said it was vital that people who sat in legislators' chairs and entered the Senate floor be prosecuted to the fullest extent of the law as a message that this is not the proper way to advance a cause.
To ensure people are held accountable for their actions, Graham will spend the next six years of his term asking for progress reports from the Department of Justice. He added that money "won't be an object" and all necessary resources will be at the department's disposal. He also advocated for a task force to "identify every person" who took part in the breach.
"The people sitting in the chairs need to be sitting in a jail cell. The people who attacked the Capitol Hill police need to be charged with attacking a police officer. Sedition may be a charge for some of these people." Graham said on Thursday.