QAnon Shaman's Lawyer Blames Trump for 'Duping' Client Into 'Decisions He Should Not Have Made'
An attorney for Jacob Anthony Chansley, the "QAnon Shaman" also known as Jake Angeli, is putting the blame on former President Donald Trump for his client's involvement in the deadly storming of the U.S. Capitol on January 6.
"He regrets very, very much having not just been duped by the president but by being in a position where he allowed that duping to put him in a position to make decisions he should not have made," Albert Watkins, a lawyer for Chansley, told Missouri's NBC-affiliated television station KSDK.
Chansley has become one of the most recognizable faces of the riot, largely because of his appearance. The 33-year-old Arizona native went viral after being photographed bare-chested and wearing a fur hat with horns while carrying an American flag. He's worn similar attire at pro-Trump rallies in Arizona while carrying a sign saying "Q sent me"—referring to the conspiracy theory that promotes the idea that Trump is a savior in a fight against child-sex predators that includes prominent Democrats and "deep state" government officials.
He was arrested on January 9 and charged with knowingly entering or remaining in any restricted building or grounds without lawful authority, and with violent entry and disorderly conduct on Capitol grounds. He now faces additional charges of civil disorder, obstruction of an official proceeding, disorderly conduct in a restricted building and demonstrating in a Capitol building.
Watkins has maintained that Trump bears responsibility for what took place on January 6 and that his client didn't participate in the violence and surrendered peacefully.
"Let's roll the tape. Let's roll the months of lies and misrepresentations and horrific innuendo and hyperbolic speech by our president designed to inflame, enrage, motivate," Watkins told KSDK. "What's really curious is the reality that our president, as a matter of public record, invited these individuals, as president, to walk down to the Capitol with him."
The attorney had pushed for a presidential pardon for his client, but none of the people arrested following the Capitol insurrection were granted clemency by Trump before he left office on January 20.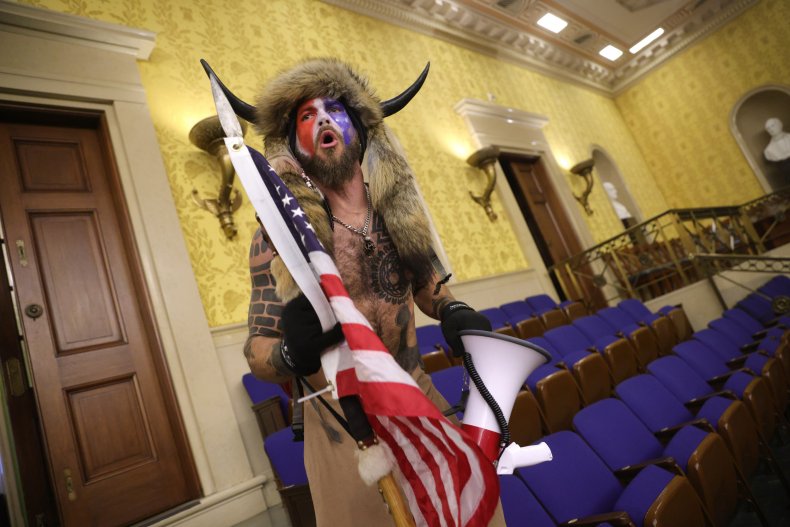 Thousands of Trump supporters gathered in Washington on January 6 to protest the certification of President Joe Biden's victory. The demonstration coincided with a joint session of Congress to affirm the Electoral College votes. Trump addressed his supporters at a "Stop the Steal" rally, where he continued to make baseless accusations that the presidential election was riddled with fraud and told the crowd members that they would have to "fight much harder."
Chansley previously told NBC News that he still thought of the January 6 attack as a victory, even though Congress certified Biden's win.
"The fact that we had a bunch of our traitors in office hunker down, put on their gas masks and retreat into their underground bunker, I consider that a win," he said.
Federal prosecutors continue to charge participants in the Capitol riot. So far, more than 100 people have been arrested. The latest wave of arrests included Joseph Randall Biggs, a Florida-based member of the right-wing Proud Boys group.
Chansley called the FBI himself to confirm his appearance at the riot. He told investigators that he came "as a part of a group effort, with other 'patriots' from Arizona, at the request of the president that all 'patriots' come to D.C. on January 6, 2021," according to a Justice Department release.
In an email, Watkins told Newsweek, "My client is understandably compelled to reconcile the words of the president with the actions of the president. The reconciliation of a betrayal necessarily requires the bellying up to the bar by the betrayed to acknowledge their role in making themselves ripe for betrayal.
Watkins added, "Mr. Chansley is not alone. We all are compelled to be introspective about our role in creating and permitting an environment where believing the words of a president are criminally actionable."
This story was updated at 1 p.m. to include a statement from Jacob Anthony Chansley's attorney, Albert Watkins.