QAnon Supporter Marjorie Taylor Greene Who Said Muslims Don't Belong in Government Elected to Congress, Projections Say
Marjorie Taylor Greene has won in Georgia's 14th district, marking the first time a QAnon supporter has been elected to serve in Congress.
"BIG WIN TONIGHT! THANK YOU to the people of NW Georgia for choosing me to fight for them in Washington, DC!" the candidate tweeted at 7:51 p.m. ET on Tuesday night.
The Associated Press officially called the race for Greene at 9:16 p.m. ET, but several news outlets had projected her victory shortly after the polls closed in Georgia.
Greene has been vocal about the QAnon conspiracy theory, which is a broad movement that believes President Donald Trump is stopping a deep-state ring of child sex traffickers. In one video posted to YouTube, she praised "Q" as a patriot who "very much loves his country."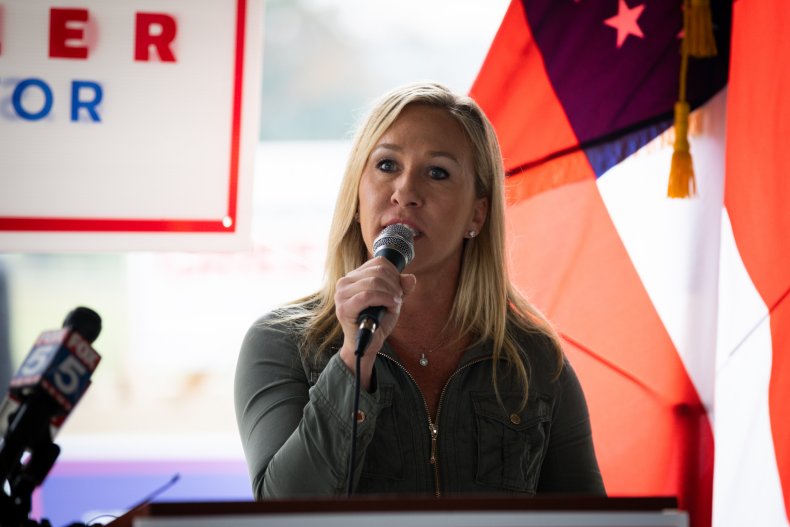 She's also been criticized for videos showing her expressing racist, anti-Semitic and anti-Muslim views. Politico first reported in June that she had posted footage to Facebook that insisted Black people should be "proud" of Confederate monuments and called them "slaves to the Democratic Party." She dubbed the 2018 midterms "an Islamic invasion" and stated Muslims do not belong in government.
The clips did not stop Greene from winning the Republican primary. During her victory speech, Greene slammed the "D.C. swamp" and "political establishment" for trying to take her out of the race.
"But there is definitely more of us than there is of them," she said. "And we'll keep reminding them of that, because I have no intention on cozying up with any of those people who are against the American people."
Later, Greene backed away from some of those comments. In August, she told Fox News that QAnon "wasn't part of my campaign."
"I was just one of those people, just like millions of other Americans, that just started looking at other information," Greene told the news outlet. "And so, yeah, there was a time there for a while that I had read about Q, posted about it, talked about it, which is some of these videos you've seen come out. But once I started finding misinformation, I decided that I would choose another path."
While Greene was seen as a lock to win the reliably red district in the general election, her path to Congress became easier when her Democratic opponent Kevin Van Ausdal dropped out of the race. Ausdal cited family and personal reasons for his decision to withdraw from the contest in September.