QAnon Supporters Hail Matt Gaetz as Patriot, Believe Accusations of Sex Trafficking Are FBI Setup
QAnon conspiracy theorists rushed to Rep. Matt Gaetz's defense in online forums late Tuesday, after a New York Times report wrote about the Republican congressman's involvement in an ongoing federal investigation alleging possible sex trafficking.
As the Times noted, personnel at the U.S. Department of Justice are continuing to pursue what has already been a months-long inquiry into the Florida lawmaker's alleged sexual relations with a 17-year-old two years ago. Gaetz, now 38, is accused of compensating the young woman for traveling with him, including during trips that crossed state lines. Investigators are reportedly working to determine whether Gaetz's alleged conduct violates federal sex trafficking laws, being that several statutes exist to legally prohibit an adult from incentivizing an underaged person to engage in interstate travel as part of a transactional sexual relationship.
Followers of QAnon, an online community largely composed of far-right, ideological extremists who believe a range of conspiracy theories and historically have positioned themselves as steadfast Donald Trump supporters, were skeptical of the allegations against Gaetz, despite the group's supposed foundational mission to expose high-profile sex traffickers worldwide. QAnon conspiracists responded to the Times report with doubt, and went so far as to repeat Gaetz's claims that the Justice Department's investigation was intertwined with a federal extortion effort.
"The SMEARING of MAGA Patriots has no end: The NY SLIMES is far worse than any grocery store tabloid," wrote on QAnon supporter in digital correspondence that Twitter user @pinealdecalcify reposted in a wider thread on Tuesday night. The user, whose account description reads "conspiracy person," often shares screenshots taken from QAnon messaging platforms on Twitter and attributed posts included in their recent thread to QAnon supporters.
"I was having a very hard time reconciling who I believed Matt was to what the MSM was reporting," another theorist wrote in a message that appeared in @pinealdecalcify's Tuesday thread. MSM is an abbreviation frequently used by QAnon supporters, meaning mainstream media. "This kid has guts. GO MATT!!! BRING THEM ALL DOWN," the same person added.
"[Y]eah..thats bad. however not surprising for the Deep State FBI. Hang in there Matt," an additional QAnon follower wrote online, referencing allegations against Gaetz.
The Florida congressman, similar to numerous QAnon believers, promoted Trump's unsubstantiated claims of election fraud and falsely suggested that Antifa was responsible for the January 6 riot at the U.S. Capitol. Many QAnon supporters were arrested and charged for their participation in the violent insurrection as federal authorities pursued a widespread investigation into the incident.
QAnon supporters' suggestions that Gaetz's involvement in a Justice Department–led sex trafficking inquiry was a setup staged by the FBI echoed the congressman's own statements when he denied the allegations.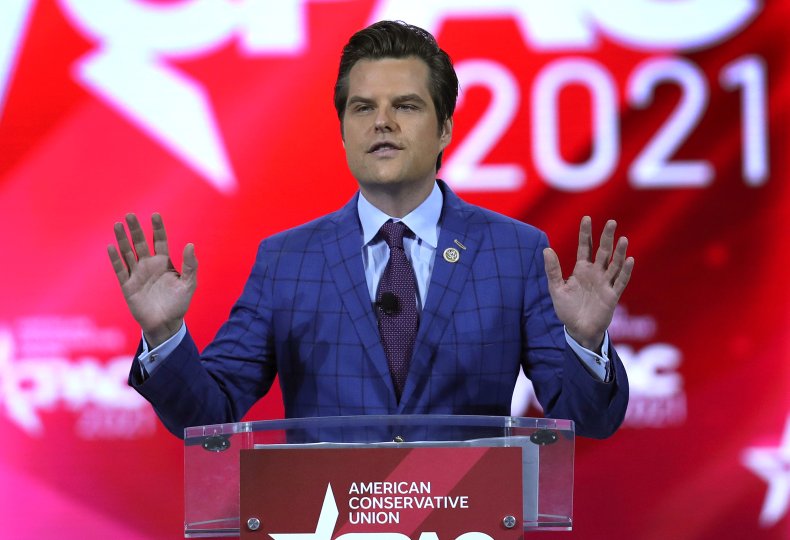 "Over the past several weeks, my family and I have been victims of an organized criminal extortion involving a former DOJ official seeking $25 million while threatening to smear my name. We have been cooperating with federal authorities in this matter and my father has even been wearing a wire at the FBI's direction to catch these criminals," said Gaetz in a statement released Tuesday.
"The planted leak to The New York Times tonight was intended to thwart that investigation," the statement continued. "No part of the allegations against me are true, and the people pushing these lies are targets of the ongoing extortion investigation. I demand the DOJ immediately release the tapes, made at their direction, which implicate their former colleague in crimes against me based on false allegations."
Newsweek reached out to Gaetz's office for further comment but did not receive a reply in time for publication.