QAnon Supporting Candidates Got More Than 11K Votes in California Recall
The three candidates on California's gubernatorial recall ballot who have been known to espouse QAnon conspiracy theories or slogans collectively received 11,619 votes in early ballot return data released shortly after polls closed on election night.
Rhonda Furin, Sarah Stephens and Nickolas Wildstar have each been identified by The Sacramento Bee as candidates who expressed support for QAnon in the past. Media Matters for America, a left-leaning nonprofit, also identified Furin, Stephens and Wildstar as QAnon supporters in a roundup earlier this summer assessing the role of QAnon in active gubernatorial races across the U.S.
As of 9:08 p.m.on Tuesday, Furin received 2,614 votes, Stephens received 6,790 votes and Wildstar received 2,215 votes, according to unofficial and partial election results released by the California secretary of state's office. Each of these numbers is expected to change as election officials across California continue counting votes.
Several media outlets called the race for sitting Governor Gavin Newsom shortly before 9 p.m. on Tuesday. The projection means Newsom will remain in office through the remainder of his term.
Speaking during a virtual event with Cameron Sadeghi of the software company Good Party shortly before the election was called for Newsom, Wildstar said he believed he did "fairly well" and said many ballots were still left to be counted.
"I believe that I did fairly well, despite what the numbers are showing so far. There are lots of ballots that are still being counted for people that voted today, like myself," Wildstar said.
He added, "What we've seen so far is just the projection, and I'm really confident that at some point, you know, I'll end up on the board in some way."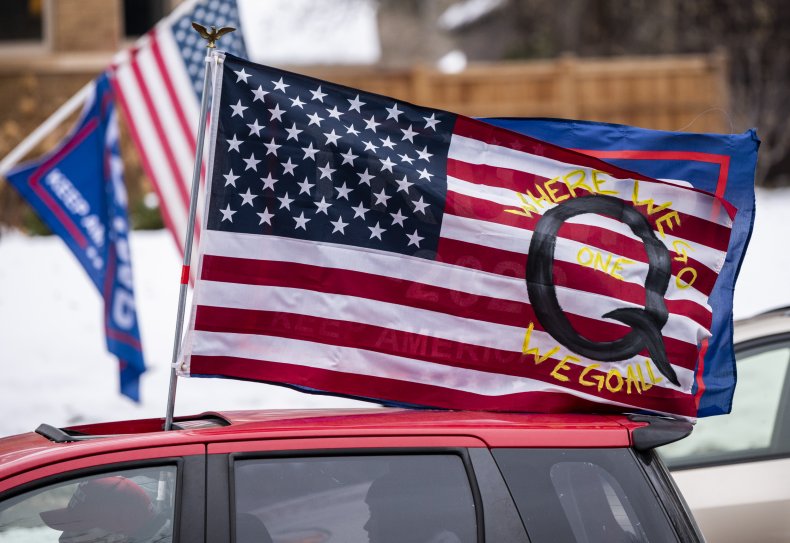 Furin, Stephens and Wildstar all qualified to appear on California's gubernatorial recall ballot alongside 43 other candidates. Their names first appeared on a certified list of recall candidates California Secretary of State Shirley Weber's office released in July, and each of their names also appeared on the official recall ballot next to brief descriptions of their occupations and their party preferences.
Furin is a teacher originally from Minnesota who moved to California in the 1990s, according to her campaign website. She previously ran an unsuccessful bid for Congress and is now running to replace Newsom while focusing on education as her "top priority."
Furin is listed on the recall ballot as a nonprofit president and Republican. She identifies as a conservative Republican on Twitter, where she also includes #MAGA in her account description.
Tweets compiled by Media Matters that Furin's account posted in early 2021 and in 2020 featured repeated mention of "WWG1WGA," a reference the QAnon slogan "where we go one, we go all." In addition to the tweets, Furin also posted the term on her congressional campaign's Facebook page, according to Media Matters.
When asked by The Sacramento Bee earlier this summer about her suspected support for QAnon, Furin told the paper she has read QAnon content, but "I would not say I am a member of any certain group, other than School Choice, as I follow and read up on all sides and make my decision based on facts and not hearsay or media lies."
On Monday, Furin quote-tweeted a post that referenced the "Stop the Steal" conspiracy theory surrounding the 2020 presidential election and claimed, "You let a Democrat cheat once and they will continue to cheat forever. Stop the Steal in California." Furin retweeted the post with a link to her campaign website.
As voters were going to the polls on Tuesday, Furin also shared an image that appeared to be from the Democratic Legislative Campaign Committee identifying Furin as one of three Republican candidates "at risk" of leading California if Newsom were to be recalled. The image showed a photo of conservative radio host Larry Elder beside his position on minimum wage, television personality Caitlyn Jenner beside her vow to complete the U.S.-Mexico border wall in California, and Furin beside a phrase that read, "I [have] read QAnon."
"Interesting," she wrote above one tweet sharing the image on Monday. She recirculated that tweet later Monday with a caption that read, "Pay Attention & As a retired teacher & educator of 40 years.... , I say.. Do Your Homework," and shared it again Tuesday morning with a caption that read, "MAGA."
Stephens also identifies as a Republican and is listed on the recall ballot as a pastor. She is a mother of five from Southern California who also works as a community leader and motivational speaker, according to her campaign website. Stephens decided to run to replace Newsom because "she believes she is the WOMAN FOR THE JOB to stand up and fight for the FREEDOM of Californians," her campaign website says.
Stephens has posted the same WWGIWGA term on Instagram, as well as the "save our children" phrase that is often associated with one QAnon conspiracy theory about child sex trafficking, according to Media Matters.
The third candidate who has been connected with QAnon is Nickolas Wildstar, another Republican running in the recall who identifies as a musician, entrepreneur and father on the recall ballot. Wildstar is originally from Wisconsin and previously ran unsuccessful bids to become the mayor of Fresno in 2020 and the governor of California in 2018. In addition to running in the recall, Wildstar's campaign website says he will also run for governor in 2022.
Wildstar has posted tweets in the past that included hashtags associated with QAnon, including WWG1WGA, according to Media Matters. Even so, Wildstar told The Sacramento Bee he does "not consider myself to be a card carrying Q Anon member," a position he reiterated in tweets he posted last month.
"Although my #Facebook username back in the day was QAnonymous and am flattered by the leftist labeling I'm not a #QAnon member," Wildstar tweeted on August 21. He followed that post one day later with a tweet that said, "If the media keeps this up I'll have to start calling myself a #QAnon candidate just to turn heads."
In the days preceding the recall election, Wildstar shared images of himself with supporters on social media and encouraged voters to cast their ballots by the end of Election Day.
"Guess I'm one of the top 4 hottest candidates people will be voting for #Today," Wildstar tweeted Tuesday evening. He added that "win or lose" it was an "exciting" campaign.
In a statement shared with Newsweek Tuesday evening, Darryl Cotton, the communications director for Wildstar's campaign, said Wildstar's political ideology "is no more in line with QAnon than it is with Antifa" and added Wildstar "simply respects and will defend their first amendment rights."
"What Nick is a staunch believer in is our 1st amendment rights to free speech and peaceable assembly. As Governor, he will fight to protect those rights if not in this special election than in the upcoming 2022 elections," Cotton said.
"Uniting this country, and the citizens of CA, will require a deft touch," Cotton's statement continued. "Nick is the classic Eisenhower Republican who can accomplish this. What he brings to the table is an open mind, not encumbered by special interests, and a fierce determination to do what needs to be done in CA to return this state to a place where people want to live and work. Where a future will be considered something greater than our past. I, and a growing number of like minded Californians, are looking for just those qualities in our elected officials. Please consider what Nick is willing to do for this state, and what his real message is to the voters."
Newsweek reached out to Furin and Stephens for comment and will update this article with any response.
Update (9/15/2021, 12:30 a.m): This article has been updated to include comments from Darryl Cotton, the communications director for Nickolas Wildstar's campaign.