Representative-elect Marjorie Taylor Greene of Georgia recently announced that she was holding a giveaway for an AR-15, telling supporters to get a gun while they still can.
"In June, I issued a warning to Antifa terrorists: Stay the HELL out of NW Georgia. Now I'm giving away my famous AR-15," Greene, a Republican, tweeted. "If Joe Biden steals this election, he'll try to ban it. Get yourself a gun before it's too late!"
While Greene suggested that Biden could be stealing the election, he is well ahead of President Donald Trump in both the popular and electoral vote.
Greene was recently elected to Georgia's 14th District. On social media she's shared videos related to QAnon, a far-right conspiracy theory that maintains a number of prominent Democrats are involved in a satanic cult, though in August she distanced herself from it.
"This is the same gun that TRIGGERED the Fake News Media all across America and got Marjorie banned by Big Tech," Greene wrote on her gun giveaway site. "Chip in $100, $50, $25, $10, or whatever you can afford and you'll be automatically entered to win Marjorie's gun!"
Her site notes that the gun is valued at $1,890 and that supporters can contribute any amount of money they want to be entered in the giveaway. Entrants must be a U.S. citizen or permanent resident and not a federal government contractor. The contribution must be made through personal funds and not from the general treasury funds of a corporation, union or national bank.
Greene also provided another site where supporters can enter in the giveaway without contributing any money.
In an email to Newsweek, Greene's campaign wrote, "With Antifa/BLM terrorists rampaging on the streets and anti-gun Democrats hell-bent on banning, confiscating and destroying our firearms, we must be able to defend ourselves."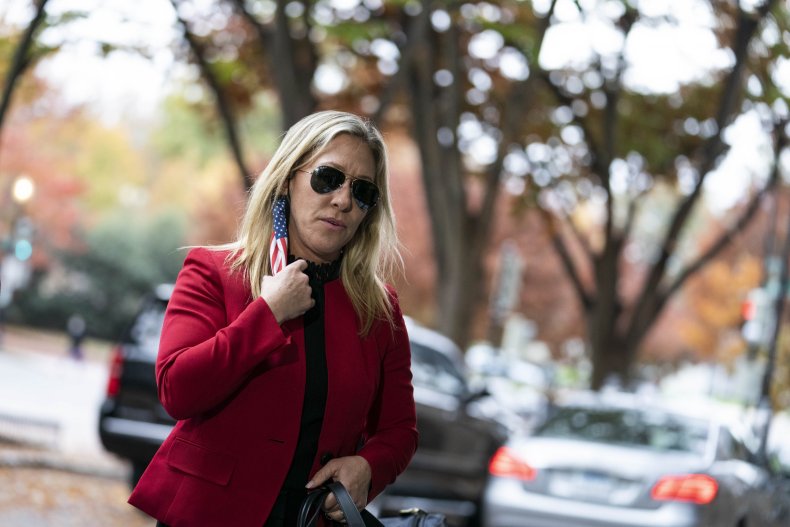 "I was horrified to watch marchers violently attacked for simply supporting President Trump on Saturday. That's wrong, and that's why I doubled down on my AR-15 giveaway," Greene wrote in her email. "I encourage every American to go to GreeneGun.com and enter to win before it's too late."
Greene's comments about her giveaway come shortly after Trump supporters clashed with counterprotesters in Washington, D.C., on Saturday. There was a reported stabbing and two police officers were injured, according to the Associated Press, and police recovered several firearms. At least 20 people were arrested.
Trump made similar comments about the conflict between the protesters, tweeting, "ANTIFA SCUM ran for the hills today when they tried attacking the people at the Trump Rally, because those people aggressively fought back."
The president added, "Antifa waited until tonight, when 99% were gone, to attack innocent #MAGA People. DC Police, get going — do your job and don't hold back!!!"
Correction: 11/16/20 1:12 p.m. ET. An earlier version of this story stated that Greene was a supporter of the QAnon conspiracy theory. The headline of this story has been changed to reflect her current stance on QAnon.