QAnon-Supporting Rep.-Elect Marjorie Greene Calls on New Congress Members to Not Wear 'Oppressive' Masks
Congresswoman-elect Marjorie Greene is refusing to wear a mask on Capitol Hill and asking other new members of Congress to join her.
"Our first session of New Member Orientation covered COVID in Congress. Masks, masks, masks… I proudly told my freshman class that masks are oppressive," Greene tweeted on Friday.
"In GA, we work out, shop, go to restaurants, go to work, and school without masks," she added. "My body, my choice. #FreeYourFace."
Greene, who won election in Georgia's 14th congressional district last week, is the first supporter of the far-right QAnon conspiracy theories to win a U.S. House seat.
Over the summer, House Speaker Nancy Pelosi said that she would require all members to wear masks during congressional hearings. Lawmakers who refuse to do so have the option to participate in committee hearings remotely via video conferencing. However, Pelosi's rule does not apply to floor votes or other areas of the Capitol.
Dozens of lawmakers have tested positive for COVID-19 since the beginning of the pandemic.
Among them are Republican Senator Mike Lee, Republican Senator Tom Tillis, Republican Senator Ron Johnson, Republican Senator Rand Paul, Democratic Senator Bob Casey, Republican Representative Louie Gohmert and most recently, Republican Representative Don Young.
The Centers for Disease Control and Prevention has continued to urge Americans to wear face masks in order to curb the spread of the coronavirus.
Earlier this week, the CDC said that masks not only protect other people from contracting the virus but the mask wearers themselves.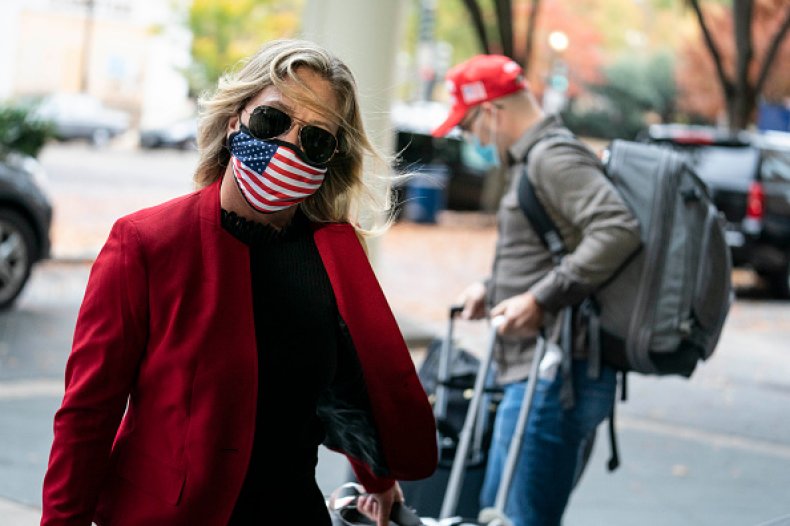 The U.S. has seen a rapid surge in coronavirus cases across the nation. The country added more than 163,000 new COVID-19 cases on Thursday alone and has reported more than 10 million cases since the pandemic began—the only country in the world to do so.
As of November 13, there have been 401,750 confirmed cases and 8,655 deaths in Greene's home state of Georgia, according to a New York Times database. On Thursday, the White House Coronavirus Task Force put Georgia back in the red zone for having more than 101 cases per 100,000 people.
This is not the first time Greene has spoken out against mask wearing.
Earlier in September, Greene tweeted that "children should not wear masks."
In the now-deleted tweet, she claimed masks are "unhealthy for their psychological, emotional, and educational growth" and that "forcing boys to wear masks is emasculating."
She also included an image highlighting low mortality rates among children with COVID-19 in the tweet.
The CDC recommends that people 2 years of age and older wear masks.
Newsweek reached out to the U.S. House of Representatives for comment but did not hear back before publication.
Correction: 11/13/20 3:03 p.m. An earlier version of this story said that Senator Tim Kaine tested positive for COVID-19. Kaine tested positive for antibodies.