QAnon Theorists Switch Date to March 20 After No Trump Inauguration, Call the 4th 'False Flag'
As federal law enforcement agencies braced for QAnon conspiracy theorists to engage in potential acts of violence on Thursday, leading affiliates of the far-right extremist movement seemed to amend formerly held beliefs about the significance of March 4.
QAnon, a viral set of online conspiracy theories pushed predominantly by followers of former president Donald Trump, gained widespread notoriety ahead of the most recent general election. Supporters believe a range of false conspiracies, whose overarching theme alleges that distinguished Democrats belong to a secret, global network of sex traffickers and Satan worshipers that Trump was appointed to disband.
Proponents for QAnon were responsible for spreading misinformation and disinformation about a number of issues, from COVID-19 to the Black Lives Matter movement, during the months leading up to November's election.
Originally, QAnon theorists believed that Trump would resume his place in the White House on March 4, the standing presidential Inauguration Day prior to the 20th Amendment's passage in 1933. Inaugurations took place on January 20, the day President Joe Biden was sworn into office earlier this year, after that.
Aware of the March 4 conspiracy, federal agencies including the U.S. Capitol Police and Department of Homeland Security prepared for possible uprisings. Many of the Trump supporters who stormed the U.S. Capitol complex on January 6 were QAnon affiliates.
However, over the past month, prominent conspiracists within the QAnon internet community began to doubt the March 4 theory.
Alex Kaplan, a senior researcher at right-wing media watchdog Media Matters for America, showcased the growing skepticism among QAnon influencers in an ongoing Twitter thread. The thread included screenshots of their posts to various chat platforms, such as Telegram, describing March 4 as a "false flag" constructed by mainstream news organizations and internal double agents to deceive true QAnon proponents.
"Can't help but get the feeling that these 'March 4 true inauguration' stories are planned disinfo being peddled by the [injected] anons to dupe people into spreading probably nonsense theories that make the whole movement look dumb," one QAnon influencer wrote in an online forum early last month, according to a screenshot that Kaplan shared to Twitter on February 10. Kaplan redacted all QAnon supporters' names prior to posting the screen captures.
"Caution," another wrote last week. "All the irresponsible talk about March 4th is very likely another setup to target members of the 'Q community' as extremist. Spread the word and do NOT go to any big events that day."
Two additional influencers, who Kaplan said previously backed the March 4 conspiracy theory, seemed to have changed their minds entirely by Wednesday. The influencers respectively described the theory as a "false flag" and "a trap" in messages that appeared on separate social media platforms.
Responding to a Telegram thread that referenced "taking the fences down Around DC," one influencer wrote: "So let me get this straight...they want to take them down 2 days before they 'think' something will happen on the 4th?!?! False flag coming!"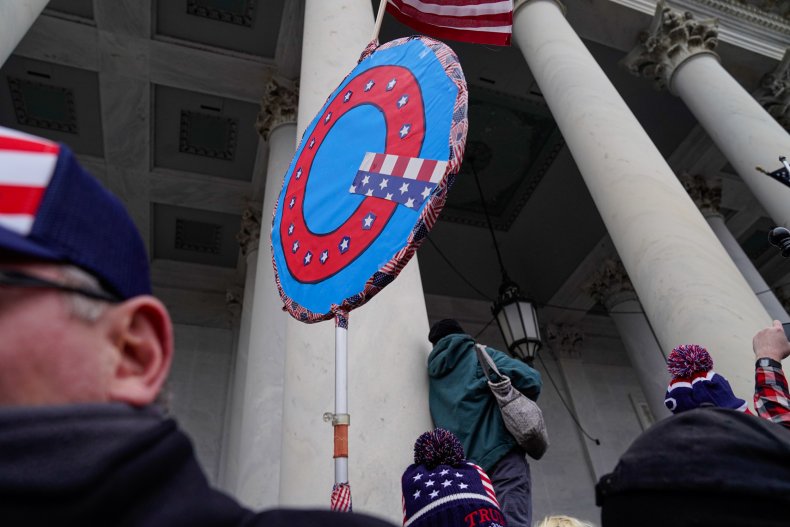 "March 4 is a Trap! Q knew," the other said in a different post. "Is it a trap for [them] or is it a trap for us?"
Earlier, the same influencer claimed: "Anything/anyone hyping March 4 is suspect," and called the March 4 conspiracy an "MSM false flag set up." (MSM stands for mainstream media.)
Some QAnon supporters seemed to rebrand the March 4 conspiracy in the wake of community suspicion. While two individuals affiliated with the false theories simply suggested that Trump's inauguration would take place some time in the spring, one man, identified as Ken, told Washington Post reporter Dave Weigel that the former president "will be inaugurated again on March 20" in comments over the weekend. Ken also believes that "Trump is still in command of the military" and "Biden is acting as president as a ruse while the Pope and others are rounded up," according to Weigel.
Late Thursday, a Telegram subscriber wrote on a popular QAnon channel that people shouldn't be "disappointed" because "the race is not run yet and I have reason to believe March 20 is also possible," according to Business Insider. Another message said "we still have 16 days" and "lots can happen between now and then."
The upcoming date will mark the 167th anniversary of the Republican Party's founding. Former members of the Whig Party are said to have technically established the GOP during a meeting in Ripon, Wisconsin, on March 20, 1854.
Update (03/05/21, 4:11 p.m.) This story has been updated with additional context from QAnon followers who claim Trump will be inaugurated on March 20.