QAnon Theory Says Trump, Putin Working Together to Destroy Fauci Labs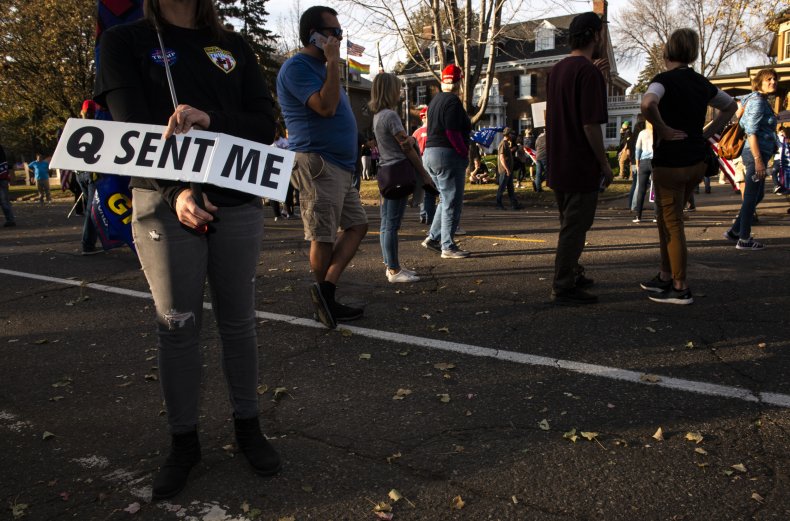 QAnon conspiracy theorists are claiming that former President Donald Trump is aiding Russian President Vladimir Putin's invasion of Ukraine to destroy secret bioweapons labs run by Dr. Anthony Fauci.
A contingent of those participating in the American version of the so-called "Freedom Convoy" protest have been discussing the claim as they make their way toward Washington, D.C., this week, according to NBC. Since at least 2018, Russian propaganda has been pushing the false notion that the U.S. is operating bioweapons labs in Ukraine, according to Snopes.
While the trucker convoy had originally been set to emulate its Canadian counterpart by protesting COVID-19 vaccine mandates and other restrictions, many have been recently repealed. The protesters are reportedly now making vague demands for "accountability," with some of their focus apparently switching over to the baseless conspiracy claims.
Fauci, President Joe Biden's chief medical adviser and the longtime director of the National Institute of Allergy and Infectious Diseases, has become a favorite target of QAnon conspiracists since contradicting Trump during the early months of the COVID-19 pandemic. The new theory posits that his Ukrainian labs, which do not exist, are working to develop a pathogen for a new pandemic. Conspiracists also falsely claim that Fauci engineered COVID-19.
In addition to the trucker convoy, the conspiracy has been popular on online messaging platforms favored by the far right, such as Telegram and 8chan. The Russian Embassy in Bosnia and Herzegovina, a Russian propaganda outlet and outlets in China and Serbia have also promoted the theory, according to Foreign Policy. U.S. conspiracy theorist Alex Jones has pushed the theory on his Infowars website as well.
QAnon proponents believe that Trump is fighting a secret war against a "deep state" of satanic, blood-drinking Democrats and Hollywood "elites" engaged in a child sex trafficking ring. The fact-free theory has continued to thrive while "Q," the supposed government informant at its center, has remained silent since shortly after Trump lost the 2020 election.
The ranks of QAnon believers have quickly grown since the conspiracy's beginnings in 2017, regardless of online Q postings consistently containing predictions that failed to come true, usually involving claims that Trump was about to imprison or execute his political opponents. If anything, the conspiracy's claims have become more outlandish since Q stopped posting.
Last year, QAnon believers gathered on multiple occasions to await the return of long-dead former President John F. Kennedy and his son John F. Kennedy, Jr., who died in a 1999 plane crash. Some proponents have claimed that the younger deceased Kennedy is destined to become Trump's running mate in the next presidential election.
Newsweek reached out to Fauci and the office of Trump for comment.