QAnon to Be Wiped from Facebook—Even Non-Violent Posters
Facebook announced on Tuesday that it is banishing all accounts associated with QAnon from its platforms.
"Starting today, we will remove Facebook Pages, Groups and Instagram accounts for representing QAnon. We're starting to enforce this updated policy today and are removing content accordingly, but this work will take time and will continue in the coming days and weeks," Facebook said in a statement. "Our Dangerous Organizations Operations team will continue to enforce this policy and proactively detect content for removal instead of relying on user reports."
The elevated measure comes after Facebook established a policy targeted at QAnon accounts abundant with violent rhetoric in August, which led to 1,500 pages, groups and profiles being booted from the social media network. By broadening its efforts to combat all QAnon accounts, Facebook hopes to "bring to parity what we've been doing on other pieces of policy with regard to militarized social movements," a company spokesperson told NBC on Tuesday.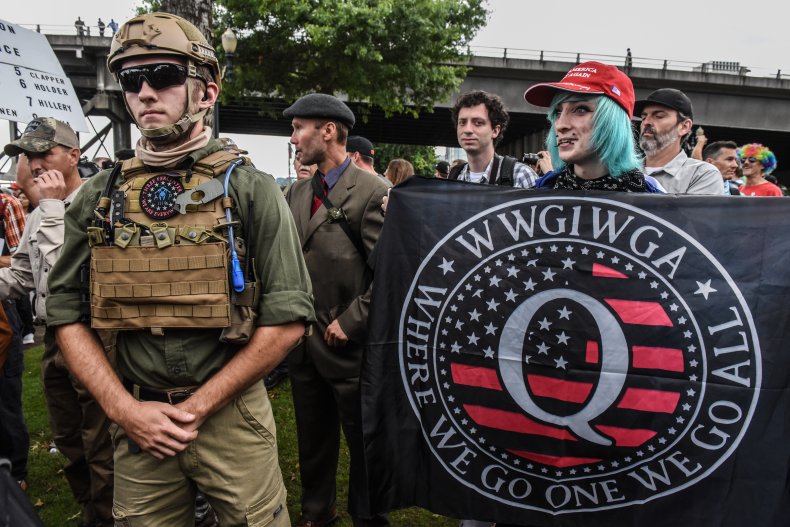 While the August clean up primarily targeted specific violent comments and posts, the company's move on Tuesday will affect entire accounts that spread QAnon messaging whether it be violent comments or not.
Started by an anonymous web user known only as Q, the QAnon conspiracy theory is based on allegations of Democrats and Hollywood elites being members of a cannibalistic secret society called Deep State that traffics children among other heinous activities. According to the conspiracy theory, the Deep State's purpose is to undermine President Donald Trump, who theorist believe is covertly on a mission to take Deep State down. Under Trump's regime, QAnon followers expect a soon-coming judgement day for members of the left, in which they will be executed. Q has posted messages pertaining to the conspiracy theory on extremists messaging boards like 8chan, which has since been renamed 8kn, since 2017.
Facebook's crackdown on QAnon is just the company's latest attempts to tighten up on misinformation being shared across the social media platform. Earlier in October, Facebook scrubbed a number of misleading ads from the Trump reelection campaign, which claimed allowing more refugees into the U.S. would cause a spike in the spread of coronavirus across the country. The ad also alleged that Vice President Joe Biden, Trump's opponent, would allow people from Syria, Somalia and Yemen to seek refuge in the U.S. at an increased rate of more than 700 percent if he takes the White House.
Earlier in the year, Facebook said it would take a stronger approach in monitoring ads that could harm the legitimacy of the election.