Funeral Procession for Soleimani Sees Thousands March Through Baghdad Chanting 'American Is the Great Satan'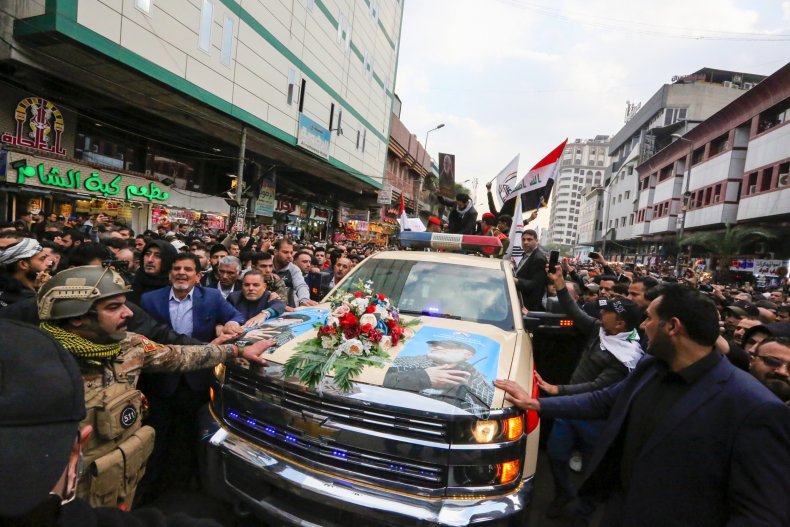 The crowds alternated between chants including "No, no, America," "Death to America" and "America is the Great Satan," according to multiple media outlets, but the message was clear Saturday as thousands of mourners flanked the hearse carrying the body of Iranian General Qassem Soleimani through Baghdad.
Soleimani was the primary target of a U.S. drone attack early Friday that left 10 people dead. The unannounced strike—for which President Donald Trump did not seek congressional approval—drastically heightened tensions in the Middle East, as Iranian leaders have vowed retribution.
The mourners were primarily Iraqi militia fighters and supportive civilians, according to multiple media reports. Soleimani, the head of the Iranian Revolutionary Guard Corps's Quds Force, oversaw Iran extraterritorial military operations, including supporting foreign militias such as Iraq's Kataib Hezbollah group. The Iraqi commander of that group, Abu Mahdi al-Muhandis, also died in the attack.
Some marchers carried images of Soleimani and Iran's Supreme Leader Ayatollah Ali Khamenei as well as flags of the Popular Mobilization Forces (PMF), a coalition of Iraqi militias that was pivotal in the country's fight against the Islamic State. Last year, the International Institute for Strategic Studies dubbed al-Muhandis the "most powerful single actor" in that group. His death alone would have been viewed as cataclysmic in Iraq, The New York Times reported.
The funeral procession for the men began at Baghdad International Airport (Al Muthana Airport), near the site of the strike, and concluded with a state funeral in the city's Green Zone, according to the BBC. The procession was set to continue to the cities of Karbala and Najaf with more events to follow in the Iranian cities of Mashhad, Kerman and Tehran.
The procession kicked off three days of public mourning previously announced by Khamenei. "Elaborate plans for his funeral have been expanded, a mix of carefully scripted ceremony with outpourings of grief filling the streets," wrote BBC chief international correspondent Lyse Doucet in her description of Iran's efforts to "cement" Soleimani's legacy as a national hero.
Following the airstrike, Iran's Fars News Agency released a statement from Khamenei on the general's death. "His demise will not stop his mission, but the criminals who have the blood of General Soleimani and other martyrs of the attack on their hands must await a tough revenge," the Iranian leader said.
Qays al-Khazali, the commander of Asaib Ahl al-Haq, another PMF militia, said "all fighters should be on high alert for upcoming battle and great victory," Al Jazeera reported.