Can President Trump Solve the Gulf Crisis? Qatar Emir Says He's Open to Camp David Talks
President Donald Trump has flip-flopped multiple times throughout the Gulf crisis that began on June 5, when Saudi Arabia, the United Arab Emirates(UAE) and their allies severed diplomatic ties with Qatar.
Trump has swung from praising the cutting of ties as necessary to fight terrorism, to offering to assist Qatar in resolving the dispute, to blaming the tiny, oil-rich Gulf state for the crisis.
But despite his inconsistency on the issue, the emir of Qatar is still holding out hope that the U.S. president can help bring an end to a conflict that is threatening the peace and stability of the region.
In an interview with CBS's "60 Minutes" correspondent Charlie Rose, Sheikh Tamim bin Hamad Al Thani—Qatar's 37-year-old emir—confirmed that President Trump offered again to mediate in the dispute when the pair met recently in New York during the United Nations General Assembly.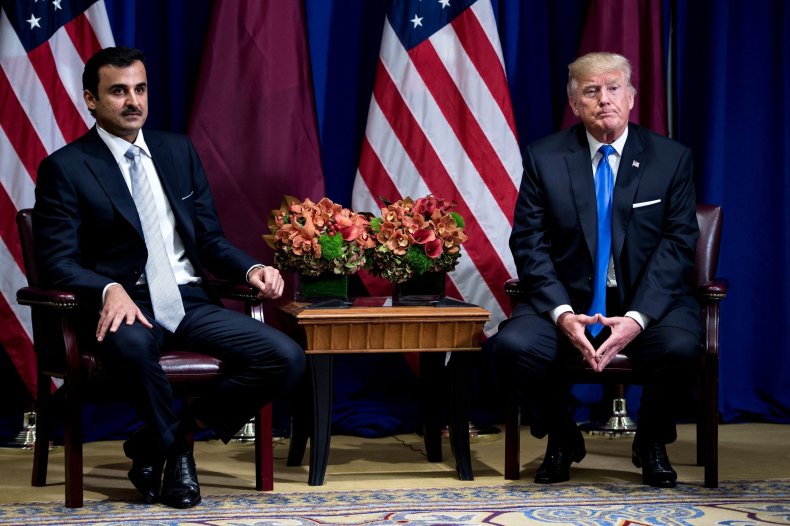 "It is said that the president has asked you to come to Camp David. Have you accepted that invitation?" asked Rose.
"Yes, I had, I met with, with the president when I was in New York a few weeks ago...And the president showed that he is committed to find an end to this crisis. And yes, it is true, he suggested that we come. And I told him straightaway, 'Mr. President, we are very ready.' I've been asking for dialogue from day one," replied Tamim.
But the Qatari emir says that, since the offer was made, he has not had any response from the countries on the other side of the crisis.
Read more: The diplomatic spat between Saudi Arabic and Qatar is keeping Qataris away from the Hajj
The crisis began when Saudi Arabia, the UAE, Egypt and Bahrain withdrew their ambassadors and imposed trade and travel bans on Qatar. The Saudi-led bloc cited various reasons for isolating Qatar, including its alleged financing and hosting of Islamist terrorist organizations and its friendly relations with Iran, Saudi Arabia's main enemy in the region.
Qatar has only one land border—with Saudi Arabia—and Tamim said that 90 percent of imports come into Qatar over land. The crisis has forced Qatar to find alternative ways to obtain adequate food, medicine and other provisions for its people: It now airlifts more than 1,000 cows per month from the United States, according to the CBS report.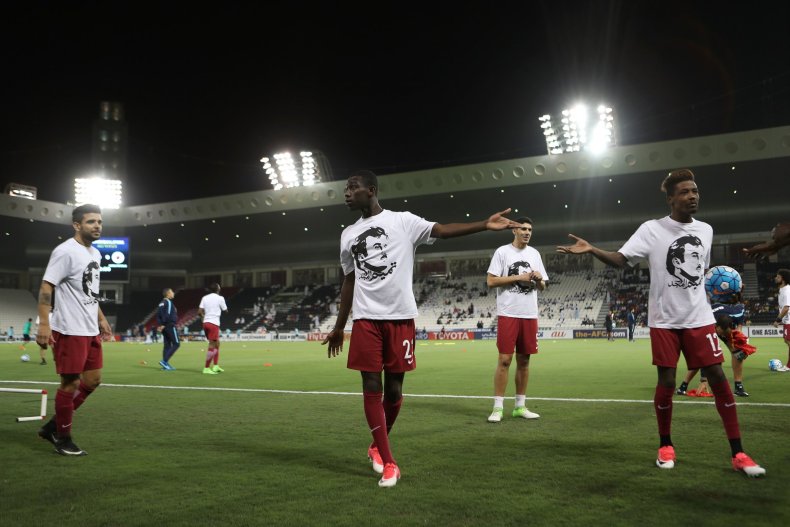 The Saudi-led bloc issued a list of 13 demands on Qatar for the resumption of normal diplomatic ties. This includes the closure of Al-Jazeera—Qatar's state-funded broadcaster—curbing diplomatic ties with Iran; severing all ties to Islamist militant groups including the Muslim Brotherhood; and aligning itself with other Gulf and Arab countries politically, socially and economically.
But Tamim told CBS that he would not shut down Al-Jazeera and that the crisis was actually motivated by a desire to overthrow him. "They want a regime change," he said. "History as well tells us, teaches us they tried to do that before, in 1996 after my father became the emir."
Trump met with Tamim on the sidelines of the U.N. General Assembly in September and said that he thought the crisis would be resolved "quickly."
"We are right now in a situation where we're trying to solve a problem in the Middle East, and I think we'll get it solved. I have a very strong feeling that it will be solved pretty quickly," said Trump at the meeting.
Qatar is a strategic U.S. ally in the Gulf, hosting the Al Udeid air base, where some 10,000 U.S. and coalition troops are based and carry out operations in Afghanistan, Iraq and Syria. And Tamim said that Trump has told him personally that he wants to see an end to the crisis.
"He told me very clearly, 'I will not accept my friends fighting amongst themselves,'" the Qatari emir said.