Qatar Walks the Tightrope Between Iran and the U.S., Is Prepared to Host Talks
In the face of the call by the United States for a return to international sanctions against the Islamic Republic, Qatar's U.S. envoy has expressed to Newsweek an offer to hold discussions to de-escalate tensions between Iran and Arab states of the Persian Gulf.
President Donald Trump has doubled down on his "maximum pressure" campaign against Iran in the leadup to this year's United Nations General Assembly, attempting to invoke a snapback of economic restrictions lifted by a 2015 nuclear deal unilaterally abandoned by the United States two and a half years ago.
In leading this push, the Trump administration has claimed the full support of the Sunni Muslim monarchies of the Arabian Peninsula.
But one country seeks instead to dial down the temperature of the tense region through negotiation.
"Qatar's priority has always been to maintain stability in the Gulf region," Qatari ambassador to the United States Meshal bin Hamid Al Thani told Newsweek. "This includes maintaining dialogue with neighbors in the region."
The diplomat emphasized that Doha does not "always see eye-to-eye" with Tehran but explained that peace was in the interest of all parties in the region.
"Qatar has its share of disagreements with Iran, especially when it comes to foreign policy," Al Thani told Newsweek. "However, our objective has always been to not hide our concerns but use dialogue and diplomacy to resolve these differences. Qatar is always willing to play a role in de-escalating conflicts if requested by the parties involved."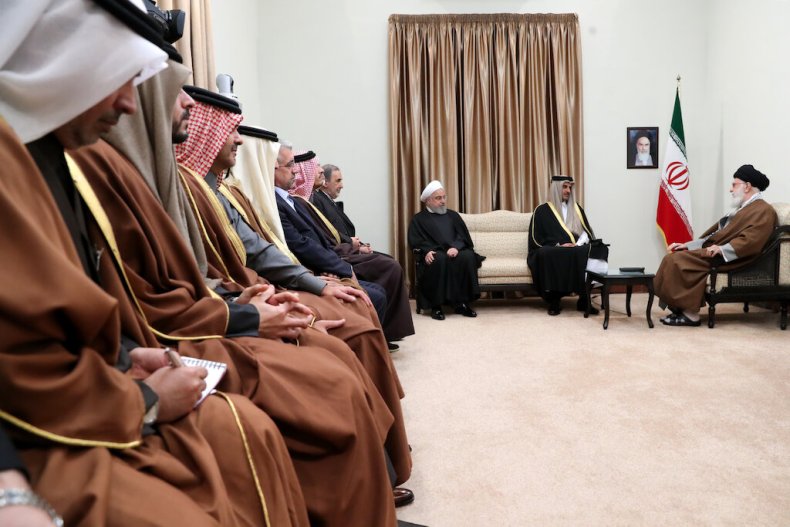 Qatar's divergent views on regional affairs have come with a price. Since June 2017, a Saudi-led coalition also including Bahrain, Egypt and the United Arab Emirates have instituted a total boycott of the tiny peninsular oil-rich state, which is still today facing blockades at land and by air.
The Arab quartet has demanded Qatar decrease ties with Iran and sever alleged links to both Sunni and Shiite Muslim movements across the Middle East, among other demands largely dismissed by Doha. Iran, along with Turkey, were among the first to rush to provide assistance to Qatar as the crisis began.
And despite the Trump administration's warm ties with Saudi Arabia and its partners, the U.S. has only boosted its relationship with Qatar, home to Al Udeid Air Base, the Pentagon's biggest base in the Middle East. Thani told Newsweek that Qatar prides itself in hosting the massive military facility, but this too brought with it a new set of problems.
The Trump administration's slaying of Iran's Quds Force commander Major General Qassem Soleimani at Baghdad International Airport in January has amplified the revolutionary Shiite Muslim nation's calls for an expulsion of U.S. troops from the Middle East. Eying down the region's largest missile arsenal across the Persian Gulf, Qatar has resisted these calls.
"We believe that U.S. military presence in Qatar is of paramount importance to serve as a deterrent against destabilizing forces in the region, preserve the region's stability and protect the flow of goods that are of critical importance for the world's economy," Thani told Newsweek.
But here too Qatar was careful not to explicitly take sides by endorsing the Trump administration's strategy in full.
Soleimani's killing was a crescendo in the heightened unrest rocking the Persian Gulf since Trump's 2018 exit from the multilateral nuclear agreement with Iran. The deal, also endorsed by China, France, Germany and the United Kingdom, granted Tehran sanctions relief in exchange for severe nuclear production restrictions, but the Trump administration felt it did not go far enough.
The U.S. has already imposed sweeping sanctions against its longtime foe and has called on others to take a hard line as well. A Trump administration effort last month to extend an arms embargo set to lift from Iran in October failed at the United Nations, not even garnering support from European allies.
Pompeo argued that the U.S. had regional support, including a letter from the six-member Gulf Cooperation Council that includes Bahrain, Kuwait, Qatar, Saudi Arabia, the UAE and Yemen.
Shortly thereafter, however, Qatari counterterrorism and conflict mediation special envoy Mutlaq bin Majed al-Qahtani told Al Jazeera that officials at home "do not see that the current sanctions on Iran lead to positive results and do not contribute to resolving crises, and the resolution of crises must be through dialogue."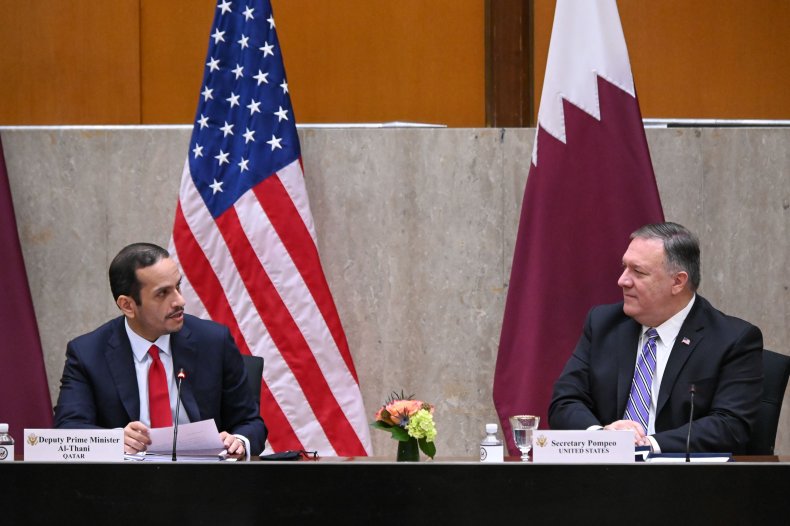 Iranian Foreign Minister Mohammed Javid Zarif shared the news on social media.
"[The] U.S. is so desperate to show support for its struggle to illegally extend arms restrictions on Iran that it clings to the personal position of GCC SG—obtained thru coercion—as regional consensus," Tehran's top diplomat tweeted. "All knew that most in the region—even in GCC—do NOT subscribe to this."
Tehran has seen an opportunity in Doha's stated neutrality to foster inroads to the Arab states across the Persian Gulf.
"Iran desires and pursues close, peaceful and cordial relations with all of our neighbors, including with our southern neighbors in the Persian Gulf," Iranian mission to the United Nations spokesperson Alireza Miryousefi told Newsweek. "We value Qatar's desire to strengthen its ties with Iran."
"If a neighbor faces a crisis, as Qatar did with respect to the illegal and inhuman Saudi-led blockade, we are always ready, willing and able to provide assistance," he added. "The U.S. has tried to forge a united front of countries in the southern part of the Persian Gulf against Iran, but to no avail."
With Qatar still cut off from its Arab neighbors, the U.S. has sought to link its support in settling the dispute with pushing Doha closer to the pro-West fold, favoring relations with Israel and distance from Iran. Doha did not publicly respond to these overtures expressed by Pompeo at the U.S.-Qatar Strategic Forum held Monday in Washington, though it has welcomed Washington's backing in resolving the blockade.
Even as the U.S. applied political, economic and military pressure, Trump has vowed to strike a deal with Iran, which he said would come around shortly after he won the upcoming election.
"As we have consistently made clear, the United States is always open to diplomacy and dialogue with Iran," a State Department spokesperson told Newsweek. "Iran must respond in kind with diplomacy, not with violence, bloodshed, and nuclear extortion."
Here too, Thani offered his country's good offices to address the soaring tensions between Washington and Tehran, in hopes of settling a feud that threatens to destabilize the Persian Gulf.
"Qatar believes that disagreements are best resolved through dialogue and diplomatic channels," Thani said. "We will always make ourselves available to facilitate this dialogue if requested by the parties involved."
This article has been updated to include statements by Iranian mission to the United Nations spokesperson Alireza Miryousefi and U.S. State Department.