In a tweet Tuesday morning, President Donald Trump seemingly took credit for several Gulf countries severing ties with Qatar, a country that hosts the largest United States airbase in the Middle East. The base has been key in supporting the fight against the Islamic State militant group (ISIS).
Related: U.S. to try to calm waters between Gulf neighbors Qatar and Saudi Arabia
On Monday, Saudi Arabia, Egypt, Bahrain and the United Arab Emirates announced they were cutting ties with Qatar and closing their airspace to Qatari airplanes, accusing the country of supporting terrorism in the region. And Trump hinted that it was his tough words on terrorism that convinced the countries to make the decision.
"During my recent trip to the Middle East I stated that there can no longer be funding of Radical Ideology," he tweeted. "Leaders pointed to Qatar - look!"
A short time later, Trump doubled down on suggestions that Saudi Arabia and others were correct in taking action against Qatar.
The comments are not likely to go down well in Qatar, which has hosted the United States' Al Udeid Air Base since 2003. The base, which Qatar spent $1 billion of its own money to help build, houses 11,000 U.S. troops and was an important tool in the war in Afghanistan. It also has been utilized in the fight against ISIS, notably as the base for B-52 bombers to carry out a series of airstrikes against ISIS supply warehouses in Iraq and Syria in 2016.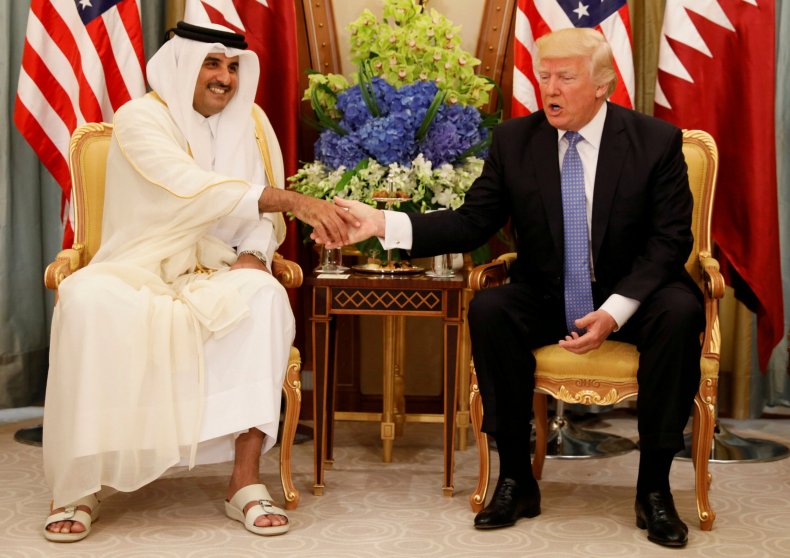 Trump's tweet came on the same day as U.S.-backed forces launched a key offensive to retake Raqqa, considered ISIS' de facto capital in Syria. His words also contradict the message from senior officials. Secretary of State Rex Tillerson urged for calm and said it was key that the Gulf Cooperation Council (GCC), of which Qatar, Saudi Arabia, the United Arab Emirates and Bahrain are all members, remain on the same page.
"We certainly would encourage the parties to sit down together and address these differences, and we—if there's any role that we can play in terms of helping them address those, we think it is important that the GCC remain unified," Tillerson said.
Meanwhile, a spokesman for U.S. Air Forces Central Command paid tribute to Qatar's support for security in the region.
"We've seen no impact to our operations and all flights continue as planned," Lieutenant-Colonel Damien Pickart told Reuters. "The United States and the [anti-Islamic State of Iraq and Syria, US-led] coalition are grateful to the Qataris for their long-standing support of our presence and their enduring commitment to regional security."