Why Some LGBT Qataris Don't Want Westerners Protesting for Their Rights
LGBT Qataris are calling on foreigners visiting the Gulf nation, which is hosting this year's World Cup, to think twice before speaking up or protesting on behalf of their human rights.
The warning comes after prominent LGBT activist Peter Tatchell staged a one-man protest outside the National Museum of Qatar on October 25.
The stunt "unnecessarily" put the spotlight on LGBT people in Qatar, where same-sex relations are punishable with up to seven years in prison.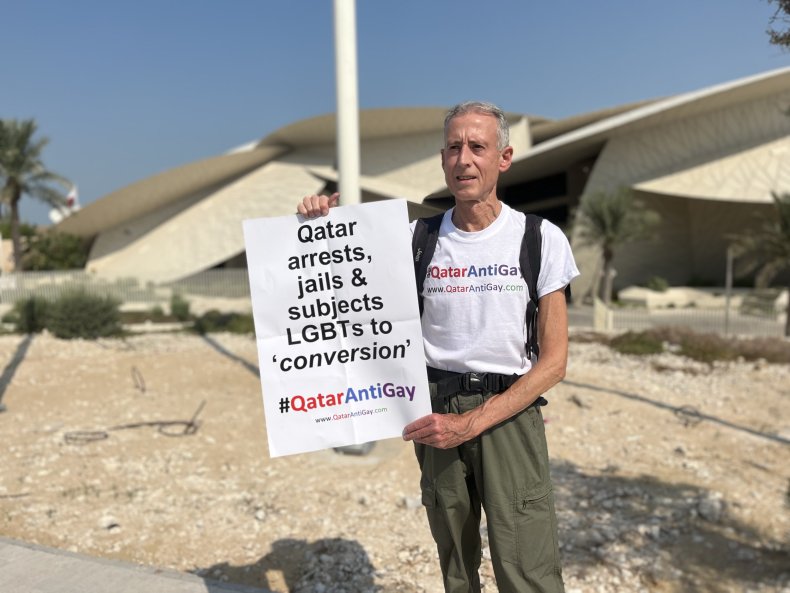 Bringing attention to the LGBT community there has left many afraid.
"He had no right. You have no idea what they're going to do to us," Qatari man Joyann* told Newsweek.
The backlash won't just come from state security forces but also from members of the public who will "take out their frustrations" on minority groups because "they're just as frustrated with people frolicking in and doing whatever it is they want," Joyann explained.
Tatchell entered Qatar under the guise of being a transit airline passenger traveling from London to Sydney when he headed to the museum in Doha. There, he unfurled a placard that read: "Qatar arrests, jails & subjects LGBTs to 'conversion.'"
He also wore a white T-shirt with the hashtag "#QatarAntiGay."
Before security and police turned up, one woman warned Tatchell to put the placard away and said, "You'll be arrested. They put people like you in prison," according to the activist.
Security services soon surrounded him, demanding to see his documents and taking photos of his passport.
Simon Harris, Tatchell's colleague at the Peter Tatchell Foundation, managed to capture some of the interaction on video and uploaded it to social media before the authorities spotted him and forced him to delete the footage.
After the incident, Tatchell quickly claimed in a press release sent to the media that he was arrested. The news whipped Western pundits into a frenzy about the "homophobic Gulf State," with his name soon trending on Twitter.
"Just heard that @PeterTatchell has been seized by #QatarSecurity in first LGBTQ+ protest in the homophobic Gulf State. Incredibly worrying. Please remember @FIFAcom has awarded the #WorldCup to a nation where gay people can be executed. Shame on them. #QatarAntiGay," tweeted comedian and QI host Sandi Toksvig.
But a spokesman for the Qatar government denied Tatchell's claims of arrest, telling Newsweek it was "extremely disappointed to see baseless accusations being freely reported by media outlets, without facts."
"Rumors on social media that a representative from the Peter Tatchell Foundation has been arrested in Qatar are completely false and without merit. An individual standing in a traffic roundabout was cordially and professionally asked to move to the sidewalk, no arrests were made," the spokesman said.
"Many organizations will use increased media attention on Qatar ahead of the FIFA World Cup Qatar 2022 to promote their own profiles. We are always open to dialogue with entities that wish to discuss important topics, but spreading false information with the deliberate intention of provoking negative responses is irresponsible and unacceptable."
Protests are extremely rare in Qatar and are limited by restrictive laws. Anyone wishing to hold a public event or protest must gain permission from the Interior Ministry.
Previous protests, such as the 2014 rally by migrant workers calling for better conditions, were met with "excessive force to disperse protests." Security forces arrested demonstrators, according to the international non-profit CIVICUS.
When pressed by Newsweek as to whether he had actually been officially arrested or charged by authorities, Tatchell agreed it was a matter of semantics.
"There were nine state security and police officers on the scene. They made it very clear that we were under their control, and we were not free to leave. And so it's semantics, whatever you call it, but it was basically we under arrest [because] we weren't free to leave," he said.
On his motivations for protesting, he explained: "I'd been asked by some Qatar human rights defenders to do a protest and to generate media coverage about human rights abuses in the country."
But when asked for verification of these sources, Tatchell and his representatives could not provide contacts arguing, "they were not willing or able to speak," due to fears for their safety.
In an email Tatchell later clarified, some of his contacts "expressed support for my protest, stating that it had, through the media coverage it generated, helped highlight the regime's LGBT+ and other human rights abuses to hundreds of millions of people across the world. This is what group members said they wanted."
But a number of LGBT Qataris said they had pleaded with Tatchell not to go ahead with any public action or protest in Qatar, in screenshots seen by Newsweek.
One of those people included Dr. Nas Mohamed—who is believed to be the only publicly out Qatari.
The pair spoke about the prospect of a protest, but Mohamed quickly shut down the idea with Tatchell.
He and other LGBT Qataris pointed out the Gulf nation was not a democracy and a "protest will result in nothing, you'll have to overthrow the government," to enact change.
"It's just so illogical to protest... if anything will cause the regime to retaliate," Mohamed said.
Tatchell agreed that he'd promised not to undertake any action during the World Cup and argued he didn't tell anyone about the October protest for their own safety.
He also stands by his choices, saying he had "worked with Qataris for years."
"There's many different ways of campaigning, and they're all valid. I think my protest in in Doha has achieved a massive global media coverage," Tatchell explained.
"I'd say, surely, that's a good thing. The Qatar authorities are now under pressure. They're having to respond to media requests to explain and justify their repressive policies. This wouldn't have happened by simply writing a letter or, or signing a petition."
Just days before Tatchell's protest, the organization Human Rights Watch (HRW) released a shocking report that detailed the arbitrary arrests of LGBT people and the violence they face once in detention.
It detailed how security forces arrested people in public places because of their gender expression and unlawfully searched their phones.
Arrested transgender women were allegedly forced to attend conversion therapy sessions at a government-sponsored "behavioral healthcare" center as a condition of their release.
"While Qatar prepares to host the World Cup, security forces are detaining and abusing LGBT people simply for who they are, apparently confident that the security force abuses will go unreported and unchecked," said Rasha Younes, LGBT rights researcher at HRW, in a statement.
"Qatari authorities need to end impunity for violence against LGBT people. The world is watching."
Meanwhile, the queer Qataris hoped to have been listened to when they pleaded for Tatchell's protest not to go ahead.
"I don't doubt Peter is passionate, especially about human rights and LGBT rights," Mohamed stated.
He added that Tatchell's methods may have worked in other contexts but they were not the right fit for Qatar. He provided a pithy analogy to clarify his sentiments.
"It's like saying, 'I have a key, so I'm going to open all the locks,' but keys don't open all locks."
The queer Qataris who disagreed with Tatchell's actions wanted to use his protest as a warning to other well-meaning foreigners: be aware of the implications of not understanding Qatar's society and politics.
The LGBT Qatari community also wanted outsiders to know that not only is it necessary to advocate for human rights in a culturally appropriate way, but that they were not entirely helpless people who are reliant on Westerners to save the day.
"How are you being brave? You come to Qatar, you politely get chided and you get told to leave," Joyann argued.
"I might be an outcast [but] I understand my culture. I respect my culture."
Mohamed added: "His followers [Tatchell] now have this impression that we're all this helpless people, that we're just waiting for him to show and stand up to our government.
"It [the protest] didn't show all the fights that we've been fighting. We have actually taken a lot more personal risk than showing up at the museum."
Mohamed also revealed how he had previously worked with Tatchell behind the scenes to create more culturally appropriate campaigning.
"We collectively had a vision about what we wanted to achieve and agreed we [Qataris] need to have our own voice," he recalled, adding that some of the measures he had undertaken were data collection and research, network building, and trying to find asylum for queer Qataris after the World Cup.
"But then, harm reduction is really important. We need to make sure people are not hunted."
For Tatiana* a bisexual non-binary Russian who has spent many years living across the Middle East, she saw parallels between Tatchell's Qatar protest and when he was arrested in her homeland during the 2018 World Cup.
She understood Qataris' frustrations when it comes to foreigners trying to campaign on their behalf.
"A lot of non-Western countries are really focused on the idea that gay and trans rights are created and forcefully imposed on other societies by the West. So when such protests are held by Westerners coming in without any participation of the local LGBT community, it is regarded as proof of that," Tatiana explained.
Tatiana used the example of the Michigan-based group FCKH8.com sending thousands of pro-LGBT coloring books called Misha & His Moms Go to the Olympics to Russian children ahead of the 2014 Sochi Winter Olympic Games.
It was meant as a protest of the "gay propaganda law" passed by Russian President Vladimir Putin that outlawed the positive portrayal of same-sex relations.
"That kind of terrified me. It was so the stupidest f***** thing LGBT activists could have done in Russia," she told Newsweek.
"That law was introduced in Russia under the umbrella that we were using propaganda to recruit children to our ranks, and when you're trying to prove you're not... this had the opposite effect."
Her message to outside activists was simple: "They think they're going to change things, and they're not."
Tatiana pointed out there were always long-running efforts of activists on the ground and in the diaspora for LGBT rights.
"You can show us solidarity in good faith, but you're not going to change anything. That's just a fact," she said.
Much like Joyann, she warned of the negative repercussions for local LGBT people after foreign stunts.
"Specifically Westerners who come in and are seen as criticizing our society can cause a knee-jerk reaction," Tatiana explained.
"That's why these kinds of protests are self-serving... they're not even trying to understand our context or history. We know the rules of the game. They don't."
*Some names have been changed for safety reasons.
Do you have a tip on an entertainment story that Newsweek should be covering? Do you have a question about the Qatar World Cup? Let us know via entertainment@newsweek.com.
Update 11/9/22 7:06 a.m. ET: This story was updated with additional context.