One day before the United Arab Emirates and Bahrain signed historic peace agreements with Israel on the White House lawn, a third Gulf monarchy inked its own unexpected accord in Washington. On September 14th, Secretary of State Mike Pompeo and his Qatari counterpart signed an accord on cultural exchanges to advance what the State Department lauded as the countries' "shared ideals of tolerance and diversity."
However, such praise was premature. Disturbing new evidence has emerged that Qatar continues to teach anti-Semitic tropes and present hateful depictions of Jews in its government-published textbooks for schoolchildren.
The Institute for Monitoring Peace and Cultural Tolerance in School Education (IMPACT-se) has issued the most extensive study ever on Qatar's official school curriculum with regard to topics of peace and tolerance, and the results are sobering. Its findings indicate that Qatar's textbooks are on par with those issued by Iran, Saudi Arabia and the Palestinian Authority as the worst in the region, and perhaps the world, with regard to government-published anti-Semitism and other forms of hate.
The results of IMPACT-se's new study are especially striking when viewed according to the rubric of the Anti-Defamation League's new toolkit for assessing anti-Semitic tropes: Antisemitism Uncovered: A Guide to Old Myths in a New Era. The Qatari textbooks investigated by IMPACT-se propagate nearly all of the anti-Semitic tropes identified by ADL's guide: power, disloyalty, greed, deicide, blood libel, Holocaust denial and anti-Jewish slanders that are framed as critiques of Zionism or Israeli policy.
For example, a fifth-grade Qatari textbook on Islamic Education from Fall 2019 propagates the myth of Jews as prophet killers, teaching that the Jews grew tired of Jesus' efforts to discourage "their corrupt behavior," and so "the Jewish leaders met and ... agreed to kill him." Likewise, an eleventh-grade Qatari textbook on Islamic Education for the same semester teaches that "Zionism is a radical racist political movement, which aims at establishing a state for the Jews in Palestine, in an effort to take over and rule the world."
Additionally, IMPACT-se documented instances of Qatar's curriculum accusing Jews of perverting divine teachings, as well as spreading the modern anti-Semitic libel falsely alleging "the intentional torching of the al-Aqsa Mosque by the Occupation's authorities on August 21, 1969" (Israel's authorities actually extinguished the fire, helped to rebuild the mosque and vigorously prosecuted the arsonist—a mentally ill Christian man from Australia).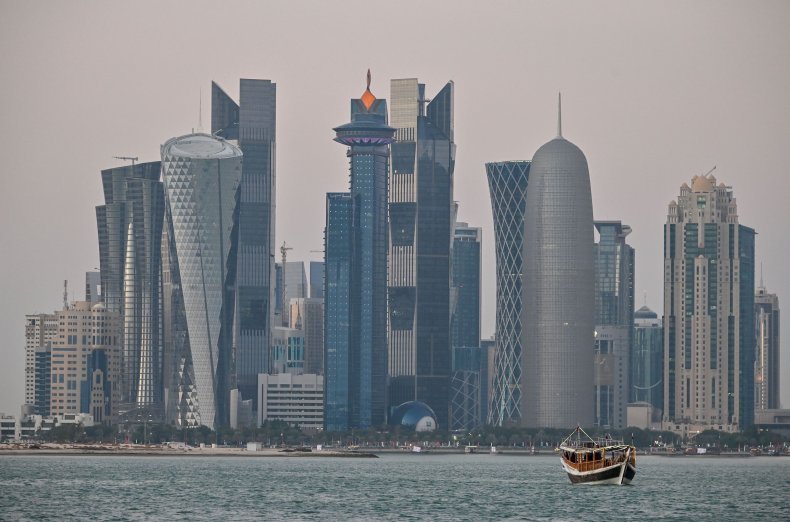 These textbooks call for Muslims to "liberate Palestine" by any means necessary, relying on hateful characterizations of Jews as maliciously using deception and corruption against Palestinians. A poem in a sixth-grade Qatari textbook on the Arabic language for fall 2019 teaches "you are Arab, O Jerusalem, no matter how much they conspire for you in the shadows, make preparations, or disguise themselves." The Qatari curriculum for 2019 also teaches that Muslims are obligated to make "every effort to liberate Palestine from the Occupation," and also labels the entirety of Israel, including all the territory it controlled before 1967, as "Palestine" on social studies maps.
IMPACT-se's exhaustive review of more than 200 Qatari textbooks also found zero mentions of the Holocaust. This is especially inexcusable given that a 2014 ADL poll found that less than 10 percent of respondents from Qatar (or any other major Arab country) had both heard of the Holocaust and believed that the number of Jews murdered in the Holocaust was not a myth or greatly exaggerated by history.
Even worse, Qatar's curriculum has continued to teach a distorted version of this period in history, echoing Hitler's "stab in the back" myth that reinforced Nazi anti-Semitism. An eleventh-grade Qatari history textbook for fall 2019 teaches that the Nazis' "hostility toward the Jewish people" developed "because they are the reason for Germany's defeat" in World War I.
Perhaps one silver lining in IMPACT-se's exhaustive report is that Qatar has stopped its formal teaching of the foundational anti-Semitic hoax The Protocols of the Elders of Zion after the 2017-2018 academic year. Qatar also eliminated all related materials from its state-run book fair in the wake of ADL's public intervention in 2018. And yet IMPACT-se has now shown that the latest publicly available evidence suggests Qatar has still been teaching the underlying anti-Semitic conspiracy theories that the "Protocols" ultimately represent.
It is probably too much to expect that Qatar will embrace the Jewish state in the way that its neighbors the UAE and Bahrain have done. But Qatar's government has a duty to ensure that all bigoted materials are removed immediately from its government-published textbooks. And until Qatar proves that it has done so, its international partners, and especially the U.S. government, should explicitly demand the elimination of its educational incitement against Jewish people.
Marcus Sheff is CEO of the Institute for Monitoring Peace and Cultural Tolerance in School Education (IMPACT-se). David Andrew Weinberg is ADL's Washington Director for International Affairs.
The views expressed in this article are the writers' own.