'The QBs Are Black and The RB is White,' Shannon Sharpe Says of NFL MVP Candidates
Former NFL tight end Shannon Sharpe is a co-host of the TV sports talk show Skip and Shannon: Undisputed. On Monday, Sharpe gave his top five candidates for NFL Most Valuable Player of 2019 with seven regular-season weeks remaining.
His top five just over halfway through season are (in order):
Newsweek subscription offers >
Russell Wilson, QB, Seattle Seahawks
Lamar Jackson, QB, Baltimore Ravens
Christian McCaffrey, RB, Carolina Panthers
DeShaun Watson, QB, Houston Texans
Patrick Mahomes, QB, Kansas City Chiefs
"You notice anything Skip?" Sharpe asked co-host Skip Bayless during their show Monday. "The quarterbacks are black and the running back is white. When's the last time we saw a white running back, Skip, in the MVP contention?"
He also tweeted his top five with the same remark.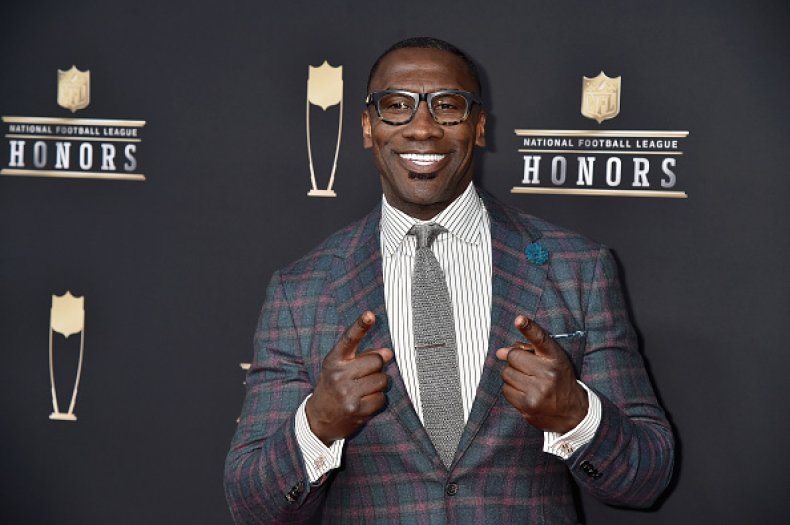 Sharpe brought up retired running back John Riggins from the 1970s and 80s, but then got back on the topic of this year's MVP race in the NFL.
"I believe if they voted today, this would be the closest MVP voting since they've been doing this," Sharpe said.
Wilson of the Seahawks has topped many MVP lists, and he has a chance to pull away even more with a Monday night game at the San Francisco 49ers, who have arguably one of the top defenses in the NFL this year.
Going into Monday night's game, Wilson has completed 68.3 percent of his passes this season with 2,505 yards and 22 touchdowns with only just one interception. He has a 118.2 quarterback rating for the Seahawks in 2019.
Jackson has looked brilliant at times this season. He has completed 65.9 percent of his passes for 2,036 yards and 15 touchdowns with eight interceptions. He has also run for 702 yards for another six touchdowns.
McCaffrey has rushed for 989 yards already this season and has 11 rushing scores, and he has averaged 5.3 yards per carry. He also has 48 pass catches for 396 yards and another three touchdowns. With Kyle Allen replacing Cam Newton at quarterback this year, McCaffrey has certainly shouldered more of a load than his previous two seasons.
Watson has guided the Texans to first place in the AFC South by completing 70.2 percent of his passes for 2,432 yards and 18 touchdowns with five interceptions. Watson has rushed for 279 yards this season with five more scores.
Mahomes was injured part of this season and made his return with a loss to the Tennessee Titans on Sunday. His stats and his play remain stellar, though. Mahomes, the MVP from last season, has thrown for 2,180 yards and 15 touchdowns while completing 65.1 percent of his passes.
Other MVP candidates to consider this season according to the odds at sportsbettingdime.com include:
Aaron Rodgers, QB, Green Bay
Jimmy Garoppolo, QB, San Francisco
Tom Brady, QB, New England
Drew Brees, QB, New Orleans
Dak Prescott, QB, Dallas
'The QBs Are Black and The RB is White,' Shannon Sharpe Says of NFL MVP Candidates | Sports