Qian Hongyan, China's Inspirational Amputee, Goes From 'Basketball Girl' to 'Fish Girl'
A Chinese Paralympian and double amputee who relearned how to "walk" with the help of a basketball continued to inspire her nation this week, medaling at a national swim meet.
Qian Hongyan, 25, first made headlines more than 15 years ago when local news outlets photographed her sitting inside a makeshift wheelchair made from half a basketball and moving around using wooden-handled paddles.
She returned to front pages on Thursday after claiming a silver medal in the 100-meter breaststroke SB5 at the 11th National Games for Persons with Disabilities in Xi'an, part of China's northwestern Shaanxi province. Her time of 1:51:96 added to a growing list of achievements.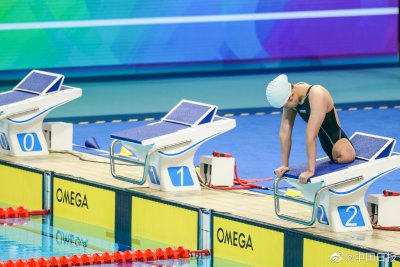 Qian, from Lulling county in southwestern Yunnan province, lost both her legs when she was struck by a truck at the age of 4 . Her grandfather cut open a basketball and lined it with cotton, placing her inside so she could relearn to walk.
It earned her the nickname "Basketball Girl" and led to a nationwide drive to assist her impoverished family and help crowdfund her prosthetic limbs. She traveled to Beijing for treatment, and her story is often credited with highlighting some of the dire living and education conditions in rural China.
In 2007, at the age of 11, Qian joined a local swimming club for the disabled. Two years later, she stunned audiences at Yunnan's ninth games for the disabled when she won three golds. At the National Games the same year, she clinched one gold and two silvers.
The young swimmer found herself representing Chinese athletes at the 2016 Summer Paralympics in Rio de Janeiro, where she placed ninth in the 100-meter breaststroke and didn't advance. Her emergence, however, earned her a new nickname—"Fish Girl."
Qian, who has a desk job in Yunnan when she's not swimming, had hoped to be part of China's swimming team at the 2020 Summer Paralympics that concluded in Tokyo last month. She didn't make the cut but impressed along the way, placing third in the 400-meter final at the National Games in Tianjin in 2019.
Chinese newspaper China Daily, which has documented Qian's "transformation" from "Basketball Girl" to "Fish Girl" as the country itself was slowly lifted out of poverty in the last two decades, published images of her silver-medal swim on Thursday.
This year's 11th National Games for Persons with Disabilities were held together with the 8th National Special Olympic Games. Both competitions opened on October 22 and will close on Thursday and Friday, respectively.