Quadrantid Meteor Shower to Light up January Sky Ahead of Rare Super Blood Moon
Stargazers are in for a treat this month as the annual Quadrantids meteor shower is set to hit days ahead of a rare super blood moon.
The Quadrantids meteor showers have already been shooting across the skies since December 22, and will continue until January 17. But they will be most visible at their peak on January 3, according to the American Meteor Society website.
Read more: NASA 60th anniversary: why haven't we found aliens yet?
However, despite the relatively lengthy period in which they occur, catching the peak—where up to 100 meteors shoot across the sky—can be tricky as it only lasts around six hours.
Get your unlimited Newsweek trial >
This year, the peak will hit at around 2am GMT or 9pm EST according to the International Meteor Organization. Unfortunately for astronomers in North America, meteor-spotters in Europe will have the best chance of viewing the shooting stars, Dr. Bill Cooke, the head of NASA's Meteoroid Environment Office, told Space.com.
Still, those who want to attempt to catch the Quadrantids at their most visible should find the Bootes constellation by tracing an arc from the handle of the Big Dipper to Arcturus: the constellation's biggest star, according to Space.com As you observe, Bootes should be a little out of your line of vision to give you the best chance of spotting the fireballs' bright tails.
Compared to other meteor showers such as Geminids or Orionids, the Quadrantids can be harder to observe because of their small peak time. Luckily, this year the moonlight—which can make it harder to spot the Quadrantids—won't have a dawn glare, according to the American Meteor Society.
If you struggle to catch the relatively elusive quadrantids, the super blood moon in mid-January offers a second chance to catch a celestial event this month.
Get your unlimited Newsweek trial >
During the evening of January 20 and into the early hours of the next morning, the supermoon and total lunar eclipse are set to occur at the same time. As this happens, the sun's light will refract off Earth and onto the moon. This will turn the object a reddish hue, or what is known as a blood moon.
Watchers in the U.S. will be able to observe the total eclipse with the naked eye from 11:41pm EST on January 20 until 12:53am the next day.
Anna Ross, an astronomer at the Royal Observatory Greenwich, London, recently told Newsweek that this rare event will be one of only 28 supermoons occurring at the same time as a lunar eclipse this century.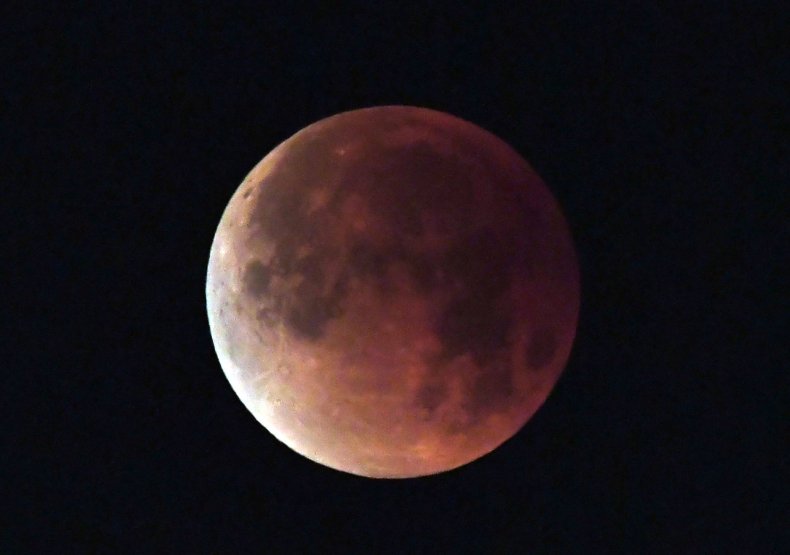 Quadrantid Meteor Shower to Light up January Sky Ahead of Rare Super Blood Moon | Tech & Science