QuakeCon 2018 Details Announced, Registration Opening Soon
QuakeCon 2018, the official celebration of all things Quake (and to a lesser extent, all things from publisher Bethesda Softworks) returns to Texas Aug. 9. More details about the celebration have been released, but tickets aren't on sale yet. Here's everything you need to know to get caught up on this year's celebrations.
QuakeCon 2018 Dates and Location
Like last year, QuakeCon 2018 will be held at the Gaylord Texan hotel outside of Dallas, Texas. While it isn't required for attendees to stay at the hotel, it does make attending events much easier. This is especially true if you want to bring your PC for the BYOC events.
QuakeCon 2018 kicks off Aug. 9 and runs until Aug. 12. Over those four days, there will be tournaments, panels, keynote speakers and more. Aug. 9 will be dedicated to the BYOC folks, while the show floor and tournaments begin Aug. 10.
QuakeCon 2018 Tickets and Prices
Tickets aren't on sale yet for QuakeCon 2018, because the QuakeCon team is "working to create a better, smoother process for registration." So when will you be able to secure your spot? We don't know just yet, but the team says it will release more details about registration soon.
We do know how much tickets will cost, however. General admittance to QuakeCon 2018 is completely free for those who want to walk the show floor and watch any of the tournaments. If you want to participate in the BYOC program, those tickets cost $75. It isn't possible to register for a BYOC ticket at QuakeCon, so you'll have to purchase your ticket in advance if you want in.
More premium tickets are also available, including a $200 ticket and a $400 ticket. The extra perks for each ticket price are as follows: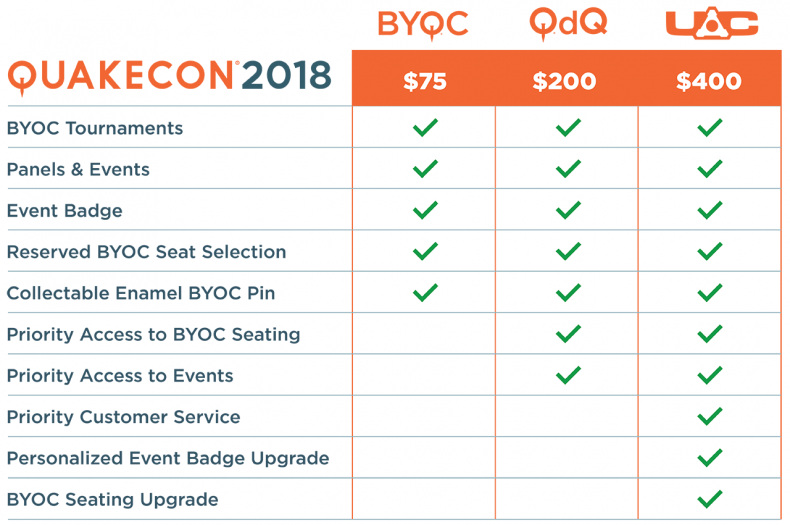 Swag Pack

If you're in the market for some exclusive QuakeCon goodies, the Swag Pack is making its return for QuakeCon 2018. The pack is $150 on top of the price of your ticket, and includes an air freshener, mousepad, water bottle, luggage tag, a set of three exclusive pins, a 36-inch inflatable rocket launcher and a roll-over backpack to hold everything in. All BYOC tickets also come with a QuakeCon 2018 pin as well.
So what do you think? Are you excited about QuakeCon 2018? Will you bring your computer to the event or just swoop in for the show floor? Let us know your thoughts in the comments section below.