Ranked: Cities with the Best Quality of Life in the World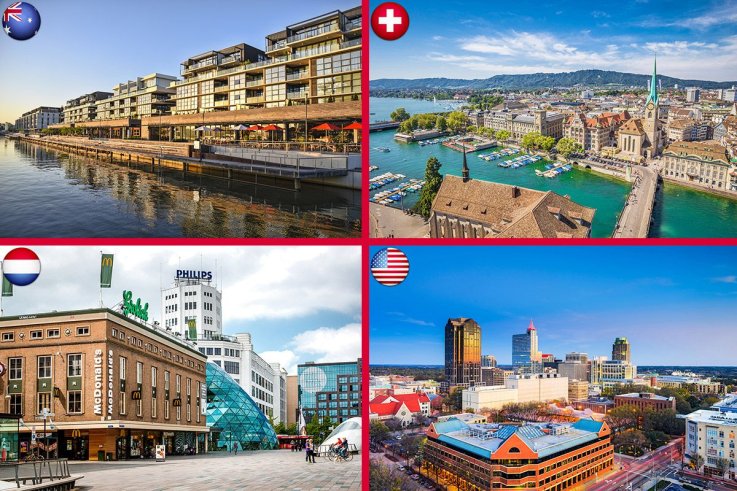 The concept of quality of life means something different depending on who you ask. However, a few things can be agreed upon—low cost of living; affordable housing and healthcare; and low levels pollution, traffic and crime are universally seen as positives.
Numbeo, a crowd-sourced global database, has crunched the numbers on these quality-of-life indices in cities around the world. The company then created a global ranking of the cities by how well they scored overall.
Raleigh, North Carolina, came top of all U.S. cities and third worldwide. The university city, with a population of just under half a million, scored particularly high in the purchasing power index. Numbeo uses New York City as a baseline, giving it a score of 100; Raleigh's score of 160.35 indicates residents can buy 60 percent more goods and services than New Yorkers.
Raleigh also scored well on property price to income ratio, which stands at 2.58—that means house prices are just two-and-a-half times the average annual salary. This compares very favorably with European cities, where house prices can be up to 20 times the average salary. The worst property price to income ratio in Numbeo's database can be found in Caracas, Venezuela, where property prices stand at 143 times the average wage.
Read more: The North American Cities with the Highest Quality of Life
Australia did particularly well in the rankings, with Australian cities taking first, fourth and seventh place. The U.S. had four cities in the global top ten. Europe was the next biggest winner; Eindhoven, a city in the Netherlands, came in at second place. However, high property prices across the continent tended to drag European cities down the list.
African, South American and Asian cities populated the bottom ten, largely thanks to weak purchasing power and high costs of living. Caracas was by far the worst city on the rankings, receiving an overall score of zero. In recent years, Venezuela has been plagued by political instability and hyperinflation, leaving many in the capital in poverty.
These are the cities with the best quality of life in the world, according to Numbeo.