Quantico Marine Base Completes Afghan Refugee Resettlement, Second Base to Finish Process
Marine Corps Base Quantico completed its resettlement of Afghan refugees, according to military and civilian officials, becoming the second base to do so.
The Department of Homeland Security said during a news release Thursday that the final refugees departed Quantico on Wednesday.
"As another one of our safe haven locations completes operations, we remain steadfast in our commitment to safely welcome our Afghan allies to the United States," Robert J. Fenton, Jr., Senior Response Official for Operation Allies Welcome, according to the news release. "With operations now completed at Marine Corps Base Quantico, I would like to thank all the federal staff, servicemembers, and volunteers who made it possible for more than 49,000 Afghan evacuees to begin to rebuild their lives in America.
We are grateful for the support the local community has shown our Afghan allies and the staff working with them throughout this historic effort," Fenton said in the news release.
Quantico is one of eight military bases in the country that has given temporary housing to Afghan refugees who came to the U.S. after the Taliban's takeover of Afghanistan this year as U.S. troops departed the country. The U.S. officially pulled out of the country on August 31, 2021, The Hill reported. While doing so, they evacuated 124,000 people, a majority of them Afghan refugees.
Afghan refugees underwent a multi-layered screening and vetting process that has biometric and biographic screenings by intelligence, law enforcement, and counterterrorism professionals, officials said in the recent news release. Refugees also were given vaccinations, including ones for mumps, rubella, measles, polio, varicella, and COVID.
The first base that completed its Afghan refugee resettlement is Fort Lee, an Army base in Virginia, according to a news release from DHS published November 17.
"Our Soldiers, Sailors, Airmen, Marines, and Guardians have given – and continue to give – steadfast support as part of Operation Allies Welcome," U.S. Air Force General Glen D. VanHerck, U.S. Northern Command commander, said in the news release regarding Fort Lee. "Last summer, Fort Lee was the first of eight DOD installations to welcome Afghans as they underwent the resettlement process, and today the task force at Fort Lee is the first to bid farewell to the Afghans as they proceed on to their lives in America."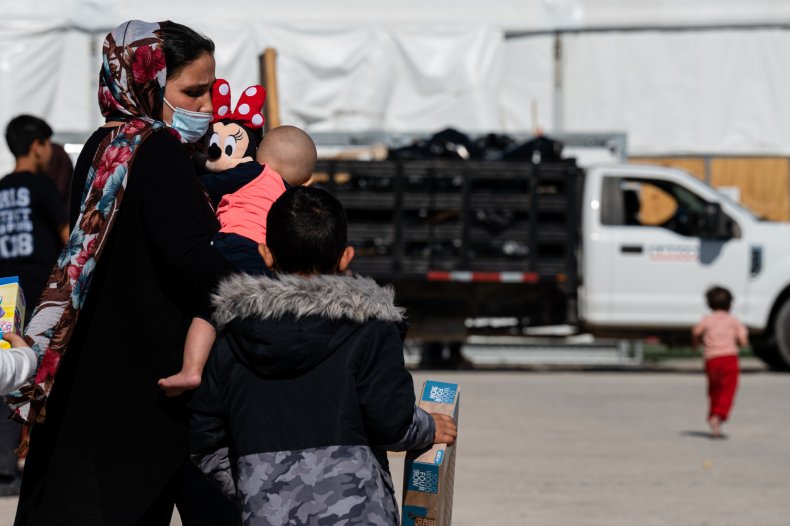 Six bases, including Fort Pickett in Virginia, are still providing housing and services to about 25,000 refugees.
More than 75,000 Afghans have been brought to the U.S. as part of Operation Allies Welcome, officials said.
The Associated Press contributed to this report.