#QuarantineLife Trends As Twitter Users Joke About Staying Home During Coronavirus Pandemic
#QuarantineLife was the top trending topic on Twitter in the U.S. on Monday as Americans shared jokes and memes about staying at home during the COVID-19 outbreak.
Officials across the country imposed restrictions on many aspects of American life over the weekend, while urging people to embrace social distancing in a bid to curb the spread of the new coronavirus.
On Sunday, the Centers for Disease Control and Prevention (CDC) advised against holding large gatherings of more than 50 people for at least eight weeks.
It prompted New York City Mayor Bill de Blasio to announce he was closing schools, restaurants, bars and other public places. Los Angeles Mayor Eric Garcetti followed suit shortly afterwards, announcing he was shutting down the city's bars, restaurants, gyms and other entertainment venues, including cinemas.
But despite the uncertainly of what lies ahead and the drastic changes to people's daily lives and habits, Twitter users across the country revealed they have retained their sense of humor as they posted memes about their new normal.
Brian Namba shared a clip of himself singing along to "Part Of Your World" from Disney's The Little Mermaid while looking through a window, writing alongside it: "Trying to play my part and stay home, but now I know how Ariel felt."
Journalist Walker Bragman joked: "The outside is lava #QuarantineLife."
Paul Constabile added: "Can't tell if I should binge Netflix, take a shower, reorganize, finish that work I've been meaning to do, eat 10,000 calories, learn a 3rd language, send #coronavirus articles to everyone I know, call my Mom again or go outside. Fine I'll do them all #QuarantineLife."
Another posted a video of a person rolling himself down the street in a clear, plastic ball, writing alongside it: "What if we all got ourselves one of these?"
Some joked that living in quarantine meant people were turning to introverts for ideas on how to pass the time. "Oh nooowwwww y'all wanna know how introverts have fun?!" a user posted.
Others had a darker sense of humor, with one Twitter user hinting that being in quarantine with family members could turn into a horror move. "A couple of weeks of isolation with family. What can go wrong?" they wrote alongside a still from The Shining.
And some noted that the challenges of self-isolation are nothing compared to what previous generations endured.
"Your grandparents were called to war. You're being called to sit on your couch. You can do this. #QuarantineLife," one user wrote.
There have been almost 170,000 confirmed cases of the COVID-19 outbreak globally, with more than 6,500 deaths, according to figures from Johns Hopkins University. More than 77,000 have recovered from the disease worldwide. The death toll in the U.S. climbed to 69, while the number of cases has surpassed 3,700.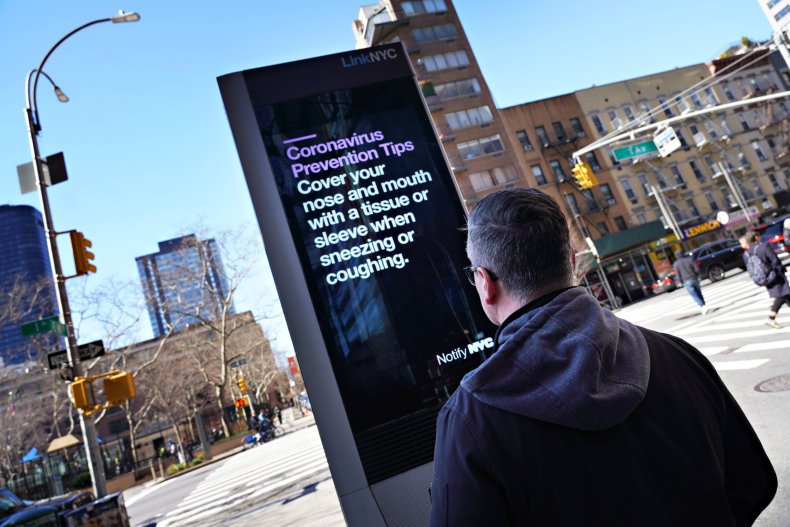 World Health Organization advice for avoiding spread of COVID-19
Hygiene advice
Clean hands frequently with soap and water, or alcohol-based hand rub.
Wash hands after coughing or sneezing;
When caring for the sick; before; during and after food preparation; before eating; after using the toilet; when hands are visibly dirty; and after handling animals or waste.
Maintain at least 1 meter (3 feet) distance from anyone who is coughing or sneezing.
Avoid touching your hands, nose and mouth. Do not spit in public.
Cover your mouth and nose with a tissue or bent elbow when coughing or sneezing. Discard the tissue immediately and clean your hands.
Medical advice
If you feel unwell seek medical care early and call local health authorities in advance.
Stay up to date on COVID-19 developments issued by health authorities, follow guidance.
Mask usage
Healthy individuals only need to wear a mask if taking care of a sick person.
Wear a mask if you are coughing or sneezing.
Masks are effective when used in combination with frequent hand cleaning.
Do not touch the mask while wearing it. Clean hands if you touch the mask.
Learn how to properly put on, remove and dispose of masks.
Clean hands after disposing of mask, do not reuse single-use masks.