Quarter of U.S. Supports Major U.S. Role in Russia-Ukraine Conflict: Poll
Almost one in four Americans support the United States taking a major role in the conflict between Russia and Ukraine, according to a recent poll.
Nearly 26 percent of Americans polled think the U.S. should be playing a larger role in the situation, while 52 percent said the country should play a minor role—and 20 percent said the U.S. shouldn't be involved at all.
President Joe Biden issued more sanctions against Russia Tuesday. He acknowledged the potential war in Europe could affect Americans but ruled out sending troops into the region.
While only about of quarter of Americans polled by the Associated Press-NORC Center for Public Affairs Research believe that the U.S. should be more involved with Russia and Ukraine, over 50 percent said they were very or extremely concerned that Russia's influence around the world presents a threat to the United States—an increase of 8 percent from August 2021.
Meanwhile, only 32 percent of Democrats think the U.S. should have a major role in the conflict while 22 percent of Republicans think the same. In general, the poll showed a decrease in Americans' approval for how Biden is handling the country's relationship with Russia, down by six percent from last year.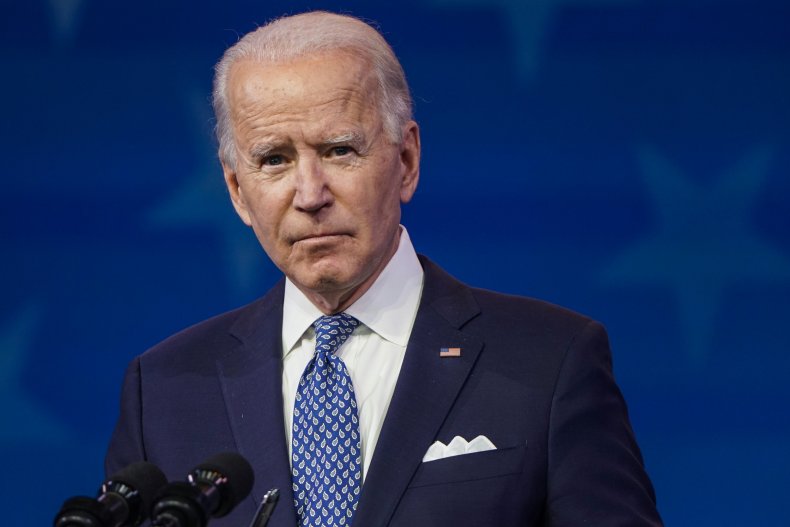 Even though almost 20 percent of Americans believe the U.S. shouldn't be involved with the Russia-Ukraine conflict, the Biden administration has stood its ground that supporting Ukraine is a "defense of fundamental American values."
"The American people understand that defending democracy and liberty is never without cost," Biden previously said about the ongoing crisis. "I will not pretend this will be painless."
On Wednesday, the Biden administration warned Ukrainian President Volodymyr Zelenskyy that U.S. intelligence indicated Russia was planning a full-scale invasion within the next 48 hours, a U.S. official told Newsweek.
However, this is the third time within a month that the U.S. warned that Russian President Vladimir Putin was planning to launch full-blown military action along the border of Ukraine. The poll showed that Americans don't have overwhelming confidence in U.S. agencies that gather intelligence.
According to the poll, only 23 percent of Americans have a great deal of confidence in the people who run the country's intelligence agencies, the same as in September 2020. Meanwhile, confidence in those who oversee the military has decreased by 11 percent. The poll indicated only 42 percent of people still say they have a lot of confidence.
Update 02/23/22, 4:00 p.m. ET: This story has been updated with additional information.
Update 02/23/22, 3:20 p.m. ET: This story has been updated with information from the poll.