More Than a Quarter of New Yorkers Don't Plan To Get COVID Vaccine: Poll
More than a quarter of New Yorkers don't plan to get the COVID-19 vaccine, even though a majority of them believe the worst of the pandemic is yet to come, a new Siena College poll has found.
Seven percent of New York state voters surveyed said they have already been vaccinated, according to the poll, released on Tuesday.
Among those who have not, more than two-thirds (69 percent) said they plan to get the vaccine. However, 27 percent said they do not.
The same poll, which surveyed 804 New York state voters between January 10 and 13, found that a majority of New Yorkers (55 percent) believe the worst of the pandemic is still ahead, while just 31 percent believe the worst is over.
"Unlike some issues that divide New Yorkers by partisanship, geography or race, this question doesn't," Steven Greenberg, Siena College pollster, said.
"A majority of between 50 and 61 percent of Democrats, Republicans, independents, upstaters, downstaters, Black, Latino and white voters all think the worst of the pandemic is still in front of us.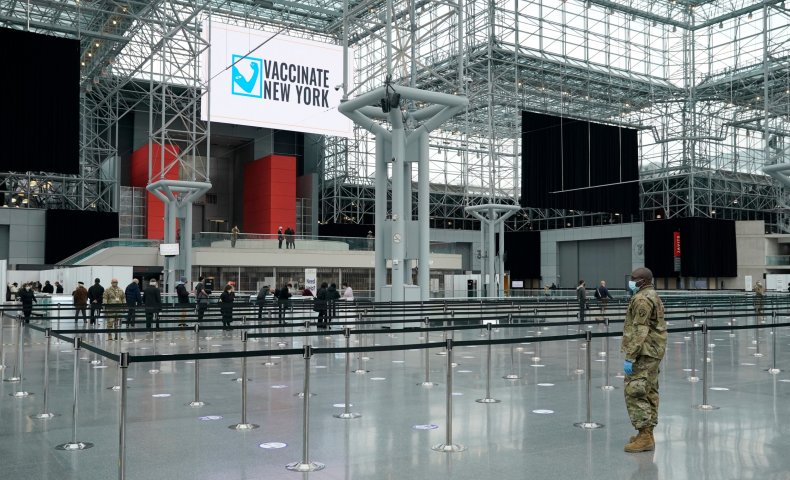 "In fact, a majority of every demographic group says the worst is still to come, with the exception of voters under 35—only a plurality—and conservatives, a plurality of whom think the worst is over."
The state is among the hardest hit by the pandemic, with more than 1.2 million confirmed infections and more than 41,000 deaths, according to Johns Hopkins University.
But Greenberg added that the poll results show that New York, like the rest of the U.S., has "a long way to go on getting people vaccinated for COVID-19."
Of the New Yorkers who said they don't plan on getting the vaccine, around a third are Republicans, independents, voters under 35, and Black and Latino voters," Greenberg said.
A Gallup poll last year found that concerns about the rushed timeline for developing a coronavirus vaccine was the main reason for more than a third of those questioned that said they would not agree to receive a coronavirus vaccine.
Other reasons included wanting to wait to confirm the vaccine is safe, wanting to wait to see how effective it is and not trusting vaccines generally.
But Dr. Anthony Fauci, the nation's top infectious diseases expert, has said a new highly transmissible coronavirus variant spreading in the U.S should be a "clarion call" for Americans to get vaccinated.
Currently, two effective vaccines—one developed by Pfizer/BioNtech and another by Moderna—have been authorized for use in the U.S.
But a month after the nation's vaccination campaign kicked off, only around 10.6 million people have received one or more doses of the COVID-19 vaccine, the U.S. Centers for Disease Control and Prevention (CDC) said.
On Friday, President-elect Joe Biden pledged to ramp up the distribution of the coronavirus vaccine and set up new vaccination centers to meet his goal of 100 million shots in 100 days.