Quebec to Impose 'Significant' Fines on Unvaccinated Residents
Quebec Premier François Legault announced that the province will impose "significant" financial penalties on residents who refused to get vaccinated against COVID-19.
During a Tuesday press conference, Legault described the upcoming measure as a "healthcare contribution" to the province's hospital systems, which are continuing to treat an influx of COVID patients amid the latest Omicron surge.
"The vaccine is the key to fight the virus," the premier said from Montreal. "This is why we're looking for a new-held contribution for adults who refuse to be vaccinated for non-medical reasons."
Although the exact amount of the fines has yet to be determined, the premier says he is consulting with Finance Minister Chrystia Freeland's office, warning that he thinks $50 to $100 "is not significant enough" for him.
Legault said the tax will apply to all adults in Quebec who do not get their first dose of a COVID vaccine "in the next few weeks."
The announcement marks the first time a Canadian government official has announced financial penalties for the unvaccinated.
Legault said it is only fair that the unvaccinated foot the bill "because there are consequences on our health care network, and it's not up to all Quebecers to pay for this."
The Canadian Office of the Minister of Health told Newsweek that the federal government is aware of the announcement but is still reviewing the details of Quebec's plan.
"The most important thing we can do to get through this pandemic is to drive up vaccination rates. As a federal government, we will keep doing everything we can to support Canadians and keep them safe, which includes encouraging everyone to get vaccinated," a spokesperson for the office wrote.
"Provinces and territories will continue to make decisions on their own public health measures that are within their jurisdiction," she added.
The premier pointed out that while Quebec has a relatively high vaccination rate—with about 90 percent of its adult population having already received at least one dose—unvaccinated patients represent about half of the patients in the province's intensive care units.
Hospitalization in Quebec has continued to rise.
In the past 24 hours, according to the province of Quebec, hospitals have seen a net increase of 188 new admissions, bringing the total number of hospitalizations to 2,742.
"We continue to see an increase in hospitalizations in Quebec," Legault said on Tuesday. "Our biggest challenge right now is finding enough health workers. We estimate that in the next weeks we'll need 1,000 additional workers for hospitals and 1,500 for [Quebec's residential and long0term care centers]."
Legault recently reimposed tighter COVID restrictions across Quebec due to a surge of cases driven by the Omicron variant.
Since December 31, residents have been under nightly curfew, which is enforced between 10 p.m. and 5 a.m. and comes with fines ranging from CAD $1,000 to $6,000.
"Quebecers will, therefore, be prohibited from leaving their homes except in cases that justify travel, such as to obtain healthcare, for humanitarian reasons, or to engage in priority work," the premier announced last month.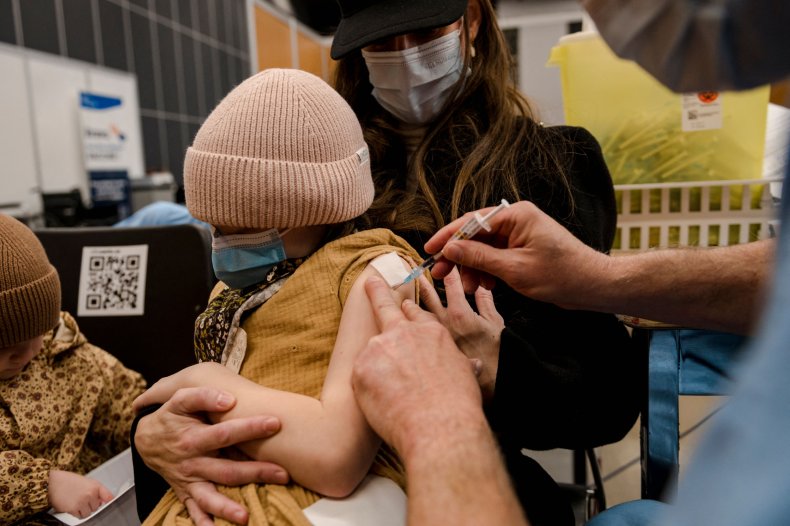 Since New Year's Eve, all indoor dining options have been ordered to close and indoor sports with more than two people have been suspended.
Residents are also prohibited from socializing indoors with people outside of their households, with the exception of single individuals who live alone and are allowed to join one family bubble.
Outdoor events are still allowed as long as they do not exceed 250 people.
In-person learning for K-12 schools has also been postponed throughout the province until January 17. Child care services for the children of essential workers will remain open.
"The contagion is destabilizing our society," Legault said last month. "We simply cannot continue in this way. We must make a major change of direction to slow the contagion and do everything to restrict transmission."
According to the government of Canada, more than 80 percent of Quebecers over the age of 5 have been fully vaccinated—a number relatively similar to the national rate.
Update (1/11/22, 8:30 p.m.): This story was updated with comments from the Office of the Minister of Health.