Queen Elizabeth II: Queen for 18,250 Days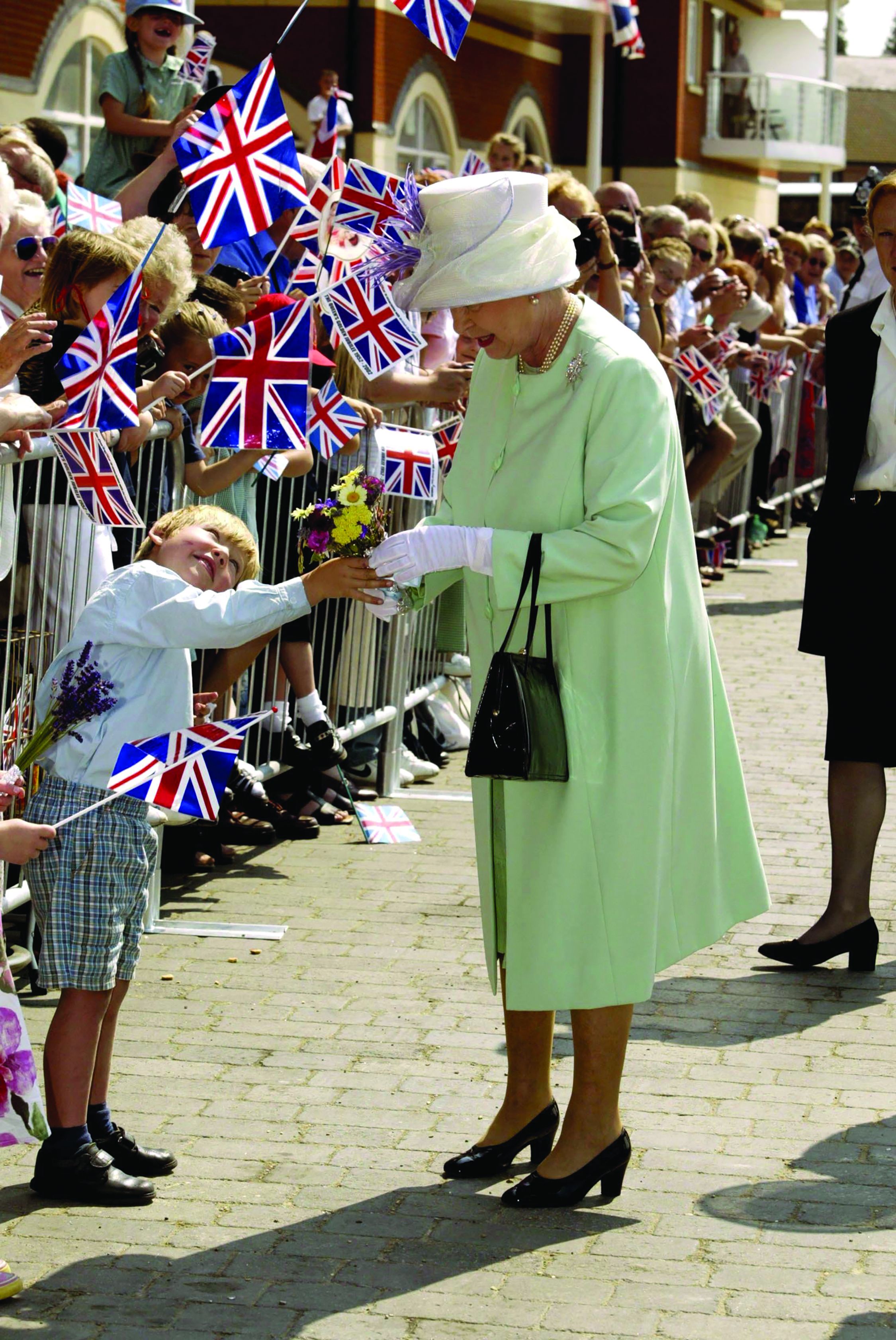 These articles appear in Newsweek's Special Commemorative Edition, The Queen.
From the Newsweek archives July 10, 2002
She really isn't like you and me. To understand just how different Queen Elizabeth II is from anyone else, consider this stroy, from Michael Deaver, deputy chief of staff to then-President Reagan. When the Queen and Prince Phillip visited California in 1983, an evening opened up on the schedule. According to Deaver, "I went up to the Queen and said, 'We have a free evening tomorrow in San Francisco, and I have called Trader Vic's, and they're going to give us a special room, and I just thought it would be fun.'" The Queen turned to the Duke of Edinburgh and said, "Philip, Mr. Deaver has this wonderful idea about going to a restaurant." The Duke replied, "A restaurant? Surely you are kidding?" But they went and when it was over, the Queen turned to Deaver and said, "That was a wonderful evening. It was the first time we have been in a restaurant in 17 years!"
Think of her as a familiar stranger—someone everyone knows about but almost no one knows well. The celebration of her Golden Jubilee, currently under way in London, only underlines the obvious: The 76-year-old Elizabeth's been a part of the cultural landscape for so long (she is only the fifth English Monarch to reign for half a century) that it is impossible to think of Britain without her. In the run-up to the jubilee, there's been only mild dissent about the survival of the Monarchy.
The Queen won't smile on command. She does not do photo ops. As one adviser put it, "She has a deep mistrust of what she calls 'stunts.'" Paradoxically, she is the most flexible Royal when the occasion demands it. "The Queen has ruthless common sense," a staffer said. "If you can explain clearly why something has to be done, and she agrees, that's the end of the matter."
Her majesty is also—surprise—quite funny. At a garden party at Buckingham Palace, she was talking to a young woman when the woman's cell phone went off in her pocket book. As the mortified woman groped frantically for her phone, the Queen quipped, "You'd better answer that. It might be someone important."
Just don't look for jokes at the Jubilee. Her stiffness in public is in part a result of her natural reserve, but it also arises from her constant awareness of who she is. As she explained to a friend, "My father told me that I must always remember that whatever I said, or did, to anyone, they would remember it." Whew. So if she gets a bit territorial now and then, who can blame her? When Tony Blair was going on recently about "the" Golden Jubilee, she gently but firmly corrected him. "My Golden Jubilee," the Queen reminded her prime minister.
The First 50 Years: By the Numbers
30 The number of corgis the Queen has owned, starting with Susan, who was a birthday present in 1944.
139 The number of portraits the Queen has sat for her reign so far. The most recent was painted by Rolf Harris in 2005.
1945 The year the Queen learned to drive, around the time of her 19th birthday.
12 The number of prime ministers—from the doting Churchill to the young Blair—who served during her first 50 years. This is second only to George III, who totaled 14.
From August 2015: THE FUTURE OF AN INSTITUTION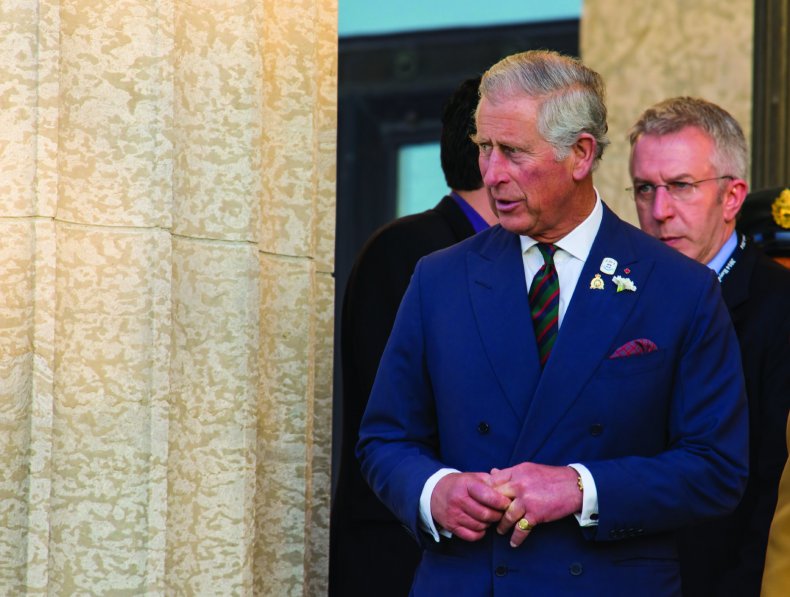 Prince Charles
Charles Philip Arthur George, Prince of Wales, Duke of Cornwall, Prince and Great Steward of Scotland, Duke of Rothesay, Prince of Scotland
Prince Charles is first in line to the British throne as the eldest son of the Queen. He was born on November 14, 1948, at Buckingham Palace, and became the first Prince of Wales in 12 years. He is currently married to Camilla Shand Parker Bowles but has two sons, William and Harry, from his marriage to Princess Diana Spencer.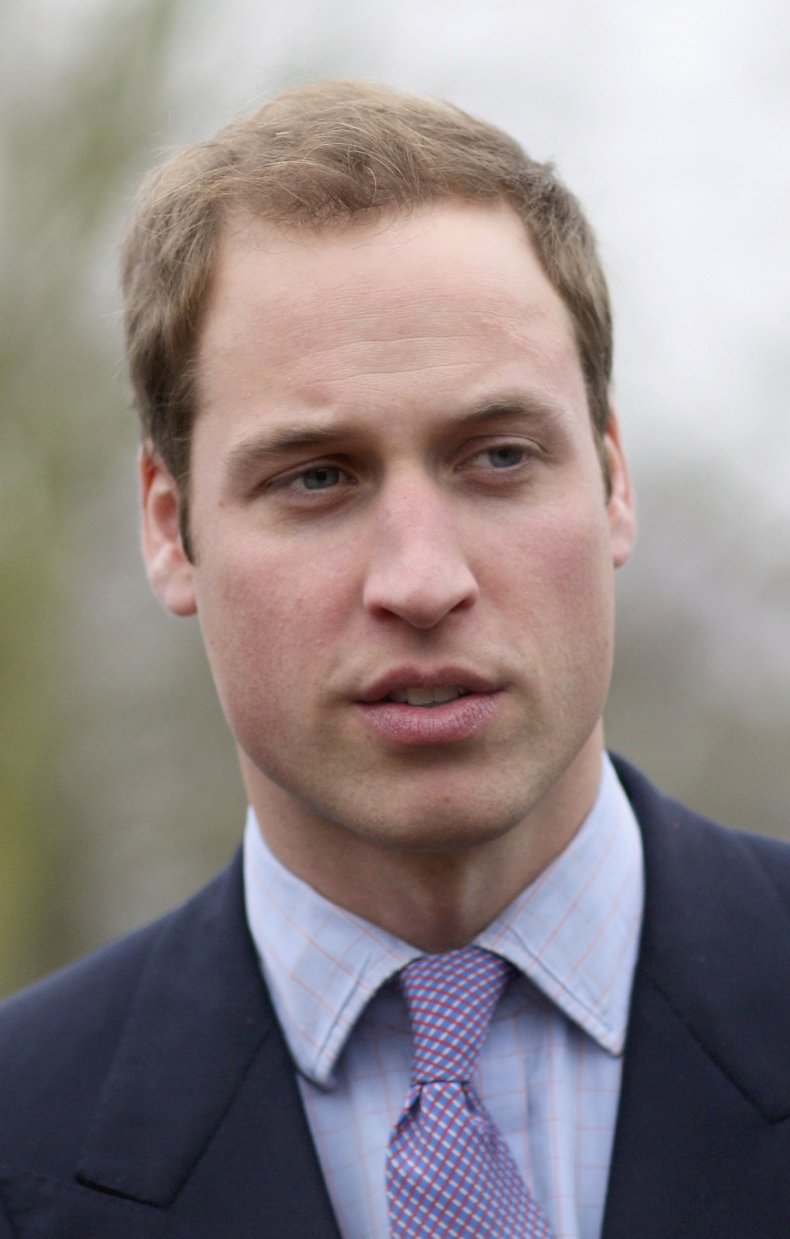 Prince William
William Arthur Philip Louis, Duke of Cambridge
As the eldest son of Prince Charles, as well as a grandson to Queen Elizabeth II, William is second in line to the throne. He was born June 21, 1982, and married Catherine Middleton in 2011, making her Duchess of Cambridge. Together the Royal couple has two children and heirs, Prince George and Princess Charlotte.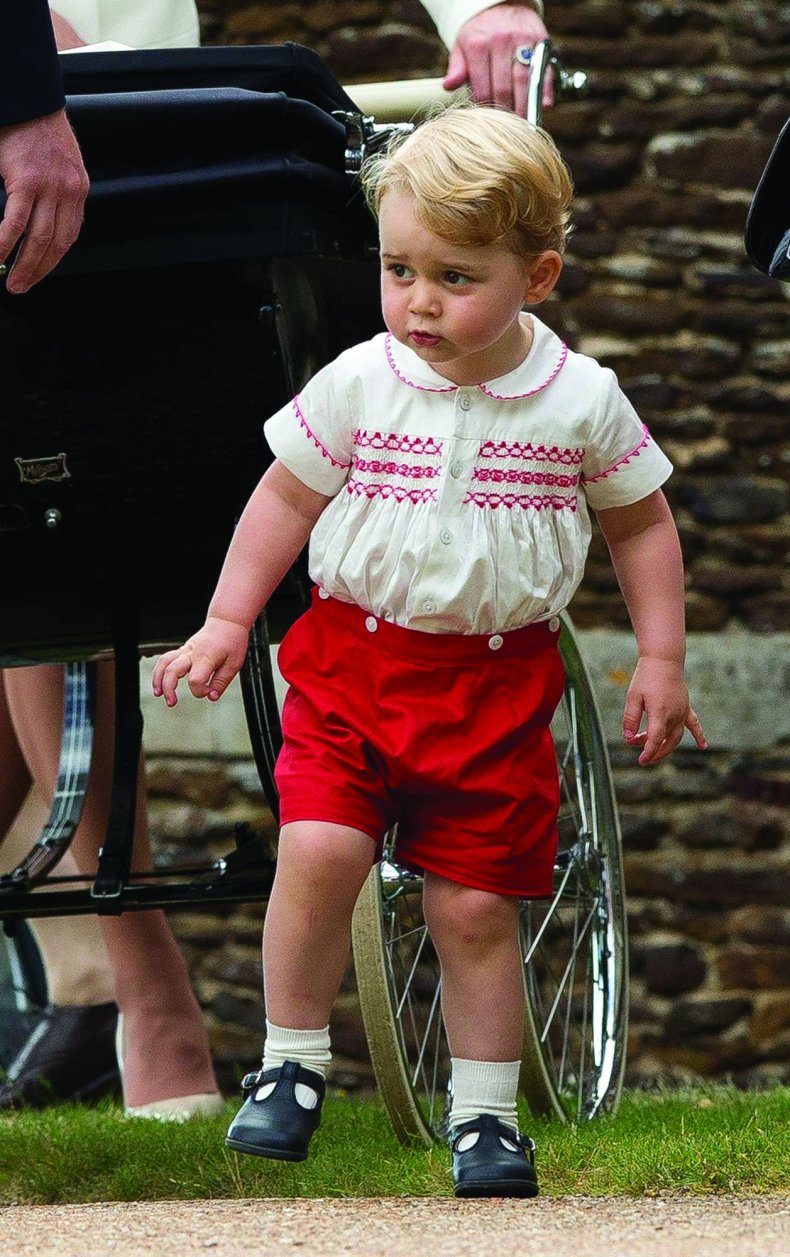 Prince George
George Alexander Louis of Cambridge
The toddling Prince George is the eldest child of Prince William and Duchess Catherine—and great-grandson to Queen Elizabeth II. Prince George was born July 22, 2013, at St Mary's Hospital, Paddington, London, and since his birth, all eyes have been on the third-in-line.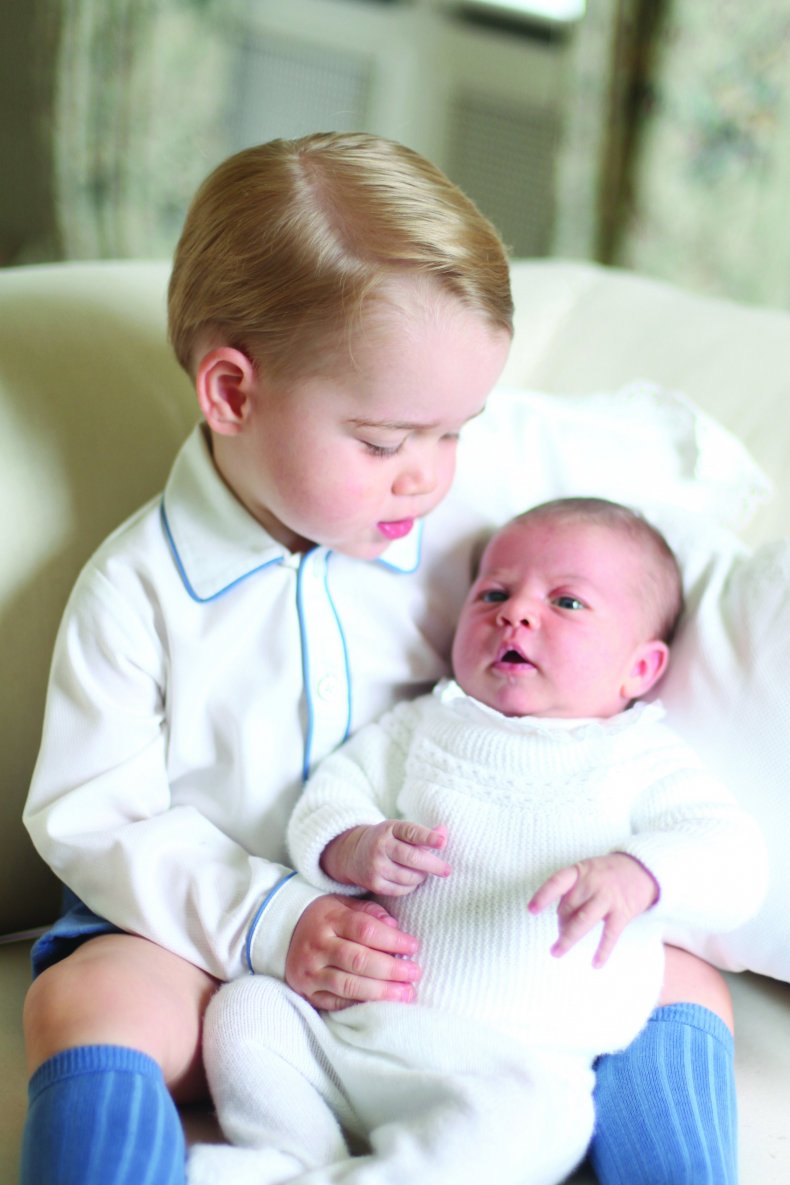 Princess Charlotte
Charlotte Elizabeth Diana of Cambridge
Princess Charlotte is fourth in line to the throne, great-granddaughter to Queen Elizabeth II and beloved baby sister of Prince George. She was born on May 2, 2015, at St Mary's Hospital, Paddington, London, as a crowd of Royal-watchers cheered outside.
Even a few years ago, as a Royal daughter, she'd have been an unlikely successor. But when Prince William and Duchess Kate were expecting in 2013, the English government wanted to ensure their children would be in line to the throne regardless of their gender. The Succession to the Crown Act of 2013 received Royal assent in 2013 but wasn't put into full effect until March 2015, in the weeks just prior to Charlotte's birth—making her spot for the throne secure and edging out her Uncle Harry.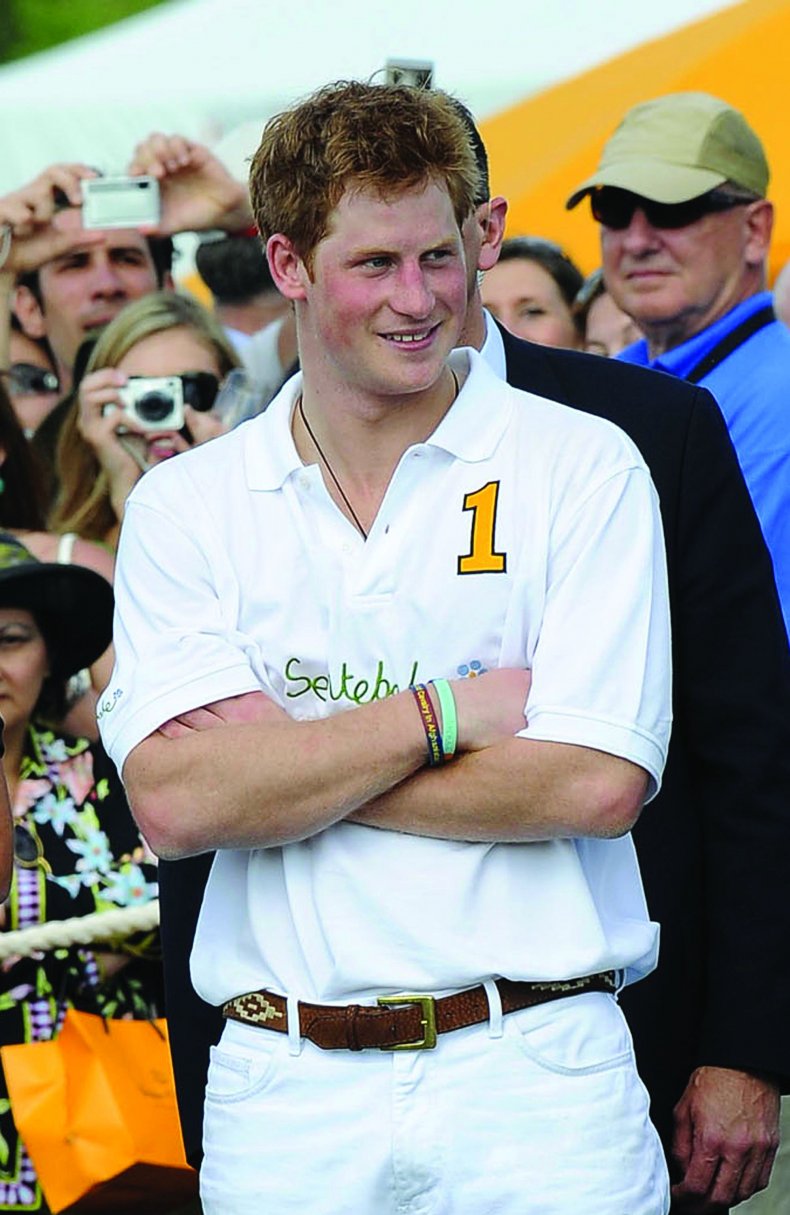 Prince Harry
Henry Charles Albert David, Prince of Wales
Fifth in line of succession, Prince Harry is the grandson of Queen Elizabeth II, the son of Prince Charles and younger sibling of Prince William, whose progeny knocked him from third in line. He was born September 15, 1984, at St Mary's Hospital, Paddington, London. He is not yet married (though has famously dated abundantly) and has served in the British military as a helicopter pilot.
These articles appear in Newsweek's Special Commemorative Edition, The Queen.