'Queen Behavior': McDonald's Customer Busts Into Kitchen to Make Own Food
Online commenters are in hysterics over a woman who climbed through the window of a McDonald's drive-thru to make her own food.
A video of the hilarious moment was posted to TikTok last month by quezgreer (@greergreer), a McDonald's employee. It has amassed more than 680,000 likes and over 1,500 comments from awestruck viewers calling the customer an "icon."
"Lady climbs [through] McDonald's window because we're not taking any more orders [because] we have no gloves," said the video's narrator. "She's not playing—she wants to make her own food."
In the video, a woman wearing a pink dress and heels climbs into the restaurant as the employees scream. Once inside, the customer claps and then walks over to the kitchen to begin her "training."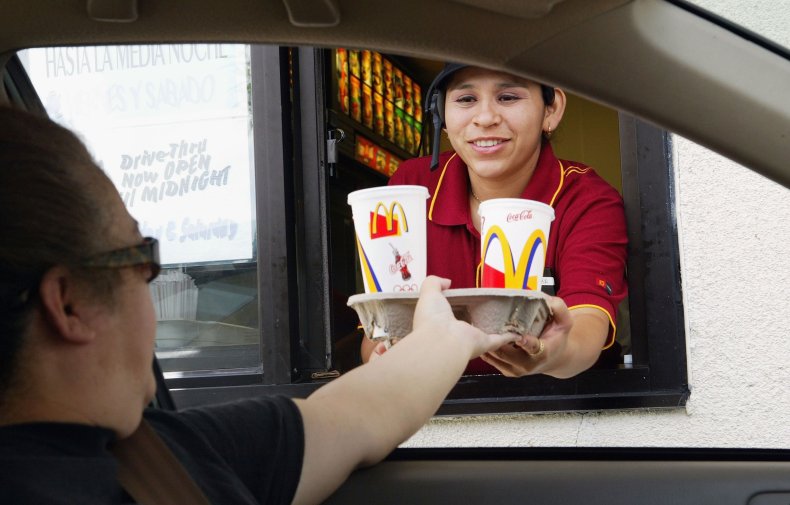 "Who's the manager on duty?" she asked. When the manager approaches her, she says: "Do you give me permission to learn with you? It's a training thing...it's my first day of training and I'm not adequately dressed so you are not held responsible..."
Throughout the entire interaction, the employees simply laugh and record.
Drive-Thru Mishaps
Drive-thrus have become extremely popular with consumers over the past couple of years. According to a 2021 survey conducted by mobile marketing company Bluedot, 74 percent of Americans have used drive-thru service since the beginning of the pandemic, up 43 percent from April 2020. Further, 90 percent of those surveyed by the National Restaurant Association said they prefer curbside service to dine-in.
Unfortunately, due to these increased drive-thru orders and labor shortages, drive-thrus have become slower and "less accurate," Restaurant Business reported. In response, some customers have become rather hostile.
For example, McDonald's drive-thru customer got into a screaming match with employees last month because she'd been sitting in line for "too long," one of the employees claimed. In February, a Jack in the Box customer climbed barefoot through a drive-thru window and cursed out the employees over a packet of ranch dressing. And that same month, a Wendy's customer opened fire in the restaurant because he'd gone through the drive-thru and "was not happy with the service."
Fortunately, the customer in quezgreer's video didn't cause any harm—she just wanted to make her own food.
TikTokers React
Commenters thought quezgreer's video was hysterical and applauded the customer's "queen behavior."
"She is an icon," cocolocoo94 said.
"LMFAOOO nah this would actually have me on the floor," Tyler commented.
"The clapping sent me," Seth Rhodes wrote.
One user said the customer was exhibiting "Queen Behavior."
Another user added: "I don't know what kind of Karen this is but this is my favorite kind of Karen."
Newsweek has reached out to quezgreer for comment.