Hollywood Unlocked's claim that Queen Elizabeth II has died was discredited again on Wednesday when Kate Middleton continued her royal tour of Denmark in good spirits.
The gossip site's founder, Jason Lee, insisted, "We don't post lies" after HU's article about the 95-year-old monarch prompted widespread ridicule.
However, if the report is accurate, nobody seems to have told the Duchess of Cambridge, who beamed for the cameras on day two of her tour of Denmark.
Protocol dictates that members of the royal family always carry a black outfit with them on overseas trips in the event of a death in the family.
Far from being dressed in mourning, however, Kate wore a chic gray coat by Catherine Walker that bore a strong resemblance to an outfit once worn by her husband's mother, Princess Diana.
The duchess was photographed meeting Queen Margrethe and Mary, Crown Princess of Denmark, at Christian IX's Palace in Copenhagen on February 23.
Hollywood Unlocked had posted its article hours earlier—Tuesday evening U.K. time—claiming the queen had been found dead shortly before she was expected to attend the wedding of Edward Enninful, editor of British Vogue.
However, it was quickly pointed out that the queen does not attend celebrity weddings and is in any case isolating at Windsor Castle after testing positive for COVID-19.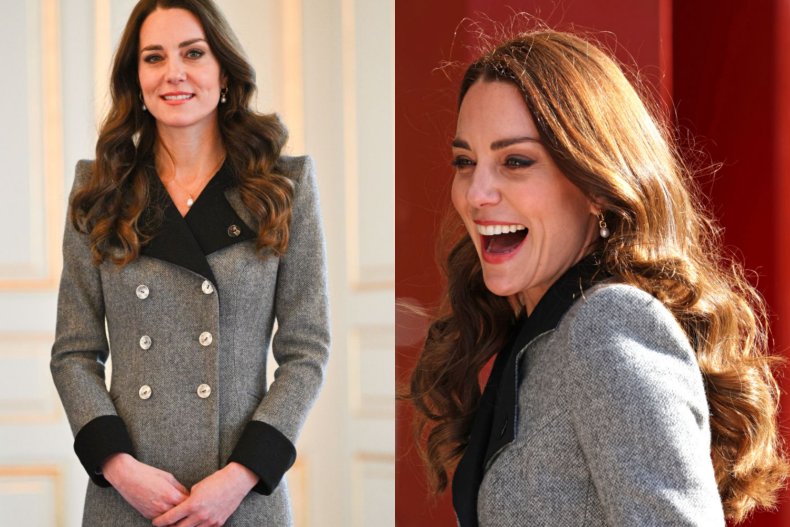 Lee wrote on Twitter: "We don't post lies and I always stand by my sources. Waiting for an official statement from the palace."
A post on his personal Instagram account also defended the story in bold terms, saying: "I've never been wrong."
The queen does have "mild cold-like symptoms" and canceled scheduled virtual meetings earlier on Tuesday, but she was still undertaking light duties hours before Hollywood Unlocked's story.
Buckingham Palace told Newsweek it never responded to rumors of this kind but all outward appearances pointed to business as usual for the royal family.
No statement from Buckingham Palace emerged on Wednesday, while on her two-day trip Kate met young children at a forest school and spent time with the Danish royal family.
The duchess was photographed chopping wood at Stenurten Forest Kindergarten in the morning before heading to Christian IX's Palace.
Her gray coat bore a striking resemblance to one worn by Diana during a royal visit to a health center in London in 1984. Diana's was designed by Jan Van Velden.
A Buckingham Palace statement issued on Tuesday read: "As Her Majesty is still experiencing mild cold-like symptoms she has decided not to undertake her planned virtual engagements today, but will continue with light duties."