Queen Elizabeth II and Anna Wintour Sit Front Row at London Fashion Week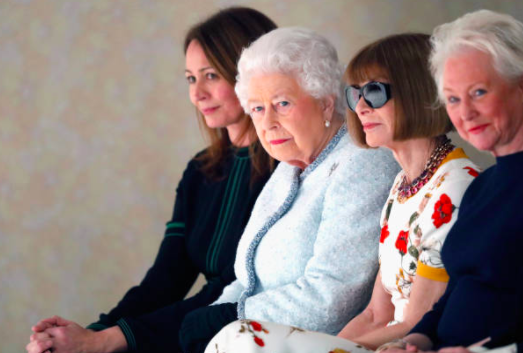 For the first time, Queen Elizabeth II attended London Fashion Week, the Associated Press reported on Tuesday. She sat in the front row next to Vogue editor Anna Wintour, and her reactions were priceless.
Queen Elizabeth II wore an Angela Kelly tweed dress and matching jacket in duck egg blue, adorned with tiny Swarovski crystals, the AP wrote. She accessorized with black gloves. Wintour donned her signature sunglasses. (Apparently being the queen of American fashion means never having to take them off, even for actual royalty.)
The British queen attended the event to honor Richard Quinn with an award that recognized British design excellence. The 31-year-old started his own label in 2016 and has made a name for himself on the fashion circuit after graduating from Central Saint Martins with his masters the same year.
"From the tweed of the Hebrides to Nottingham lace, and of course Carnaby Street, our fashion industry has been renowned for outstanding craftsmanship for many years, and continues to produce world-class textiles and cutting edge, practical designs," the 91-year-old monarch said. "As a tribute to the industry, and as my legacy to all those who have contributed to British fashion, I would like to present this award for new, young talent."
The queen has a history of looking unimpressed in public, but Quinn's fashion show did produce one killer smile—even a laugh. Mostly, though, the queen lightly applauded as the models sashayed down the runway.
The official Twitter account for the Royal Family issued a statement about the queen being at the fashion show.
"Her Majesty views Richard Quinn's runway show alongside Dame Anna Wintour. Richard is the first recipient of The Queen Elizabeth II Award for British Design.

"Richard is an emerging talent who studied at Central St Martin's in London and has been recognized for his exceptional prints. He received his award from The Queen this afternoon

"Richard Quinn created a print studio, which offers accessible services to students and his peer group of emerging designers. The Award, designed by Angela Kelly, was inspired by the Queen Elizabeth rose.

"For the past two years Angela Kelly, Personal Advisor to Her Majesty (The Queen's Wardrobe), has been working on designing an award which The Queen wanted to give in recognition of emerging British fashion talent."
We would give anything to have been a fly on the wall as Queen Elizabeth II regaled Prince Philip about her day with that odd woman in sunglasses.