Queen Elizabeth II Welcomes Prince Harry and Meghan Markle's Baby Archie to Royal Family in Christmas Message
The 2019 Christmas speech by Queen Elizabeth II highlighted the importance of "small steps" in making progress and "putting aside differences," following a "bumpy" year. She made special reference to a new addition to the royal household—the child of Prince Harry and Meghan Markle.
The annual Christmas broadcast sees the queen share words of wisdom and reflect on the year gone by. This year's speech included several examples of small steps bringing about change.
"As we look forward to the start of a new decade, it is worth remembering it is often the small steps—not the giant leaps—that bring about lasting change," she said.
The first example referenced by the queen was America's historic Apollo 11 mission which saw Neil Armstrong become the first man to set foot on the Moon.
The queen recalled how, as a child, she never imagined humans would ever walk on the Moon, but Armstrong's feat marked "a giant leap for mankind and indeed for womankind," she said.
Earlier this year, NASA announced its plan to send a woman to the moon by 2024 on the next space mission which will include both male and female astronauts. "Giant leaps often start with small steps," the queen said.
The queen also mentioned how this year saw the birth of her eighth great grandchild, Archie Harrison Mountbatten-Windsor, the son of Prince Harry and Meghan Markle, the Duke and Duchess of Sussex—while referencing the significance of the birth of another child—baby Jesus—on Christmas Day.
"Two hundred years since the birth of my great great grandmother Queen Victoria, Prince Philip and I have been delighted to welcome our eighth great grandchild into our family. Of course at the heart of the Christmas story, lies the birth of a child. A seemingly small and insignificant step overlooked by many in Bethlehem.
"But in time, through his teaching and by his example, Jesus Christ would show that in small steps, taken in faith and hope can overcome long-held differences and deep-seated divisions and bring harmony and understanding," she said.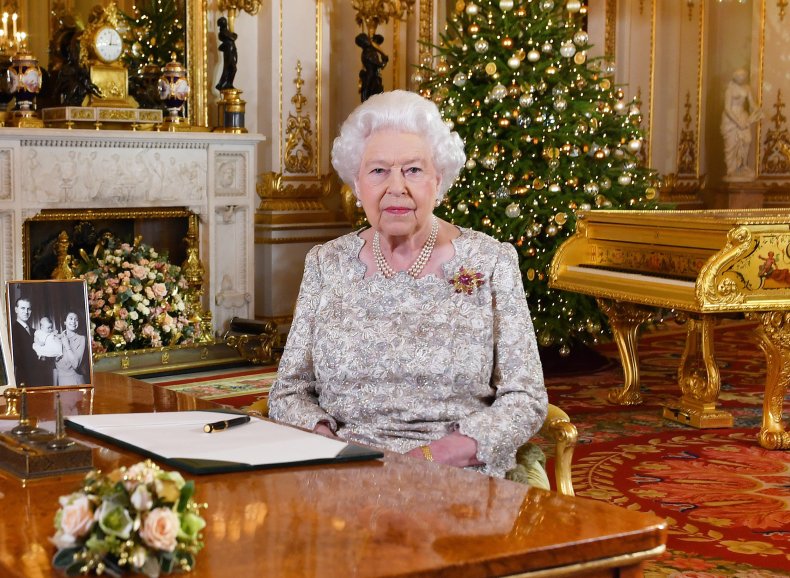 The queen also noted how several have tried to follow in Jesus' footsteps in navigating a divided world on a path that may have felt "quite bumpy at times this year."
"Many of us have already tried to follow in His footsteps. The path of course is not always smooth and may have felt at times this year quite bumpy, but small steps can make a world of difference," the queen said.
Bumpy it has been indeed for one particular royal, Prince Andrew, who is linked to Jeffrey Epstein, the disgraced billionaire who was indicted on sex trafficking charges over the alleged abuse of multiple minors before he was found dead in his jail cell.
Prince Andrew came under further scrutiny after Virginia Roberts alleged she was forced to have sex with him in London, New York and on a private Caribbean island owned by Epstein when she was under the age of consent.
The queen also noted the challenges facing the modern age and how "new generations" have brought a "sense of purpose" to issues like climate change.
"The challenges faced today by people may be different from those faced by my generation. But I have been struck by the new generations that have brought a similar sense of purpose to issues such as protecting our environment and our climate," she said.
Among this year's most prominent examples of a new generation purposefully driven to protect the planet is Greta Thunberg, the teenage activist who was recently named Time magazine's "Person of the Year" for her global campaign work on raising awareness about climate change.
The queen also highlighted examples of small steps leading to progress throughout history, including nations that were once sworn enemies in the Second World War coming together for the 75th anniversary of the historic D-Day battle earlier this year.
"Such reconciliation seldom happens over night, it takes patience and time to rebuild trust and progress often comes through small steps. By being willing to put past differences behind us and move forward together, we honor the freedom and democracy once won for us at so great a cost," she said.
The 93-year-old monarch has delivered her Christmas speech for the past six decades. Her first was a radio broadcast in 1952, during which she spoke about the importance of carrying on the traditions of her father, who died in February of that same year. She was 26 years old at the time.