Queen Elizabeth II's Coronavirus Message Displayed on Giant Billboard in London's Famous Piccadilly Circus
Queen Elizabeth II's message of hope amid the coronavirus pandemic is being shown in London's world famous Piccadilly Circus.
The move is the first time the monarch will be directly quoted on the Piccadilly Lights, the electronic advertising boards that have come to be iconic for tourists in the U.K. capital.
Alongside images from the broadcast will be the monarch's most stirring words from the speech.
Among the quotes is the line: "We should take comfort that while we may have more still to endure, better days will return."
Another reads: "We will be with our friends again; we will be with our families again; we will meet again."
The broadcasts began this morning at 10am U.K. time and will run until Sunday, April 19, though health chiefs will hope there are few people around to see them due to the lockdown.
Elizabeth's message was aimed at keeping the people of Britain, and the world, in their homes on Government advice while they wait for the pandemic to ease.
There may however be health and key workers travelling through central London to their frontline roles fighting the virus.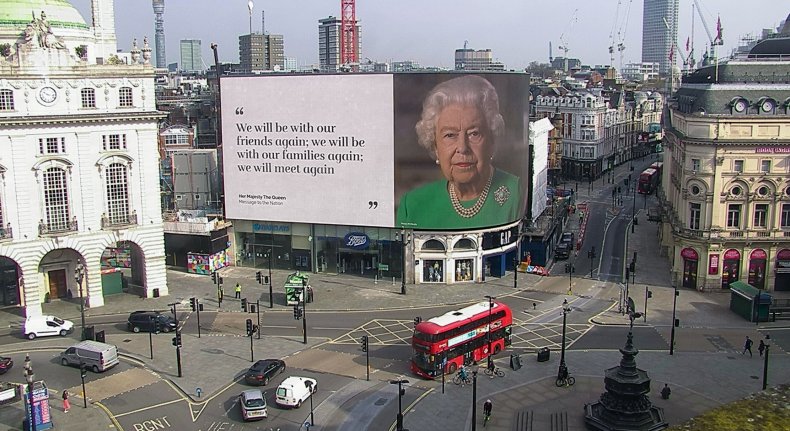 Elizabeth's speech brought many in Britain to tears as she evoked wartime strength amid hardship and issued a rallying cry to stay indoors.
The 93-year-old head of state admitted she had been taken back to her own wartime experiences when she was evacuated to Windsor Castle while her parents stayed in London.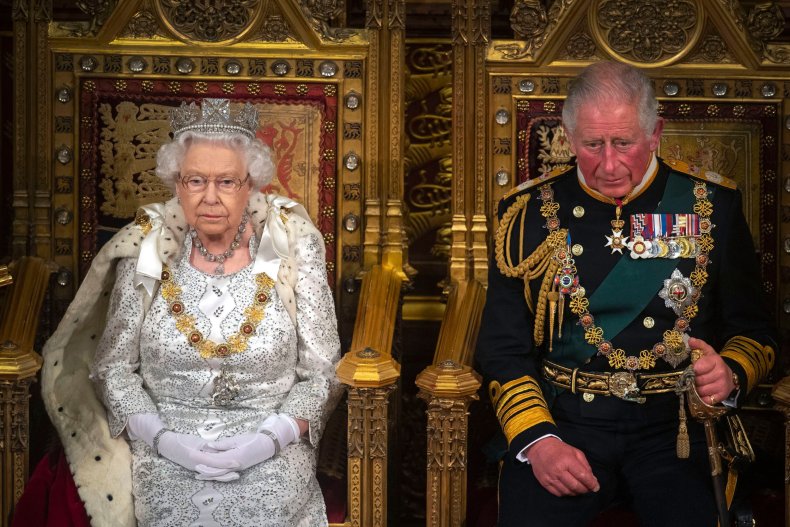 She mentioned her first national broadcast made aged 14 with sister Princess Margaret for evacuee children wrenched from their families for their own safety.
Her moving words also included praise for the NHS, key workers and those keeping supermarket shelves stocked with food.
The other line from the speech quoted on the giant screen is: "I want to thank everyone on the NHS front line, as well as care workers and those carrying out essential roles."
Richard Malton, CMO of Ocean Outdoor which operates them, added: "The Queen's address to the nation was inspirational and reassuring.
"Her Majesty the Queen is London's most famous resident, where better to extend her message to Londoners than Piccadilly Lights.
"It has been an honour working with the Palace to make this happen."
Derek Manns, commercial media manager for Landsec, which owns the screens, said: "We're proud to be sharing the Queen's message of support for the nation on Piccadilly Lights.
"We hope it will provide some light for Londoners as we continue to work through these unprecedented times."
Around 24 million people watched the broadcast at 8pm on Sunday night even as U.K. Prime Minister Boris Johnson was admitted to hospital with coronavirus. Johnson remains in intensive care but is critically stable at London's St. Thomas' hospital, where Downing Street said the PM is in "good spirits."