Queen Elizabeth II's special Coronavirus broadcast left 70 percent of British viewers feeling positive, an exclusive Newsweek poll revealed.
A total of 57 percent of respondents either approve or strongly approve of the queen's handling of the emergency after she used a rousing video address to warn the U.K. to stay indoors. The polling of 1,500 adults was conducted online by Redfield & Wilton Strategies for Newsweek, with a 2.53 percent margin of error.
The polling indicated 67 percent of people watched her address the nation on April 5, and of those 70 percent said it had a positive effect on them.
Elizabeth said in the message: "This time we join with all nations across the globe in a common endeavor, using the great advances of science and our instinctive compassion to heal. We will succeed - and that success will belong to every one of us.
"We should take comfort that while we may have more still to endure, better days will return. We will be with our friends again. We will be with our families again. We will meet again."
Asked whether they approve of how the queen and the royals have responded to the pandemic, 33 percent said they approved while 24 percent strongly approved.
Four percent disapproved and another four percent strongly disapproved in the poll.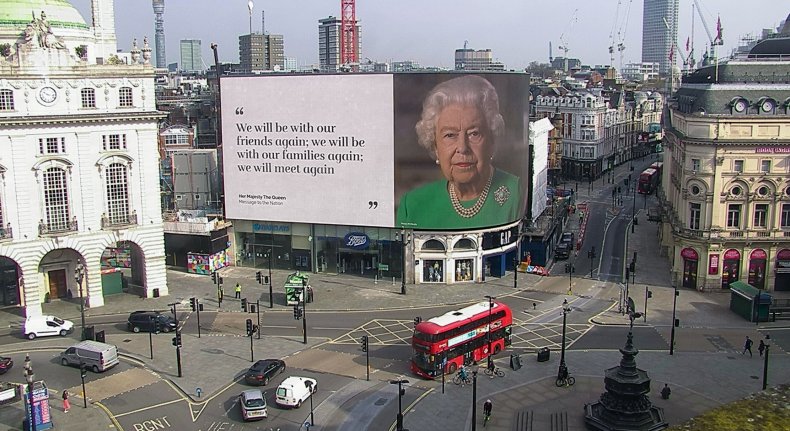 And 35 percent said their view of the queen had improved over the last month compared to 14 percent who said their opinion had worsened.
The poll comes after a period when members of the royal family have been visibly working to help those affected by the pandemic. Prince William and Kate Middleton spoke to children at Casterton Primary Academy, in Burnley, who are still going to school because their parents are key workers on April 8.
And earlier today, the Duke of Cambridge, 37, opened a dedicated coronavirus hospital in Birmingham.
Addressing dignitaries by video link, he said: "The building you are standing in is yet another example of how people across the country have risen to this unprecedented challenge.
"The Nightingale hospitals will rightly go down as landmarks in the history of the NHS."
Prince William's standing had improved over the last month for 33 percent of people and got worse for 11 percent of people surveyed.
For 38-year-old Kate, 29 percent of people felt her reputation had improved while 14 percent thought less well of her over the past month.
Prince Charles, 71, survived coronavirus with only mild symptoms but had to spend a week in self-isolation at royal residence Birkhall, in Scotland.
He opened a different NHS hospital set up at London's Excel Centre on April 3.