Why Queen Elizabeth's Cousin's Kremlin Scandal Pressures Royals Over Harry and Meghan
Queen Elizabeth II's cousin has been accused of offering access to the Kremlin for $10,000 a day—pressuring the royals to show Prince Harry and Meghan Markle are not the only family members they are willing to sanction.
Prince Michael of Kent was filmed by undercover reporters from The Sunday Times and Channel 4's Dispatches posing as representatives of House of Haedong, a fake investment fund targeting gold.
They offered him $200,000 to make a pre-recorded speech endorsing the company for its launch event.
The journalists approached a friend of the prince, Lord Reading, who suggested that he could make open doors to access Russian President Vladimir Putin on behalf of the company.
This, the newspaper reported, would have cost them $50,000 for a four or five day trip by the prince to Russia.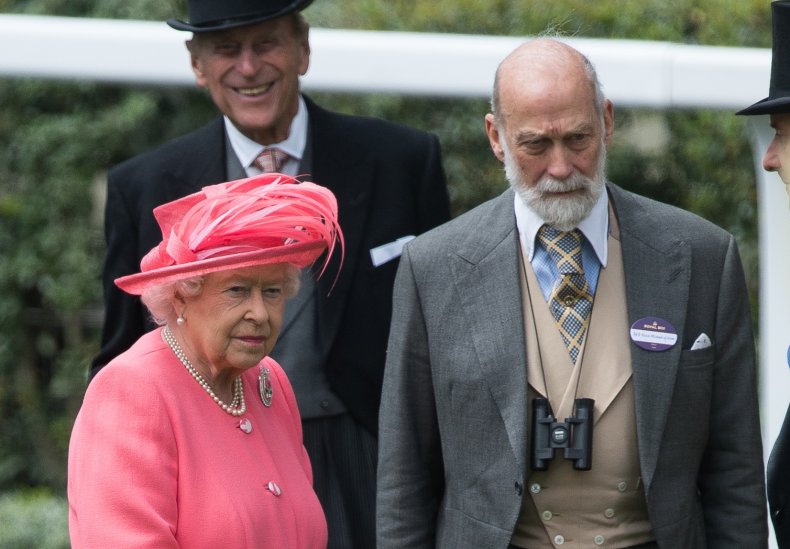 During a Zoom meeting, they filmed Prince Michael saying: "I have never had any close connection before with gold and the idea makes me very happy."
It saw him offer to film his speech at Kensington Palace and agree to reference his status as a royal.
The prince's spokesperson told Newsweek the documentary was "nonsense" and denied he was leveraging his royal status.
The spokesperson said he receives no public funding, relying on a consultancy company to make his living.
Unlike Prince Harry, he has retained his honorary military titles and he was cited by Meghan in her lawsuit against the Mail on Sunday as an example of a royal who undertakes paid work.
The scandal highlights the tensions that exist over the way the family handled Meghan and Harry's departure from royal life.
Carolyn Durand, co author of Harry and Meghan biography Finding Freedom, wrote on Twitter: "Prince Michael of Kent, the #Queen 's cousin, accused of selling access to Putin and Russia for 10000 pounds a day by the Sunday Times.
"#PrinceMichael has earned money, retained both personal security & military honours while #PrinceHarry was stripped of his security & honours."
Peter Jukes, executive editor of Byline Times, wrote: "While Prince Harry was stripped of his personal security and honorary military posts, Prince Michael has retained both."
While Harry and Meghan made their own decision to step back from royal duties, the duke has stated repeatedly his commitment to the military.
However, this year the queen stripped him of his honorary military titles and royal patronages in a statement saying that the couple could not be half in and half out of the royal family.
Meanwhile, Prince Michael of Kent was asked by the undercover reporters whether he would be willing to film his $200,000 speech from Kensington Palace.
He replied: "I'm sure we can bring the building in, yes, we can do that. We can do lots of things, yes."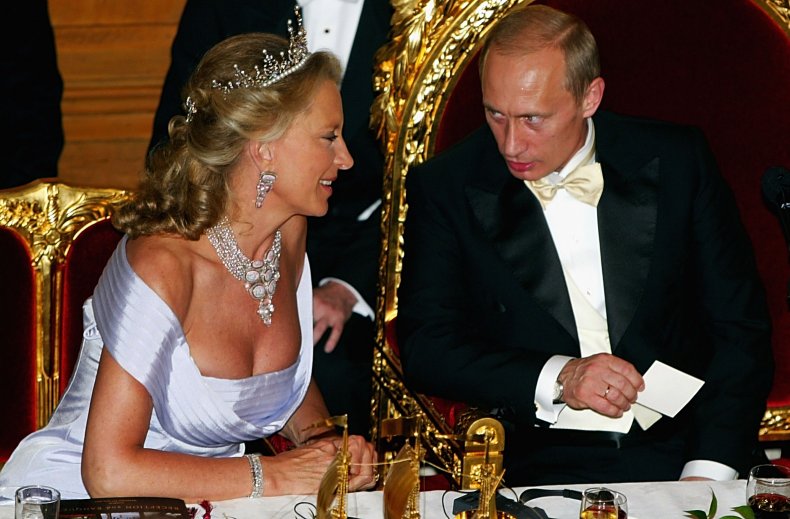 The reporter asked: "'As a royal member I am happy to support House of Haedong's approach,' would that be okay sir, to say that in the speech?"
Prince Michael replied: "I think the answer is I'm sure it would be. I have never had any close connection before with gold and the idea makes me very happy."
Asked whether the fees offered were in line with what he would usually charge, he replied: "Yes indeed so, and I have no questions for you on that. I'm very happy with your suggestion.
"I've travelled extensively around Russia for many different reasons."
The meeting was filmed on March 3, the day after the EU and U.S. imposed a new round of sanctions against individuals and organizations linked to Vladimir Putin, the newspaper reported.
The joint investigation with Channel 4's Dispatches revealed Prince Michael's private secretary told journalists: "Even if he doesn't have direct contact to the person that you want, there is a way in. There is always a way in."
The meeting was arranged after an initial approach to Lord Reading, a close friend of Prince Michael's, who told the reporters: "If he's with Putin and five or six other Putin ministers, Putin will be able to say, 'Right, well, that's the guy who you need to work with'.
"And that's the key, really . . . as long as you get authority from the top, you can get virtually anything done in Russia."
He added: "This is kind of slightly discreet. We're talking relatively discreetly here, because we wouldn't want the world to know that he is seeing Putin purely for business reasons, if you follow me."
In a June court filing, Meghan's lawyers responded sharply to suggestions royals do not do paid work.
The document stated: "It is this denial by the Defendant which was gratuitous and wrong, as several 'member[s] of the Royal Family' do, in fact, 'undertake paid work' including, for example, Princess Beatrice of York, Princess Eugenie of York and Prince Michael of Kent."
Prince Michael's website lists his military titles as: Honorary Vice Admiral, Royal Naval Reserve; Honorary Commodore, Maritime Reserves; Honorary Air Marshal, Royal Air Force Benson; Royal Honorary Colonel, Honourable Artillery Company; Senior Colonel, Kings Royal Hussars and Colonel-in-Chief, Essex and Kent Scottish Regiment, Canada.
Prince Michael's spokesperson said: "Prince Michael has long established business, charitable and cultural connections with Russia and is proud of all the work he has done for UK-Russia trade.
"Prince Michael has no special relationship with President Putin. They last met in 2003 and he has had no contact with him or his office since then.
"Lord Reading is a good friend, who made suggestions which Prince Michael would not have wanted, or been able, to fulfill.
"As is standard practice, Prince Michael's Private Secretary made it clear to the company's representatives during their conversations that nothing could proceed without the agreement of the British Embassy and the help of the Russo-British Chamber of Commerce, of which Prince Michael is Patron."
Lord Reading said in a statement: "I believed the approach from the House of Haedong was genuine and I was trying to facilitate an introduction to my friend Prince Michael.
I made a mistake and over-promised and for that, I am truly regretful. I wasn't at my peak as I was recovering from a kidney transplant.
"For the record, the Sambo event, which took place eight years ago in the public State apartments at Kensington Palace, was my event.
"I invited Prince Michael as my guest, along with several others who had an interest in Sport for Peace."