How Queen's First Vogue Cover Compares to Meghan Markle's Special Issue
Queen Elizabeth II has been given the first Vogue cover of her 70-year reign to mark her coming platinum jubilee.
British Vogue has given its April 2022 issue a platinum theme with dual covers. The first featuring a portrait of the Queen and the second, a striking image of current it-girl and Queen's Gambit actress, Anna Taylor-Joy.
The Queen did not pose for a new portrait for the magazine, and instead a photograph taken in 1957 by her future brother-in-law Antony Armstrong Jones (later Lord Snowdon, who married Princess Margaret in 1960) has been used.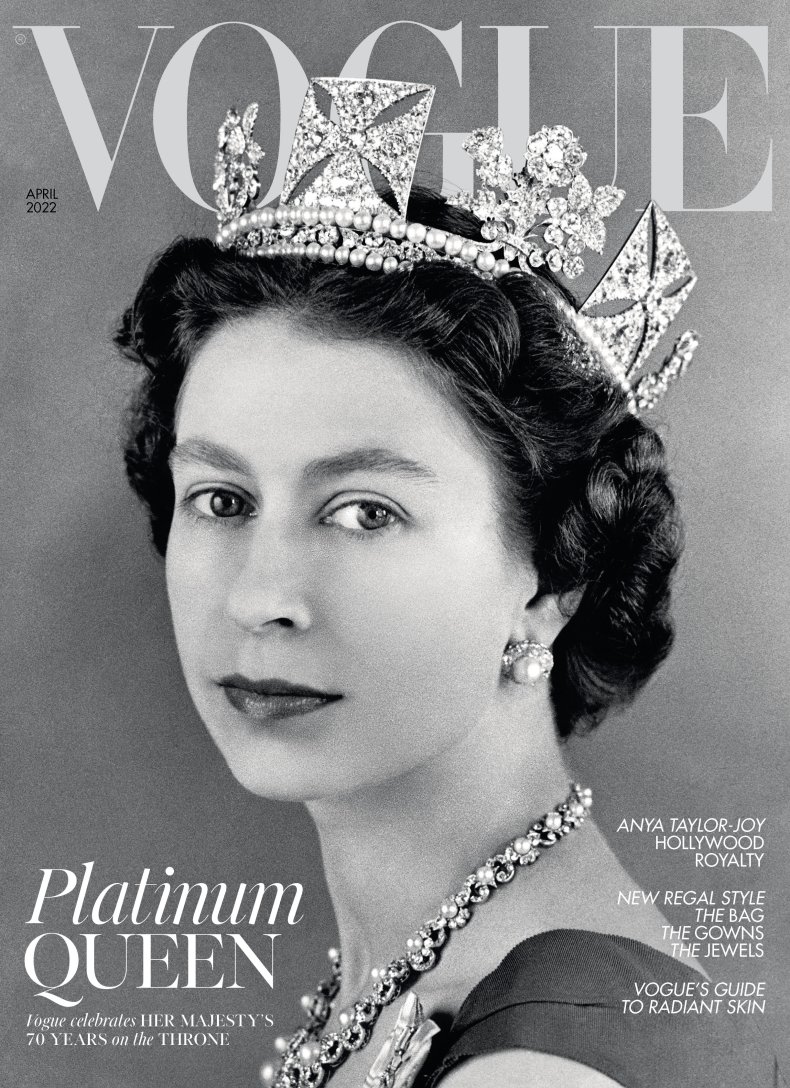 As the monarch does not grant interviews, editorials on her style and relationship with Vogue have been written by magazine contributors.
Elizabeth II has never before had a solo cover on Britain's leading fashion magazine, though various members of her family have each had their turn.
In 1971, the Queen's daughter, Princess Anne, was featured on the September cover to mark her 21st birthday and Princess Diana went on to be photographed for three covers—with a fourth dedicated to her memory in October 1997 following her tragic death.
Kate Middleton also appeared on the June 2016 magazine issue's cover.
Edward Enninful's Personal Relationship
Writing of his decision to give the 95-year-old monarch the April cover of British Vogue, editor Edward Enninful detailed his personal relationship with the institution of monarchy itself.
He wrote: "When I received my OBE for services to diversity in fashion several years ago, I thought carefully about what the decision to accept it would mean. Ultimately, I saw an ancient institution that was setting about on a programme of change and if they had noticed and wanted to recognize my work as something worth spotlighting, given the fact my endeavors were all about spotlighting under-represented people too, then I felt comfortable—keen, even—to engage."
Enninful, after taking control of the magazine from long-time editor Alexandra Schulman in 2017, went through an active process of diversifying British Vogue from the editorials it published to the staff members who worked there.
Meghan Markle Guest Edits
With this in mind, in 2019 he gave control of the magazine's prestigious September issue to Meghan Markle, the first biracial member of the British royal family, who had married Prince Harry the previous year.
Meghan's Vogue contribution as a guest editor contrasts heavily to the Queen's refusal to make comment. This prompted a wave of criticism—with Meghan being called by critics "misguided and patronizing."
This also followed a conscious decision made by the duchess not to put herself on the cover, instead opting to showcase 15 women who she deemed "forces for change."
The September 2019 cover also incorporated a small mirrored square meant to reflect the image of the reader including them among the inspirational women. Inside the magazine Meghan executed a degree of editorial control writing a covering letter, as well as conducting an interview with friend Michelle Obama.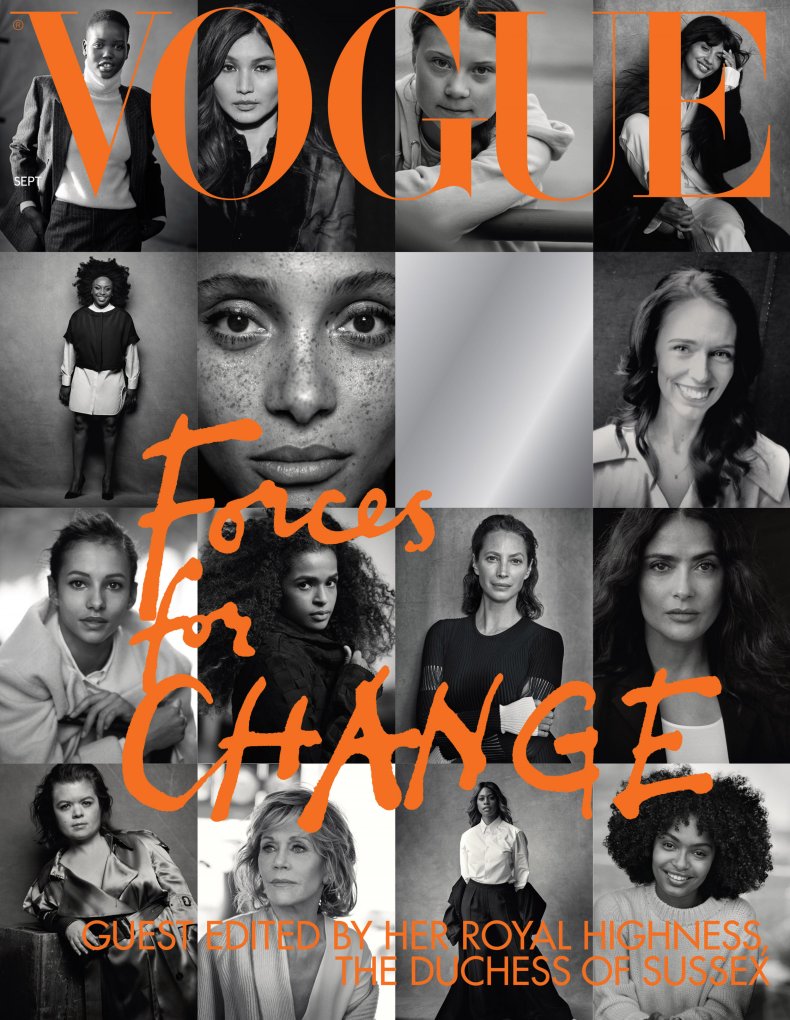 The decision not to appear on the cover presented an awkward comparison between Meghan and her sister-in-law Kate.
In his editors letter for the issue Enninful wrote: "From the very beginning, we talked about the cover—whether she would be on it or not... In the end, she felt that it would be in some ways a 'boastful' thing to do for this particular project... She wanted, instead, to focus on the women she admires."
The awkwardness arose in consideration that Kate had agreed to appear on British Vogue's special centenary issue cover only three years prior in 2016.
Kate featured in an extended editorial, shot at her country home in Norfolk, and images from the magazine were included in the centenary exhibition staged at the National Portrait Gallery in London that summer.
Enninful's "boastful" comment was seen by some as a put down on Kate by Meghan.
Racist Criticism?
Reflecting on the negative reaction to Meghan's collaboration, from the decision not to feature on the cover to the content she included in her editorials, Enninful told The Guardian: "Was the criticism racist? Some of it, yeah... Actually it was more than racism... I thought it was personal, attacking someone you don't know, attacking her."
On whether it was appropriate for Meghan to interact with the media in this way in the first place, broadcaster Dan Wooten told British morning show host Lorraine Kelly "Royals don't guest-edit magazines, celebrities guest-edit magazines," adding that the "Queen will think this is an absolutely idiotic, ridiculous decision, as do I."
Examples of the negative press attention earned during her time as a full-time working member of the royal family while in Britain were detailed by Meghan in her 2021 interview with Oprah Winfrey.
In this, her platinum jubilee year and during the month that the Queen is due to celebrate her 96th birthday, British Vogue has managed to gift the monarch with something unique that she had yet to achieve—her first and only appearance on its cover.
As Enninful wrote: "In the 70th year of her reign, Vogue offers its own platinum salute...As Vogue contributing editor Robin Muir writes in his essay on the Queen's life in front of the camera, the history of the Royal Family and of this magazine have forever been intertwined. Both of them are changing."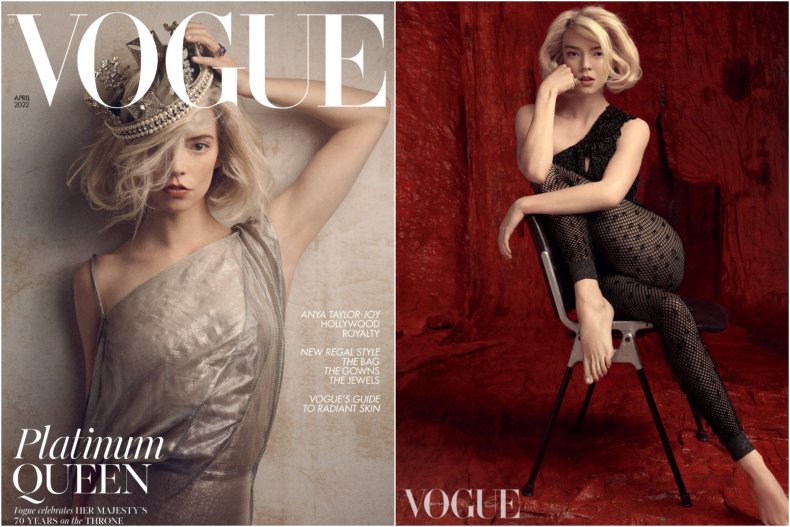 See the full feature in the April issue of British Vogue available via digital download and on newsstands from Tuesday 29 March.