Queen Elizabeth II's return to horse riding may help Britain's tentative easing of lockdown restrictions, palace officials hope.
Photos of the 94-year-old monarch riding 14-year-old fell pony, Fern, were released yesterday as some parents in the U.K. prepared to send their children back to school for the first time in ten weeks.
Courtiers told Newsweek the images were not intentionally timed to coincide with the partial return to normality but privately admit they were pleased.
Asked whether the pictures were co-ordinated, a royal source said: "No, but clearly the timing of it is helpful."
The first pictures of the queen outside the confines of Windsor Castle since lockdown were arranged because stories about her riding had already leaked in the British press.
A photographer from PA Media was welcomed into Windsor Home Park to photograph Elizabeth enjoying her favourite sport over the weekend.
The queen has been isolating at Windsor Castle with husband Prince Philip and a scaled down team.
Her household recently introduced a new working system nicknamed "HMS Bubble," which sees around 22 staff live in for three weeks at a time, before taking three weeks off with their families.
Horse racing also returns to British screens today and Dickie Arbiter, Elizabeth's former press secretary, said she is sure to be watching.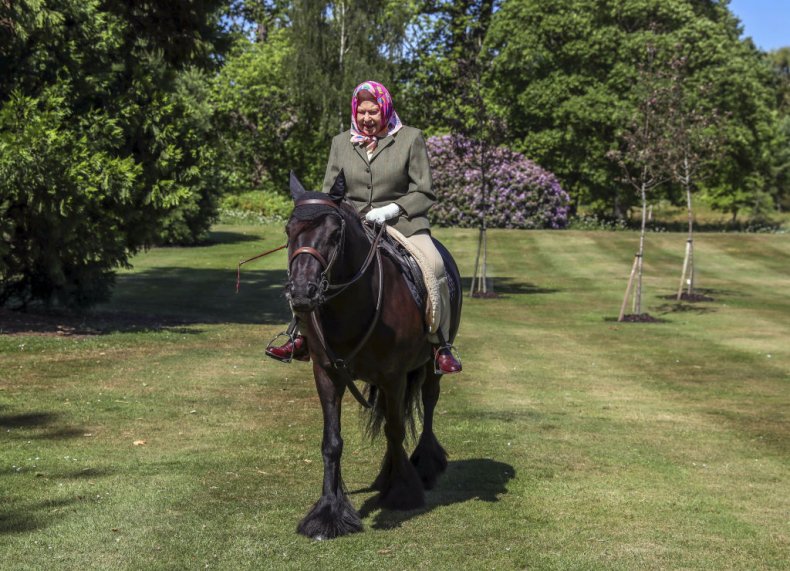 He told Newsweek: "It will have meant a lot to her to go out riding again. She would have missed it.
"If someone wants to go and play tennis they can play tennis. She likes riding horses, she can go out riding horses.
"That speaks volumes, it shows she along with everybody else is following the guidelines.
"The message is life goes on as normal or is beginning to get back to normal.
"As was her message in April when she said 'we will see our friends again, we will see our families again, we will meet again'.
"The queen is showing things are moving back to normal but there are still things we need to follow. She's following social distancing."
He added: "I'd be surprised if she wasn't watching the horse racing today. She'll be pleased with that.
"She'll be sad people can't go because of the restrictions on crowds. But she'll be pleased racing is back and that other people can pursue the sports that they do.
"People will have to watch from afar rather than taking part physically."
The queen has made sure to remain a presence in the minds of the British people throughout the coronavirus pandemic.
In April, she gave a historic address to the nation in which she invoked wartime spirit in urging the county to show resolve during the lockdown.
She has made several other addresses, including to help the country mark VE Day without the usual public events.
And she has continued her weekly meetings with the Prime Minister over the telephone from Windsor Castle.
A spokesperson for Buckingham Palace said: "New photographs of Her Majesty The Queen riding at Windsor have been released.
"The images were taken over the weekend and feature Her Majesty riding Fern, a 14 year old Fell Pony.
"The photographs were taken by a PA Media photographer in Windsor Home Park."