Queen Elizabeth II Allows Boris Johnson to Exercise at Buckingham Palace During COVID-19 Recovery
Queen Elizabeth II has given Boris Johnson permission to exercise in the grounds of Buckingham Palace as the Prime Minister recovers from coronavirus.
Britain's leader was struck down with COVID-19 and admitted to hospital on April 5, triggering fears he might fall victim to the disease.
As his condition grew more serious, he was taken to intensive care at St. Thomas' Hospital, in London, but was not put on a ventilator.
He was finally discharged on April 12 and has since been working to rebuild the strength he lost when hit by the virus.
Newsweek subscription offers >
A London press photographer yesterday got pictures of his armored range rover arriving at a side entrance of the queen's London residence.
When he later emerged back at Downing Street, he climbed out dressed for exercise in a red T-shirt, blue shorts and trainers.
A royal source noted Boris had been photographed arriving "in his sports kit" and told Newsweek: "From time to time the Queen has allowed Prime Ministers to have access to Buckingham Palace facilities."
Johnson is a keen jogger but his security detail had concerns over whether he was safe to run in public.
Newsweek subscription offers >
There are also tennis courts at Buckingham Palace and Johnson is known to be a fan of the sport, having been photographed playing it a number of times.
A government spokesperson told The Daily Telegraph: "The Prime Minister has been exercising in the grounds of Buckingham Palace. It's obviously important that the Prime Minister is able to take exercise."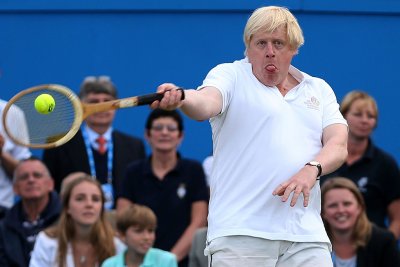 The queen is currently in isolation at Windsor Castle with husband Prince Philip and a scaled down team.
Staff there are now required to isolate for a week before spending three week shifts living within palace walls, in order to protect Elizabeth from the virus.
The monarch is expected to remain in lockdown for months since, at 94, she is at high risk should she catch the virus.
Buckingham Palace, Windsor Castle and other royal tourist attractions will be closed to the public all summer due to social distancing requirements.
Refunds have already been handed to ticket holders for the Buckingham Palace State Rooms.
The measure is likely to cause the queen a significant financial blow as income from the palaces forms a portion of the public funding the royal family receive each year.
The Lord Chamberlain, head of the royal household, told staff in a memo: "The crisis has already tested our resilience, adaptability and preparedness in many ways and at all levels across the organisation.
"It has also had a significant impact on the activities of the whole Royal Household. Although the UK appears to be over the peak of infections, it remains unclear when measures such as social distancing will come to an end.
"We must therefore assume it could still be many weeks, if not months, before we are able to return to business as usual. There are undoubtedly very difficult times ahead and we realise many of you will be concerned."
Queen Elizabeth II Allows Boris Johnson to Exercise at Buckingham Palace During COVID-19 Recovery | News