Queen Elizabeth II Cancels Trip On Medical Advice
Queen Elizabeth II has pulled out of a planned two-day visit to Northern Ireland on doctors' advice "to rest for the next few days," Buckingham Palace has said.
The 95-year-old was due to arrive later on Wednesday, with the cancelation being announced so late that royal correspondents had already arrived on the ground.
The monarch is not thought to have needed any treatment and has not tested positive for COVID-19.
A palace source said there are currently "no implications" for her planned attendance at the COP26 climate change conference, which begins on October 31.
Buckingham Palace said in a statement: "The Queen has reluctantly accepted medical advice to rest for the next few days.
"Her Majesty is in good spirits and is disappointed that she will no longer be able to visit Northern Ireland, where she had been due to undertake a series of engagements today and tomorrow.
"The Queen sends her warmest good wishes to the people of Northern Ireland, and looks forward to visiting in the future."
Responding to the news, Richard Palmer, royal correspondent for the Daily Express, wrote on Twitter: "That feeling when you land in Belfast and two minutes later you find out you've wasted your time... That's showbiz."
On Tuesday, Elizabeth met U.K. prime minister Boris Johnson, U.S. special presidential envoy for climate, John Kerry, and other guests at Windsor Castle for a Global Investment Summit.
The queen was seen shaking hands at the evening reception in her latest contribution to British diplomacy, ahead of her planned appearance at the major international COP26 climate change conference starting on Sunday, October 31.
The cancelation comes six months after Elizabeth's husband of 73 years Prince Philip died following a month in hospital.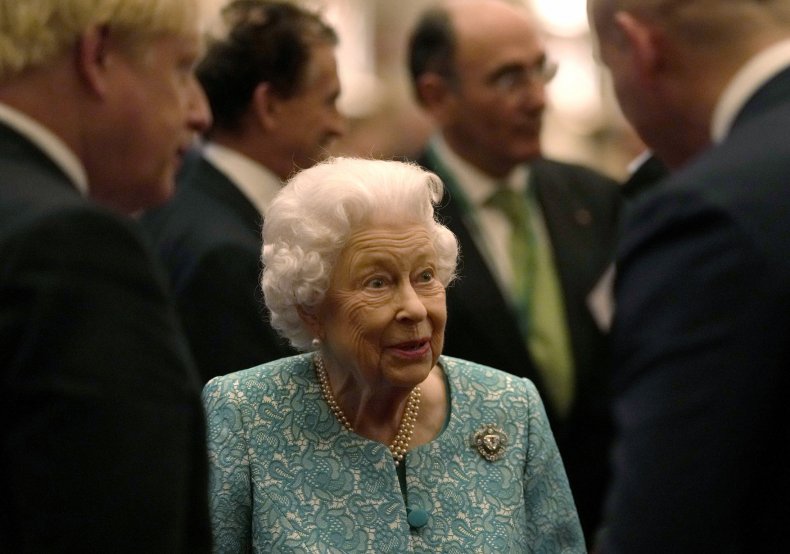 The queen was spotted with a walking stick, which the palace said was for her comfort, in public for the first time on October 11, during a visit to London's Westminster Abbey for the centenary of the Royal British Legion.
Elizabeth was due to visit Hillsborough, in County Down, on Wednesday, and attend a church service in Armagh tomorrow.
Jeffrey Donaldson, leader of Northern Ireland's Democratic Unionist Party, posted on Twitter: "We thank Her Majesty for her good wishes to the people of Northern Ireland and trust that she will keep well and benefit from a period of rest.
"It is always a joy to have Her Majesty in Royal Hillsborough and we look forward to a further visit in the near future."
After last night's reception, the Royal Family posted on Twitter: "This evening The Queen hosted a reception at Windsor Castle to mark the Global Investment Summit.
"She was joined by The Prince of Wales, The Duke of Cambridge and The Duke and Duchess of Gloucester as she welcomed influential business leaders from around the world.
"The Global Investment Summit comes ahead of the Royal Family's attendance at events in Glasgow for the COP26 UN Climate Change Conference in November.
"It aims to showcase the best of British innovation and highlight the UK's role in green investment and clean technologies."
On Tuesday, Elizabeth turned down an "Oldie of the Year Award," saying: "You are only as old as you feel."